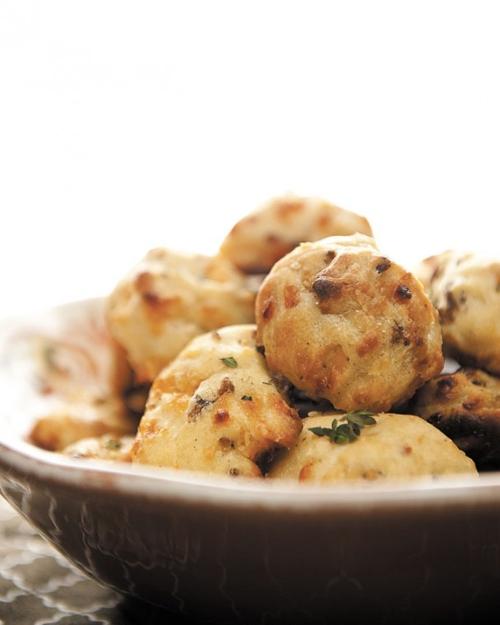 Yield | 12 to 15 puffs* |
¼ cup butter, cut into pieces
¼ tsp salt, plus more for seasoning
1 cup cold water
1½ cups all-purpose flour
2 eggs
1 egg yolk
1 tsp Dijon-style mustard
½ tsp freshly grated nutmeg
½ tsp cayenne pepper
¾ cup finely grated Gruyère
¾ cup Italian sausage, cooked and cooled
chopped fresh herbs, for garnish
| Preparation | Preheat oven to 400°F. Place butter and salt in a large saucepan. Add water and bring to a boil. Quickly add flour. Remove from heat and beat vigorously with a wooden spoon until batter becomes a thick paste that pulls away from the sides of the pan. Beat eggs and yolk into mixture one at a time. Add mustard, nutmeg, cayenne, Gruyère and sausage. Fold into batter.
Place 1 Tbsp of batter for each puff onto nonstick baking sheet (you can butter or oil the back of the spoon to prevent batter from sticking). Bake for 10 minutes. Reduce temperature to 350°F and bake puffs another 15 minutes or until golden brown.
Sprinkle with salt and herbs immediately after removing from the oven. Let cool at room temperature. Serve cold or at room temperature for up to 3 hours after baking.
*Recipe is easily doubled for larger gatherings.