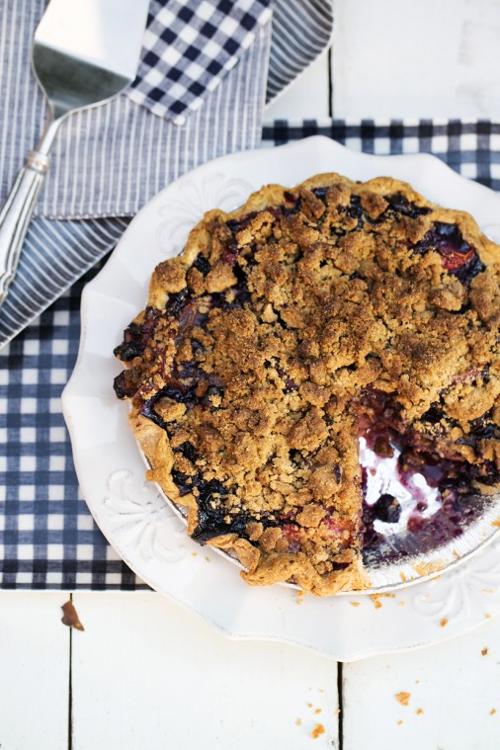 Serves | 6 to 8 |
Crumb Topping
1½ cups spelt flour
1 tsp baking powder
½ tsp cinnamon
½ cup slivered almonds
½ cup coconut oil
½ cup brown sugar
½ tsp almond extract
Pie
4 cups blueberries, rinsed and drained, divided
2 large white peaches, sliced ¼-inch thick
½ tsp orange zest
½ tsp ground cinnamon
¾ cup maple syrup
4 Tbsp cornstarch
2 Tbsp water
1 9-inch vegan pie crust
2 Tbsp vegan butter substitute, diced into tiny pieces
| Preparation – Crumb Topping | Combine the flour, baking powder, cinnamon and almonds in a mixing bowl and set aside. In a small pot set over medium heat, gently warm the coconut oil for 1 to 2 minutes. Add the brown sugar and stir to combine. Remove from heat and add the almond extract. Add the wet mixture to the dry mixture and combine gently with your fingers to form small crumbles. Set aside.
| Preparation – Pie | Preheat oven to 350ºF. Place 3 cups blueberries and peach slices in a large bowl. Fold in the orange zest and cinnamon and set aside. Place a small pot over medium heat and add remaining blueberries and maple syrup. Bring to a boil. Stir the blueberries so that some burst and begin to color the syrup. In a small bowl, combine the cornstarch and water to make a slurry. Add the slurry to the pot and stir constantly until the mixture thickens. Pour the mixture over the blueberries and peach slices and stir to combine well. Add the fruit to an unbaked pie shell, dot the top with the vegan butter and add the crumb topping to finish. Bake for 40 to 45 minutes. Let cool for 1 hour before serving. This pie is even better topped with vegan ice cream or whipped cream.
REINE'S NOTES: Every Sunday we make a family dessert at home, and nothing is better than my Vegan Blueberry-Peach Crumb Pie. Vegan food gets such a bad rap, but when I make this pie at home for family and friends, all are surprised that it can be vegan and taste so good.
What makes this a great recipe isn't the ingredients or the technique. It's a go-to dessert because it's not complicated or demanding, so you don't have to invest too much time in the kitchen when you have family and friends you'd rather be with. And at the same time, it always impresses (and brings smiles to my children's faces).
You can create your own version by using all blueberries or come up with your own combo of fruits such as raspberries and peaches, blueberries and cherries, or cherries and apricots. Use whatever fruit combination you like. And if you have unbleached flour instead of spelt flour, use it! Butter instead of coconut oil or vegan butter? Use it! Just get in the kitchen and create; that's where the beauty comes into play.