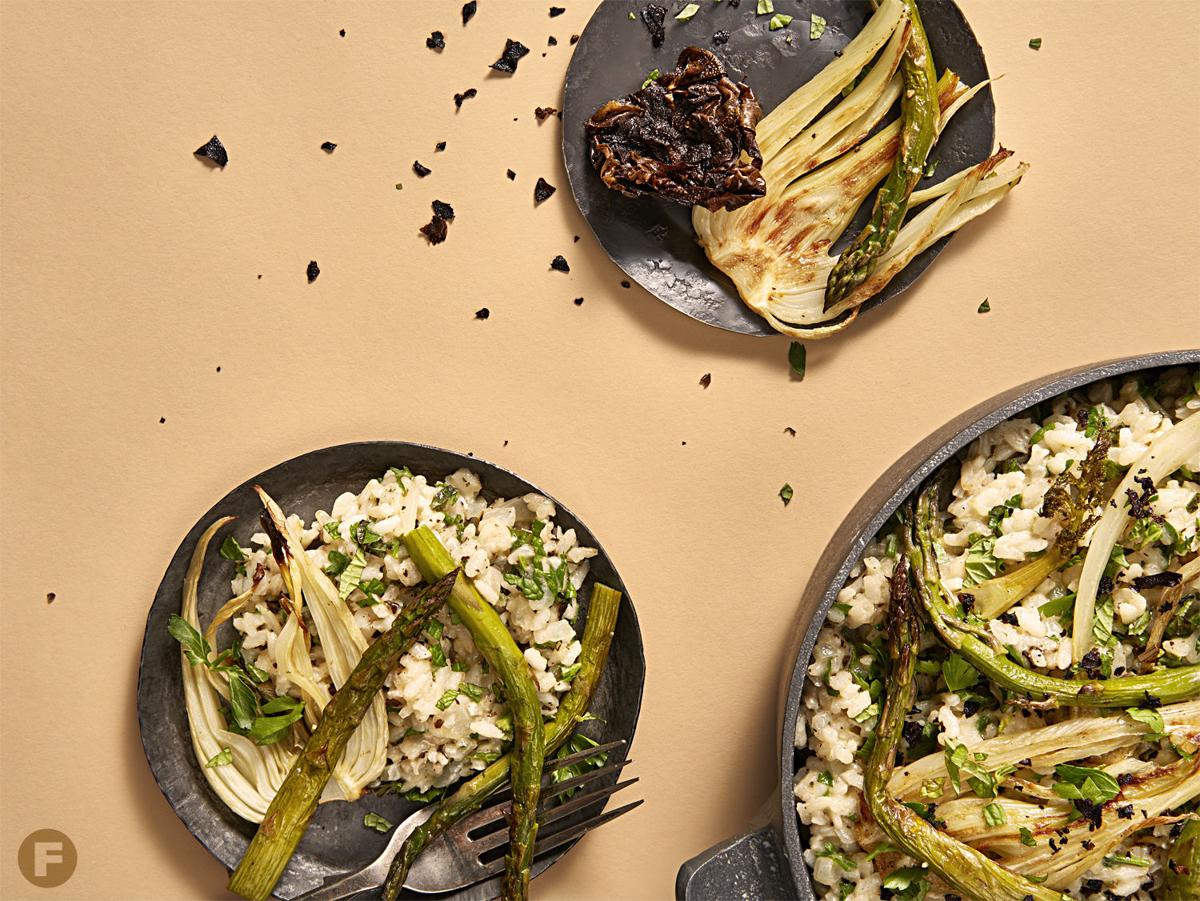 There's nothing I love more than an herb-filled risotto in the spring, and crispy dulse folded into this recipe at the end adds an element of texture and flavor that you won't find anywhere else.
You can find whole-leaf dulse at Whole Foods Market or online. Waiting to add the dulse until serving time will help keep its crispy texture intact.
Herby Dulse Risotto with Charred Vegetables
Serves | 4 |
¹⁄₃ cup, plus 2 Tbsp, olive oil, divided
¾ oz whole-leaf dulse
1 lb asparagus, ends trimmed
2 medium bulbs fennel, sliced tip to tail in ¹⁄₈-inch slices
kosher salt and freshly ground black pepper, to taste
1 Tbsp unsalted butter
1 cup onion, diced
3 cloves garlic, minced
1 cup Arborio rice
½ cup white wine
3½ cups vegetable broth, heated to a simmer on stove
½ cup Parmesan, grated
²⁄₃ cup fresh parsley, chopped, plus more for garnish
¹⁄₃ cup fresh mint leaves, chopped
juice of 2 medium lemons
½ Tbsp lemon zest
| Preparation | Heat ¹⁄₃ cup oil in a small stainless steel skillet over medium heat. Drop a few leaves of dulse into the oil and cook for a few seconds until crisp and bubbly; remove immediately and transfer to a towel-lined plate. Repeat until all dulse is crisped. Set aside.
Preheat oven to 450°F. Toss asparagus and fennel in 1 tablespoon oil. Lay in a single layer on lipped sheet pans and season with salt and pepper. Roast in oven, 15 to 18 minutes until deep brown on underside. Remove as you finish the risotto.
Meanwhile, heat remaining oil and butter in a large saucepan over medium heat. Add onion and garlic and cook for 4 minutes, stirring occasionally. Stir in rice and cook, 1 minute. Add wine and let bubble, 2 minutes. Using a large ladle, add one ladle of hot broth to risotto, stirring for 3 minutes until liquid has absorbed. Repeat, stirring slowly but constantly, until risotto is creamy and cooked, 16 to 18 minutes. (You may have a small amount of broth left over.) Remove from heat and fold in Parmesan, then add parsley, mint, lemon juice and zest. Season generously with salt and pepper to taste.
| To Serve | Just before serving, crumble dulse and fold into risotto. Divide risotto into low bowls and then divide asparagus and fennel slices over the top. Garnish with parsley and serve hot.