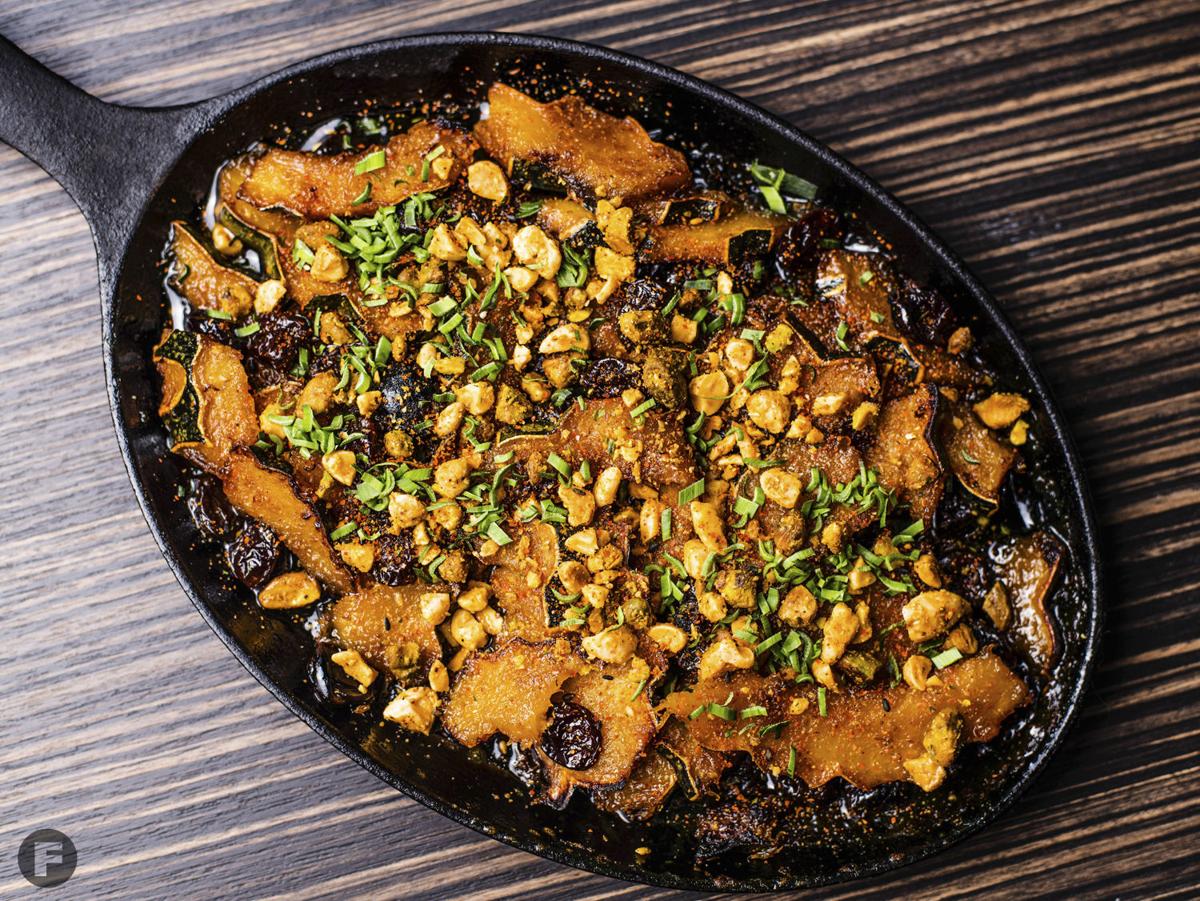 Nick Bognar, the James Beard-nominated chef-owner of Indo in St. Louis, spends the holidays with his Thai-American family in St. Louis. One dish in particular makes an appearance on the table each year: a special Thai-inspired acorn squash casserole. The Bognar family makes the casserole with acorn squash (or sometimes pumpkin), as well as eggs, fish sauce, raisins, garlic and fried onions. "My grandmother used to make me different versions of this dish when I was very little," Bognar says. "It's a familiar yet different dish, very Thanksgiving [and] very fall. It's fun to use some new ingredients with such a normal squash-style dish." With that in mind, the casserole features a distinctly Thai flavor profile, including garlic and fish sauce with a sweet palm sugar glaze.
Thai-Inspired Acorn Squash Casserole 
Recipe courtesy of Nick Bognar, chef-owner, Indo
Serves | 10 |
Acorn Squash Casserole
2 acorn squash
16 oz dried tart cherries
1 cup pistachios
1 cup almonds
2 Tbsp minced garlic
1 bunch chives
2 cups fish caramel (recipe below)
1 tsp fish sauce
salt to taste
2 Tbsp olive oil
Fish Caramel
1 24 oz bottle Shrimp brand fish sauce
8 oz brown sugar
16 oz palm sugar
1 cup honey
1 cup whole garlic cloves
3 pieces lemongrass, roughly chopped
8 pieces galangal, cut into slivers
8 fresh Thai chiles, whole
8 dried Thai chiles, whole
| Preparation – Fish Caramel | Combine ingredients in a large saucepan. Bring to a boil, then turn to medium-low heat. Reduce sauce by 10 percent, about one to two hours. Let ingredients steep for an additional hour; strain and cool. 
| Preparation – Thai-Inspired Acorn Squash Casserole | Preheat oven to 400°F. Toss pistachios and almonds in oil and season with salt. Place nuts onto sheet tray and roast in oven until golden brown, about 15 minutes. Remove from oven and let cool. Chop nut mixture roughly; set aside.  
Peel the skin off of the squash partially (the skin does not need to be fully removed). Quarter the acorn squash; remove seeds and pulp. Slice squash into 1/4 inch slices. 
Heat a large saucepan over medium heat. Add garlic and butter, then add acorn squash and fish caramel. Toss ingredients lightly and season with salt and fish sauce. Add tart cherries and mix. Pour mixture into an oven-ready dish and place in oven. Roast for 45 minutes, or until squash is tender. 
| To Serve | Garnish with chopped nuts and sliced chives.