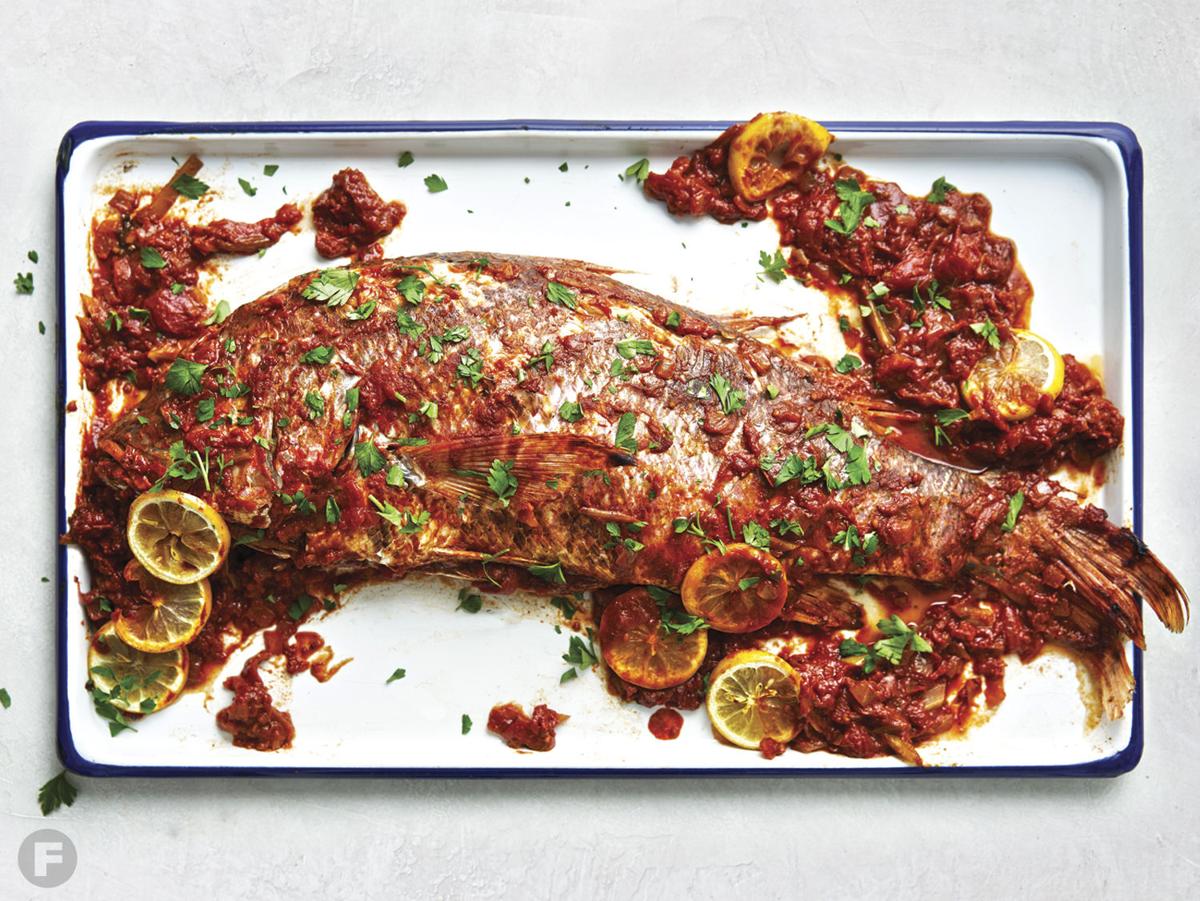 A flavorful fish is especially welcome during the cold winter months. This roasted red snapper baked in a robust tomato sauce receives floral notes from the vanilla bean, which elevates the dish and makes it festive enough for holiday entertaining.
Roasted Red Snapper in Vanilla-Scented Sauce
Serves | 4 to 6 |
2 Tbsp butter
1 Tbsp olive oil
1 cup fennel, cored and thinly sliced
½ cup chopped onion
½ cup dry Marsala wine
1 vanilla bean, split
1 tsp chopped fresh oregano
1 28-oz can whole San Marzano tomatoes with juice
¼ tsp sea salt
4 to 4½ lbs whole red snapper fillet
1 lemon, cut crosswise into thin slices
1 Tbsp minced fresh parsley
| Preparation | Preheat oven to 375°F. In a large roasting pan over medium high heat, melt butter with olive oil. Add fennel and sauté, 3 minutes. Add onion and sauté, 5 minutes. If onion starts to brown, lower heat. Add wine and vanilla bean and bring to a boil; reduce wine for approximately two minutes. Add oregano, tomatoes and salt; reduce heat and simmer, 5 minutes. Remove from heat and scoop out vanilla bean.
Lay fish in sauce, spooning some over the top. Add lemon slices around fish. Place roasting pan in oven and cook for 12 to 15 minutes, or until fish is done (the flesh should be opaque and flake easily when poked with a fork). Remove from oven and sprinkle with parsley. Adjust seasoning to taste and serve with sauce.
GET HANDS-ON! Join Feast Magazine and Schnucks Cooks Cooking School at 6pm on Wed., Dec. 18 at the Des Peres, Missouri, location to make the dishes on this month's menu. Tickets are just $45 for a night of cooking, dining and wine. RSVP nourish.schnucks.com/web-ext/cooking-school or call 314.909.1704.
MAKE THE MEAL:
Wilted Lettuce Salad
Roasted Red Snapper in Vanilla-Scented Sauce
Oven-Baked Rice Pilaf
Oven-Roasted Cauliflower
Lemon Curd Layer Cake
LEARN MORE: In this class, you'll learn how to descale and debone fish, plus how to expertly open a vanilla bean pod to extract the seeds.