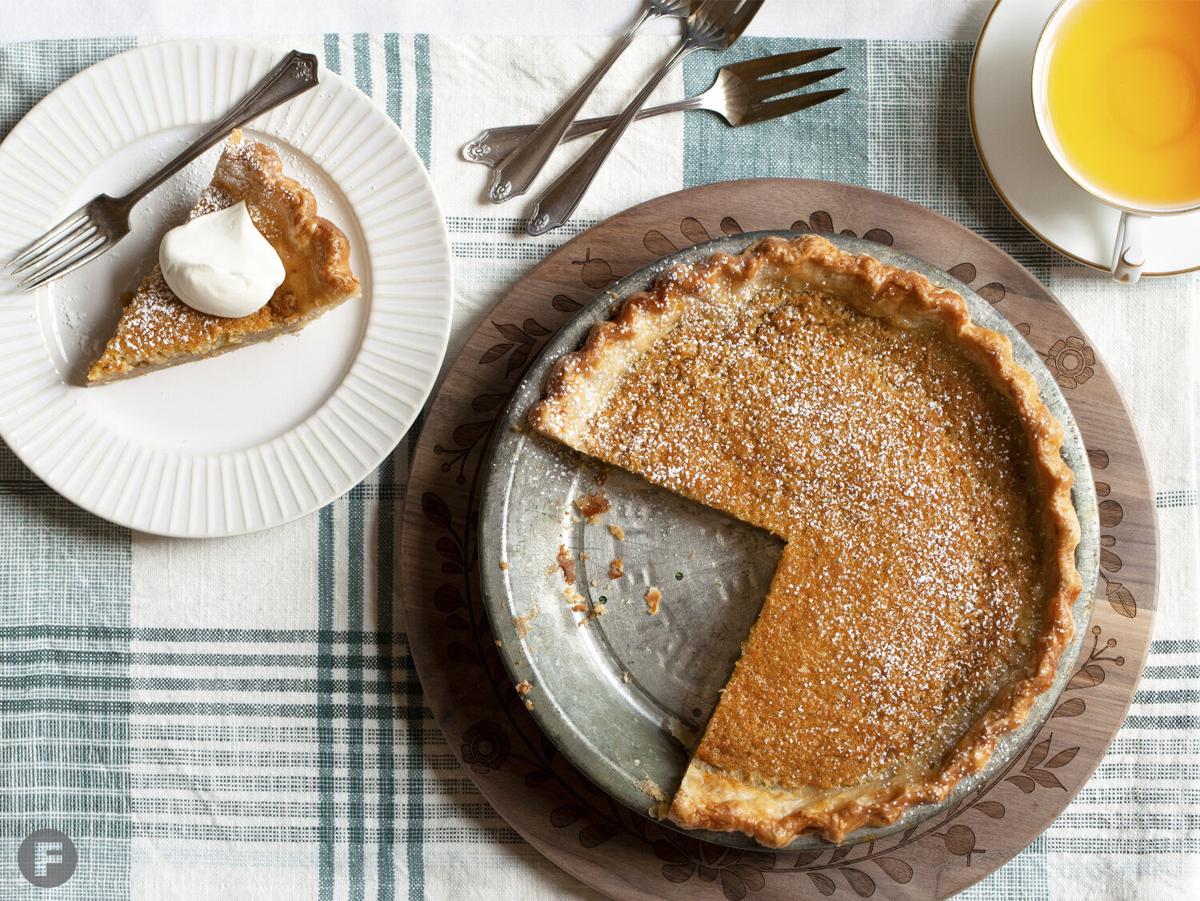 Desperation pies have been part of the U.S. culinary tradition since the early 1800s, when resourceful farming families would replace seasonal fruit with whatever they could find in their cupboards to create equally delicious desserts. True to its name, vinegar pie, one type of desperation pie, uses apple cider vinegar instead of citrus fruit to add a touch of acid to each slice and balance out the sweetness of the rich custard filling. Despite its humble history, vinegar pie prevails today as a simple, comforting – and increasingly popular – flavor in the Ozarks region and beyond.
Vinegar Pie
Yields | one 9-inch pie |
Dough
1¼       cups all-purpose flour
½         tsp kosher salt
½         tsp sugar
8          Tbsp (1 stick) unsalted butter, cold, cut into ½-inch cubes
¼         cup ice-cold water
½         tsp apple cider vinegar
Filling
1          cup light brown sugar
2          Tbsp all-purpose flour
¾         tsp kosher salt
4          large eggs
6          Tbsp (¾ stick) unsalted butter, melted
2          Tbsp apple cider vinegar
1          tsp vanilla extract
| Preparation – Dough | In a large bowl, combine flour, salt and sugar. Add butter and lightly toss to coat. Using a pastry blender, cut butter into flour mixture until it becomes the size of peas (a few remaining large chunks are OK). Combine water and vinegar and then add to flour mixture; mix with a fork until incorporated. If the mixture appears dry, add 1 tablespoon water at a time until no dry spots remain.Turn dough out onto a floured work surface and bring together with your hands. Using your hands, turn dough over on itself and then press with your palms. Repeat these motions a few times until dough comes together with butter pieces still visible throughout. (Don't overwork the dough, as that will produce a tough crust.) Gently pat dough into a 1-inch-thick round disc and wrap tightly in plastic wrap. Place in refrigerator to chill, at least 2 hours, preferably overnight.
Remove dough from refrigerator, discard plastic wrap and set dough on a lightly floured work surface. Using a rolling pin, roll dough out to approximately ⅛ inch thick (the circle should be approximately ¾ inch wider than a pie plate). Transfer dough to a pie plate and gently press it in. Tuck excess dough around the outer rim under itself to create a uniform crust edge. Decorate edge with desired design. Set pie plate in freezer to chill, 20 minutes.
Preheat oven to 425°F. Remove pie plate from freezer and dock the bottom all over with a fork. Cut a large piece of parchment paper into a square that is slightly larger than the pie shell and gently fit it into the chilled crust. Fill parchment paper-lined crust with pie weights, or dried beans, until they reach all the way up to the edges. Place pie plate on a baking sheet; transfer to oven and bake, 15 to 18 minutes or until the edges begin to lightly brown. Remove from oven and carefully lift parchment paper with weights/beans out of the pie crust. Place pie plate back in oven and bake, 3 to 4 minutes or until the bottom appears set and edges are a light golden brown. Remove from oven and set on a wire rack to cool.
| Preparation – Filling | In a large bowl, whisk together all ingredients until combined with no flour streaks remaining.
| Assembly |When ready to bake filling, preheat oven to 350°F. Brush the edges of the pie crust with egg wash (1 large egg, lightly beaten) and then pour in the filling. Bake until crust is deeply golden brown and filling is set in the center (the center should not jiggle when the edge of the pie plate is lightly nudged), 40 to 45 minutes. Remove from oven and set on a wire rack to cool. Slice and serve with a dollop of whipped cream or a dusting of powdered sugar.