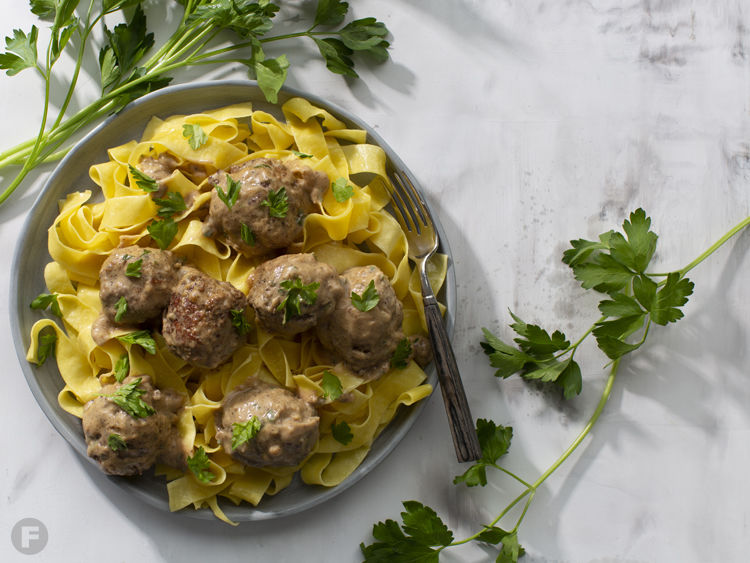 Don't relegate Swedish meatballs to party buffets and appetizer plates – they're a delicious and quick main course in their own right. Here, we're adding a few nontraditional ingredients to the gravy, including soy sauce and lemon juice, and replacing sour cream with heavy cream for a sauce with a slightly thinner texture.
Swedish Meatballs
Serves | 4 to 6 |
5 Tbsp unsalted butter, divided
1 medium white or yellow onion, grated
1 cup bread crumbs
½ cup whole milk
1 lb ground chuck
½ lb ground pork
¼ lb ground veal
1 egg, slightly beaten
½ tsp ground allspice
¹⁄₃ tsp ground nutmeg
1 tsp kosher salt
¼ tsp ground white pepper
3 Tbsp all-purpose flour
2 cups unsalted chicken stock
1 tsp soy sauce
½ cup heavy cream
1 tsp fresh lemon juice
cooked and buttered pappardelle noodles (to serve)
| Preparation | Preheat oven to 300°F. In a small skillet over medium heat, melt 2 tablespoons butter. Add onion and cook until softened, 4 minutes. Transfer onion to a small bowl and let come to room temperature. Meanwhile, in a separate bowl, combine bread crumbs and milk and set aside until bread crumbs absorb milk. In a large mixing bowl, mix three ground meats with room-temperature onion, bread crumb mixture, egg, allspice, nutmeg, salt and white pepper. Using lightly wetted hands, form into 2-inch meatballs.
In a large sauté pan over medium-high heat, melt remaining butter. Sauté meatballs, working in 3 batches, until browned, about 5 minutes per batch. Remove to a sheet pan and place in oven for 10 minutes. Set aside.
In a large skillet with a lid over medium-high heat, add flour and whisk to make a roux; cook for 2 to 3 minutes, then slowly add chicken stock, whisking until smooth; cook for 3 minutes more. Add soy sauce, heavy cream and lemon juice; cook 2 minutes more. Reduce heat to medium. Return meatballs and their juices to skillet and cover with lid. Cook for 5 to 10 minutes more. Serve over cooked and buttered pappardelle noodles.
GET HANDS-ON! Join Feast Magazine and Schnucks Cooks Cooking School at 6pm on Thu., Feb. 28, at the Des Peres, Missouri, location to make the dishes on this month's menu. Tickets are just $45 for a night of cooking, dining and wine. RSVP at nourish.schnucks.com/schnucks-cooking-school or call 314.909.1704.
MAKE THE MEAL:
Swedish Mushroom Soup
Swedish Meatballs
Buttered Pappardelle Noodles
Green Beans with Bacon
Danish Pancakes with Lingonberry Jam
LEARN MORE: In this class, you'll learn how to make traditional Danish pancakes topped with lingonberry jam. You'll also learn how to make a warming, winter-perfect Swedish mushroom soup.