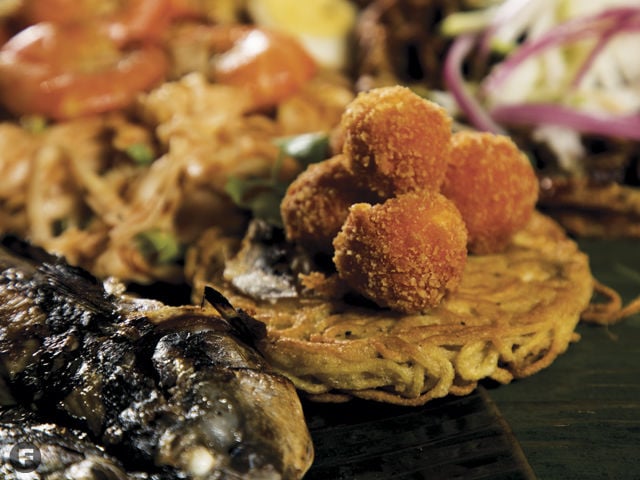 Bulalo is a beef soup wherein beef shanks and bone marrow are slowly simmered for hours. For her Kamayan Night dinner, Perez-Nievera took the flavors associated with bulalo and used them to make hand-held croquettes. She recommends purchasing bone marrow at Asian markets or inquiring about it at your local butcher shop.
Bulalo Croquettes
Recipe by Malou Perez-Nievera
Yields | 20 croquettes |
1 Tbsp unsalted butter
4 Tbsp bone marrow
4 to 5 medium russet or Yukon potatoes, peeled, boiled and mashed
1 egg
½ cup milk
2 Tbsp bread crumbs, plus more for rolling out croquettes
salt and freshly ground black pepper, to taste
2 to 3 Tbsp canola oil
| Preparation | In a saucepan over medium heat, heat butter and bone marrow until butter melts. Add mashed potatoes and stir until smooth.
In a small bowl, crack egg and then thoroughly whip it into potato mixture. Add milk and bread crumbs to potatoes and season with salt and pepper to taste. Set aside until cool.
Shape mashed potatoes into ping-pong-sized balls. Scatter bread crumbs over a workspace and roll potato balls until coated.
In a skillet over medium-high heat, add oil. Fry batches of croquettes, 2 minutes each, until golden brown. Serve.