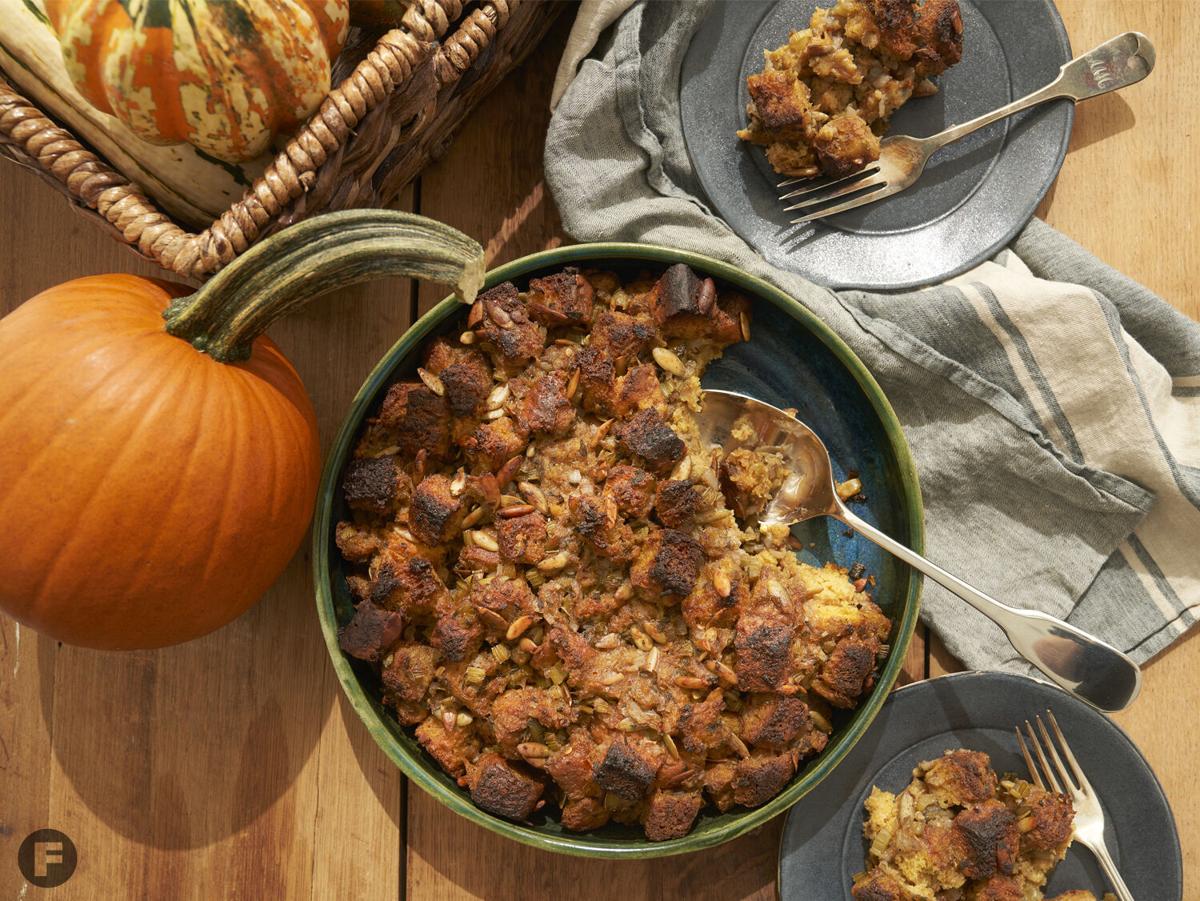 2020 is the year of baking projects, and this pumpkin bread stuffing is the perfect one for this Thanksgiving. Make the bread anytime and freeze it until you're ready to complete the stuffing. Expecting a smaller crowd around the table this year? Halve the recipe by using only one of the premade loaves, halving the stuffing ingredients and baking it in a smaller casserole dish.
Pumpkin Bread Stuffing
Serves | 10 to 12 |
Pumpkin Bread
½ cup milk, warm
⅔ cup water, warm
2 Tbsp granulated sugar
1 packet (2¼ tsp) active dry yeast
1 cup pumpkin purée
4 to 5 cups unbleached all-purpose flour
2 tsp kosher salt
Pumpkin Bread Stuffing
2 loaves pumpkin bread (recipe follows)
½ cup (1 stick) unsalted butter, plus more to grease casserole dish    
2 cups diced sweet yellow onion
1½ cups diced celery
2 cloves garlic, minced
3 Tbsp finely chopped fresh sage leaves
1 Tbsp finely chopped fresh rosemary leaves
2 tsp garam masala
1 tsp chile flakes
½ tsp ground allspice
½ tsp ground cinnamon
2 tsp kosher salt, plus more to taste
½ tsp freshly ground black pepper, plus more to taste
3 to 4 cups chicken stock
¾  cup raw pumpkin seeds, plus more for garnish
| Preparation – Pumpkin Bread | In the bowl of a stand mixer, whisk together milk, water, sugar and yeast; let sit, 5 minutes, to activate yeast. Add pumpkin purée, 4 cups flour and salt; combine using the paddle attachment. Switch out paddle for dough hook. Knead dough on low speed, adding more flour as needed (dough should clean the sides of the bowl), 5 minutes; increase speed to medium and knead, 1 minute. Transfer dough to an oiled bowl and cover bowl with plastic wrap or a kitchen towel; set in a warm spot in your kitchen to rise, 90 minutes.
Grease two loaf pans with butter. Transfer dough to a lightly floured work surface to deflate. Using a bench cutter, divide dough into two equal pieces; shape each piece into a loaf and set in its own loaf pan. Cover and let rise again, 1 hour.
Preheat oven to 350ºF. Bake loaves until cooked through, approximately 30 minutes. (Loaves will sound hollow when tapped on the bottom.) Remove from oven and immediately remove from pans; set on wire racks to cool completely.
| Preparation – Pumpkin Bread Stuffing | Preheat oven to 300ºF. Cut pumpkin bread into 1-inch chunks and spread out in a single layer on two baking sheets; bake until bread is completely dry, 45 to 55 minutes, tossing every 15 minutes. Remove from oven and allow to cool completely on pans.
Increase oven temperature to 375ºF. Grease bottom and sides of a 9-by-13-inch casserole dish. In a Dutch oven over medium heat, melt butter. Add onion, celery, garlic, sage and rosemary; cook until softened, 6 to 8 minutes. Stir in garam masala, chile flakes, allspice, cinnamon, salt and pepper; add 3 cups chicken stock and heat until steaming. Fold in cooled cubes of pumpkin bread and pumpkin seeds, working quickly until incorporated; add remaining stock as needed. Transfer mixture to prepared casserole dish; scatter more pumpkin seeds on top. Tightly cover dish with aluminum foil and bake, 40 minutes. Uncover and bake until crispy on top, another 25 to 30 minutes. Remove from oven and let rest, 10 minutes. Serve hot.