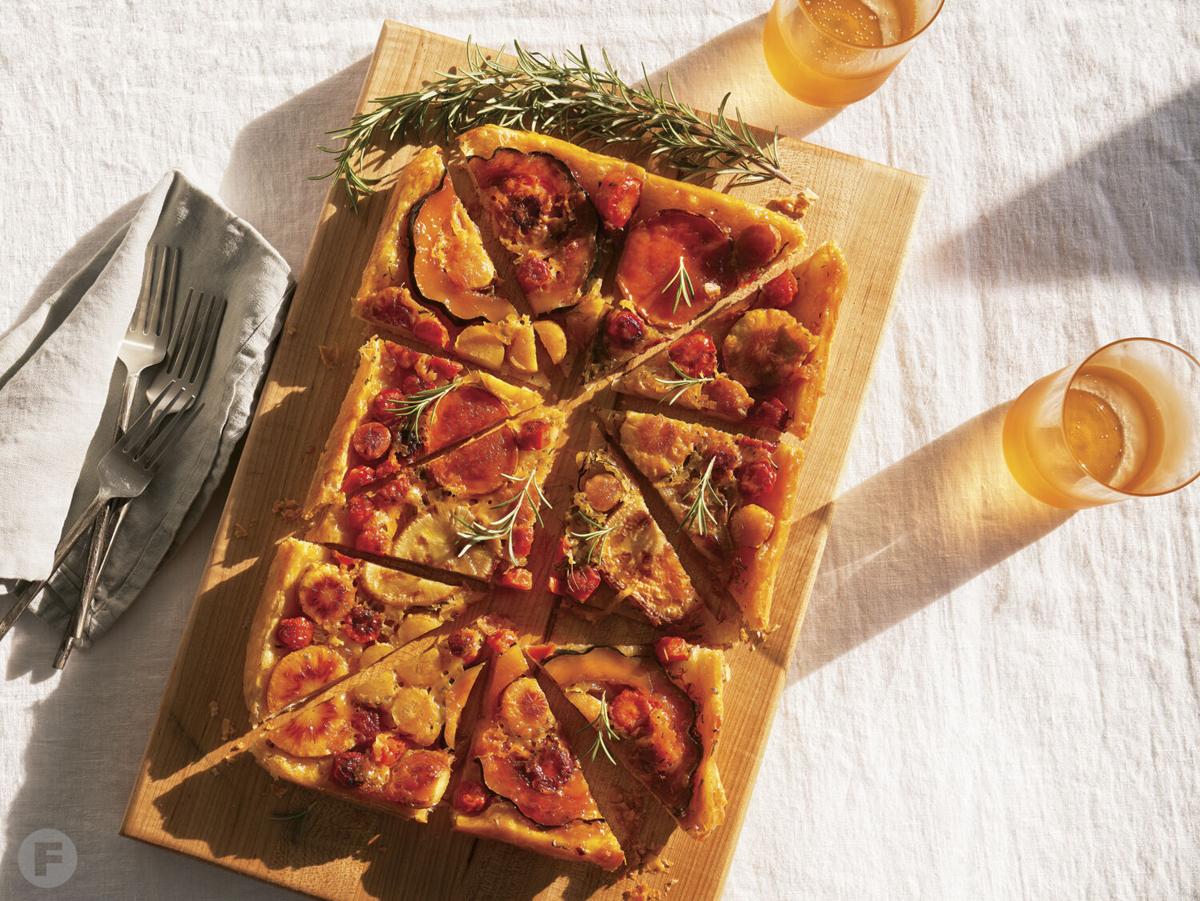 This tart is all about creativity and use of space, so don't be afraid to release your inner artist. Use your favorite round roots, grabbing a variety of small and large options so that you have plenty of ways to make it gorgeous. Taleggio works well against the sweetness of the vegetables; its mild and almost fruity flavor is delightful, but some people are put off by its potent aroma. If it's too much for you or your guests, less-stinky Brie or Robiola are great stand-ins.
Root Vegetable Tarte Tatin
Serves | 8 to 10 |
2 Tbsp olive oil, divided
kosher salt and freshly ground black pepper, to taste
⅓ cup small dice shallots
3 Tbsp water
¾ cup granulated sugar
1 Tbsp white wine vinegar
2 to 3 tsp finely chopped fresh rosemary leaves, plus 1 sprig for garnish
¼ lb Taleggio, rind removed and torn into small pieces
2 sheets frozen puff pastry, thawed in refrigerator overnight, each rolled out into a 10-by-10-inch square and then set back in refrigerator until ready to use
| Preparation | Preheat oven to 400°F. Toss root vegetables with 1 tablespoon oil; season with salt and pepper to taste. Roast, 30 minutes.
Meanwhile, in a medium sauté pan over medium heat, sauté shallots until softened, 2 to 3 minutes. Remove from heat and set aside. In a small saucepan over medium heat, whisk water and sugar together to caramelize; continue whisking until sugar has dissolved and then let bubble, undisturbed, until light golden in color, 7 to 8 minutes. Remove from heat; working quickly, whisk in vinegar and then immediately pour mixture into a 9-by-13-inch glass pan and spread out over the bottom. Place rosemary sprig in pan and then lay vegetable rounds on top, roasted-side down. (Place larger rounds as close together as possible without overlapping and fill in empty spaces with smaller rounds.) Scatter shallots and chopped rosemary over top and then evenly divide Taleggio over that; season with salt and pepper to taste. Remove pastry squares from refrigerator and lay over top. Using a thin, sharp knife, trim edges so they reach ½ inch up the sides of the pan and then firmly tuck edges down alongside vegetable layers. Poke pastry all over with fork to vent, 6 to 7 times. Transfer to oven (which should still be set at 400°F) and bake, 20 minutes; reduce heat to 350°F and continue baking, another 22 to 25 minutes. Remove from oven and let sit, 10 minutes. Place serving platter on top of pan and then flip tarte tatin onto platter. Serve hot.