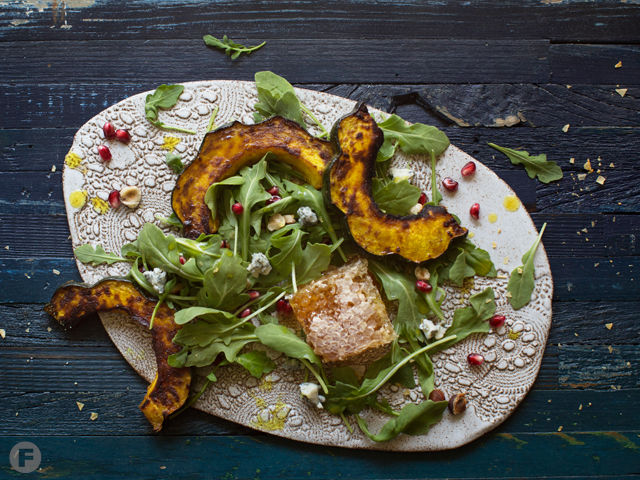 Salads are a great way to get familiar with honeycomb: The glossy, chewy bits yield softly and provide a squidgy texture that you'll fall in love with.
Serves | 4 |
Vinaigrette
1 12-oz package honeycomb
3 Tbsp Champagne vinegar
½ cup olive oil
½ tsp ground turmeric
¼ tsp ground cayenne pepper
sea salt and freshly ground black pepper
Salad
1½ Tbsp plus 1 tsp olive oil, divided
1 acorn squash, halved, deseeded, sliced into ½-inch thick crescents
1½ tsp brown sugar
1 tsp ground turmeric
½ tsp kosher salt
5 to 6 oz baby arugula
½ cup crumbled Gorgonzola cheese
¼ cup chopped fresh parsley leaves
6 Tbsp toasted, skinned, roughly chopped hazelnuts
¼ cup pomegranate arils
6 oz honeycomb
sea salt and freshly ground black pepper
| Preparation – Vinaigrette | Cut about 6 ounces off honeycomb, and transfer to lipped plate or bowl. After 10 minutes, plate will be filled with honey. Measure out 1½ teaspoons honey from comb, and set aside. Reserve comb for salad.
In a medium-sized lidded jar, add vinegar, olive oil, honey, turmeric and cayenne pepper; seal jar with lid, and shake to emulsify. Season with salt and pepper, and transfer to refrigerator to allow flavors to blend.
| Preparation – Salad | Preheat oven to 400°F, and brush a lipped sheet pan with 1 teaspoon olive oil.
In a large bowl, add squash, and toss with remaining oil, brown sugar and turmeric. Lay in a single layer on sheet pan, and sprinkle with kosher salt. Roast for 30 to 40 minutes, until undersides are deep golden brown. Remove, and allow to cool slightly.
In a large bowl, toss arugula with a few tablespoons vinaigrette. Divide onto 4 plates, and lay squash crescents over top. Crumble cheese over each salad, and top with next 4 ingredients. Chop honeycomb into bite-sized pieces, and mix into salads. Drizzle with more vinaigrette, season with salt and pepper, and serve.