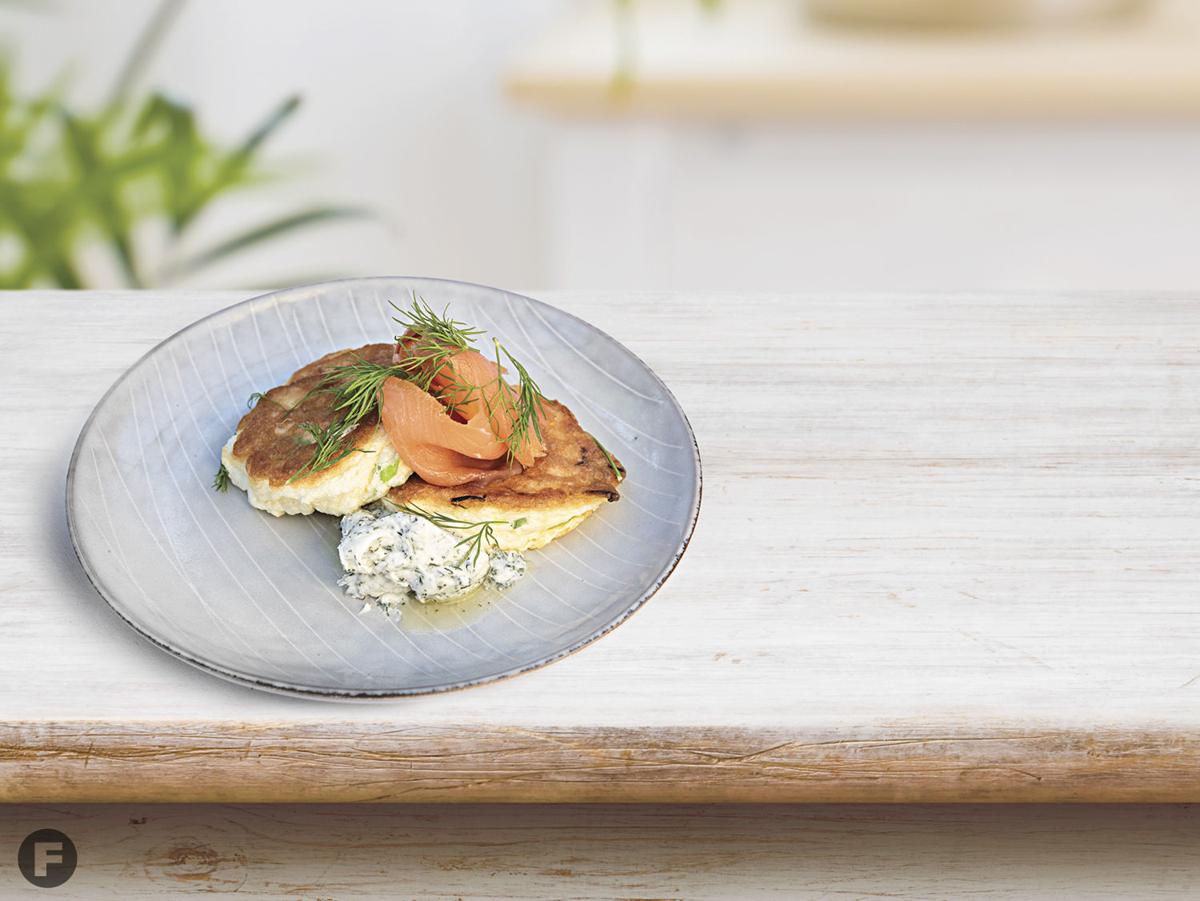 In the season when food memories and traditions are ever-present, I want to shake things up.
Inspired by one of my favorite flavor profiles for the holidays – cured salmon with all the fixins' – I've combined lox with a savory, fluffy and exceptionally delicious Japanese pancake. It's the perfect vehicle for everything else that comes on top. Unlike traditional American pancakes, Japanese pancakes aren't limited to just brunch – they're great anytime, anywhere.
Savory Japanese Pancakes with Lox and Whipped Yogurt
Yields | 6 pancakes |
Whipped Yogurt Sauce
½ cup Greek yogurt
1 tsp dry dill
½ tsp honey
1 Tbsp olive oil
salt and freshly ground black pepper, to taste
Japanese Pancakes
2 egg yolks
2 Tbsp milk
6 Tbsp cake flour
1 tsp salt
½ tsp baking powder
3 Tbsp finely sliced scallions or chives
5 egg whites
¼ tsp cream of tartar
nonstick cooking oil spray
whipped yogurt sauce, to serve (recipe below)
4 oz cured lox, to serve
1 small red onion, slivered, to serve
chopped dill, to serve
| Preparation – Whipped Yogurt Sauce | Mix yogurt with honey, dill and olive oil. Season with salt and pepper to taste and set aside.
| Preparation – Japanese Pancakes | Whisk egg yolks with milk. Sift flour, salt and baking powder over egg yolk mixture and stir until fully incorporated. Add scallions or chives. In a separate mixing bowl, beat egg whites with cream of tartar until thick, stiff peaks form. Slowly fold egg white mixture into egg yolk mixture, ⅓ at a time, being careful not to deflate.
Heat a large sauté pan over medium-low heat, turning down to low heat once warm. Spray pan with nonstick cooking oil spray. Pour ¼ cup of batter into pan to form each pancake; cover with lid. After 2 to 3 minutes, open lid and pour an additional ¼ cup of batter on top of each mound (the goal is to form thick, high pancakes); cover and continue to cook for 2 to 3 minutes. Open lid and gently flip each pancake; cover and continue to cook for 2 to 3 minutes. Remove pancakes from pan and garnish with yogurt sauce, lox, red onion and dill. Serve warm.