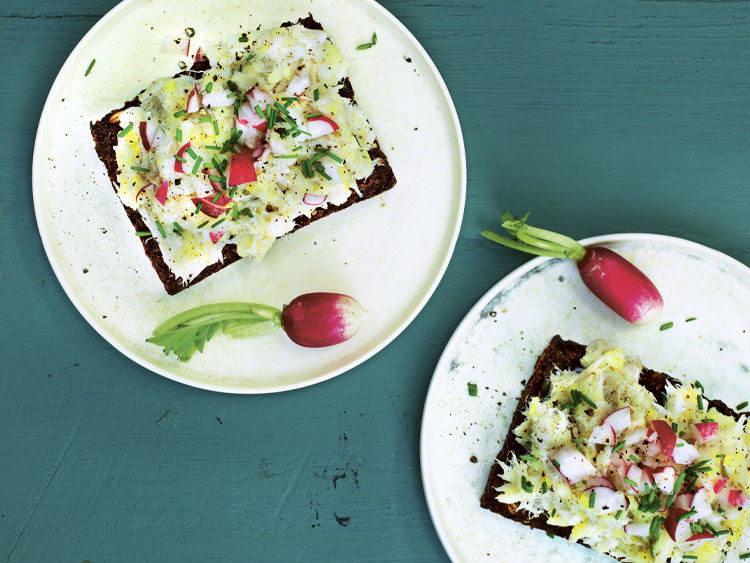 "This is not a classic Danish open sandwich, but one of my own ways of using fish and potatoes, inspired by brandade."–Trine Hahnemann
Cod and Potato Smørrebrød
Serves | 4 |
1 10½-oz cod fillet
sea salt and freshly ground black pepper, to taste
3 medium russet potatoes, boiled and cooled
2 Tbsp olive oil
½ tsp freshly grated nutmeg
4 slices rye bread
4 Tbsp finely chopped radishes
4 Tbsp finely chopped fresh chives
| Preparation | Preheat oven to 350ºF. Place cod in a heatproof baking dish, sprinkle with salt and pepper to taste and bake for 10 minutes. Let cool and carefully remove any bones.
In a mixing bowl, add cod, potatoes, olive oil and nutmeg. Mash mixture with a fork and mix together well. Season with salt and pepper to taste.
Transfer rye bread slices to a clean work surface. Divide cod and potato mixture over each slice and top with radishes and chives. Sprinkle with pepper to taste; serve.
Recipe excerpted with permission from Scandinavian Baking (Quadrille Publishing, October 2015) and Open Sandwiches (Quadrille Publishing, May 2018) by Trine Hahnemann. Visit hardiegrant.com/uk/quadrille to learn more.