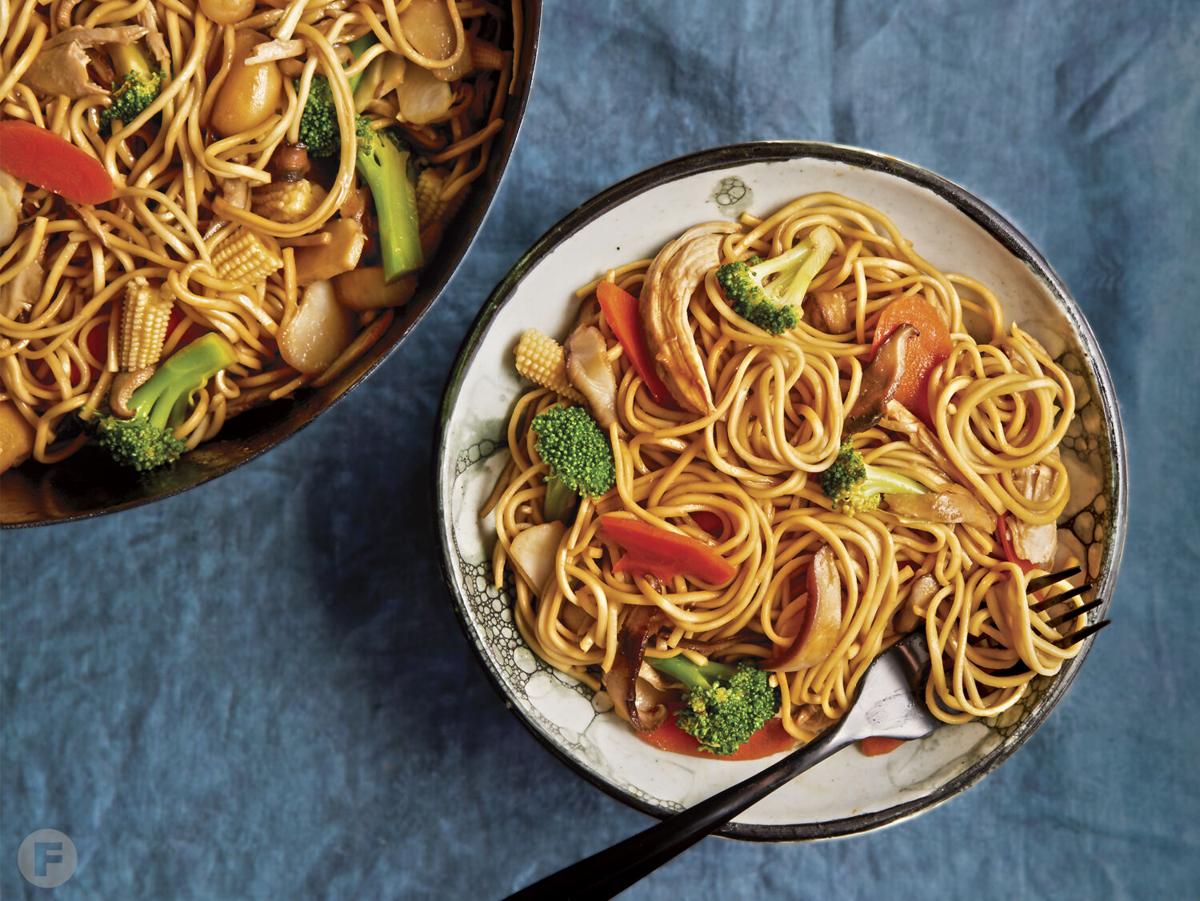 I'm always looking for more ways to get my kids to eat – and enjoy – veggies. This recipe does just that – plus, it's the perfect way to utilize a rotisserie chicken. You can prep everything ahead of time and then it takes less than 10 minutes to stir-fry the ingredients for a quick, nutritious meal that's easy to make and clean up between work and activities. The silky, flavorful noodles combined with crisp vegetables and juicy chicken will be gobbled up with gratitude, making you a home-cook hero in no time flat.
Chicken and Vegetable Lo Mein
Serves | 3 to 4 |
8 oz Chinese egg noodles
1½ Tbsp sesame oil
2½ tsp kosher salt, divided
4 Tbsp vegetable oil
2 Tbsp grated ginger
5 to 6 cloves garlic, minced
1½ cups thinly sliced shiitake mushrooms
1½ cups broccoli stems
2 medium carrots, thinly sliced on a bias
1 15-oz can baby corn, drained (if whole, cut each into 3 pieces)
1 8-oz can sliced water chestnuts, drained
2 cups slightly shredded rotisserie chicken
½ cup chicken stock
½ cup soy sauce
2 Tbsp dry sherry
1 tsp sugar
1 Tbsp cornstarch, dissolved in 2 tablespoons cold chicken stock
| Preparation | Cook noodles according to package instructions. Once cooked, drain and thoroughly rinse noodles in cold water; toss with sesame oil and 2 teaspoons salt. (Cooked noodles can be stored in an airtight container in refrigerator for up to two days, if necessary.) Heat vegetable oil in a wok or a large, deep skillet over high heat; add ginger and garlic and stir until aromatic, approximately 15 seconds. Add mushrooms, broccoli, carrots, corn and water chestnuts; toss until vegetables are tender-crisp. Add chicken; cook until heated through.
In a bowl, combine chicken stock, soy sauce, sherry and sugar. Add sauce to pan; simmer, approximately 30 seconds, and then add cornstarch mixture. Stir until sauce begins to thicken and then add noodles; gently toss to incorporate. Serve immediately.