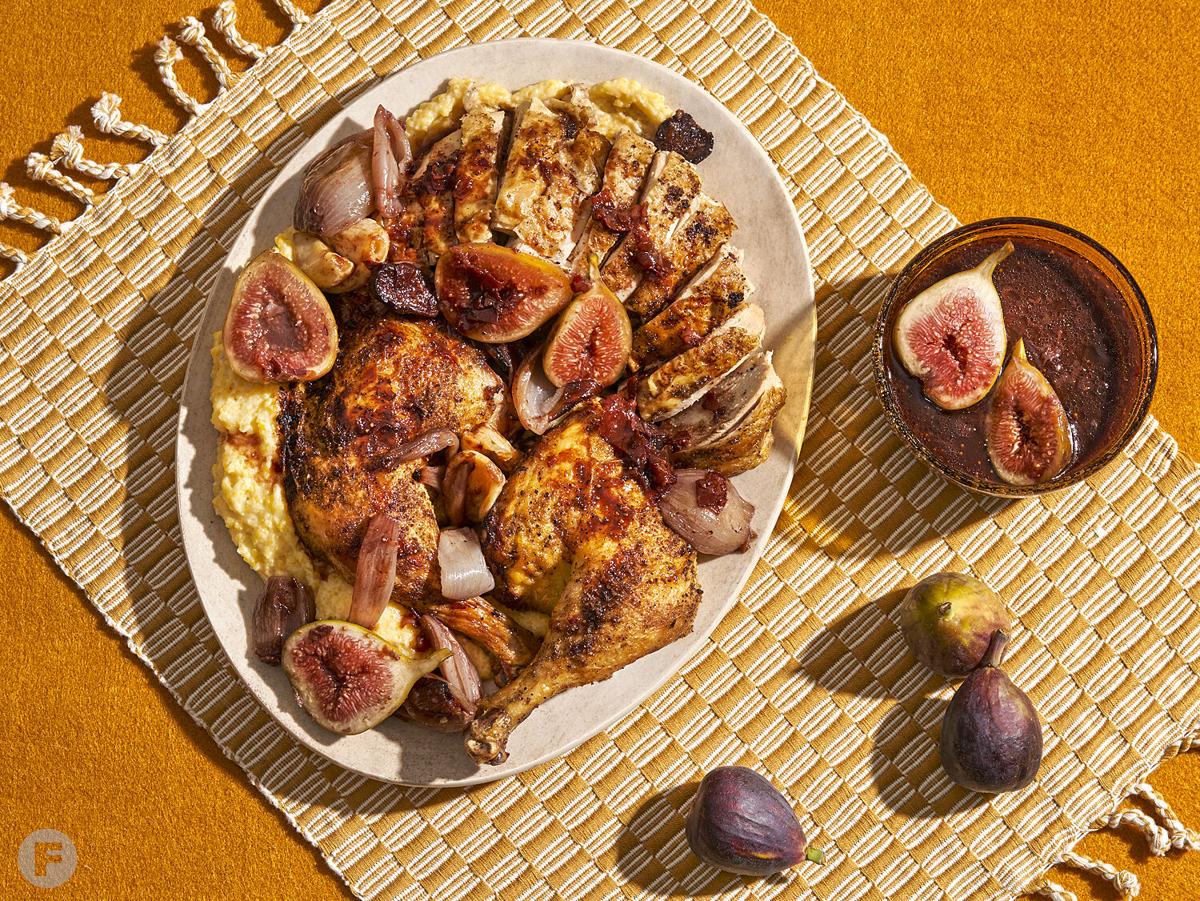 As temperatures begin to cool down, our palates yearn for more substantial meals with rich flavors. This roast chicken is straightforward; paired with port-soaked figs and a port wine pan sauce, it will satisfy some of those seasonal cravings. Use a ruby port for optimum fruitiness and sweetness, or try a tawny port for greater complexity.
Roast Chicken with Port-Soaked Figs
Serves | 4 to 6 |
2 tsp cumin
1 tsp coriander
1 tsp finely chopped fresh rosemary
1 tsp salt
½ tsp freshly ground black pepper
2 Tbsp oil, divided
3 to 4 lbs chicken, spatchcocked
zest and juice of 1 lemon
1½ cups port wine
12 dried figs
8 medium shallots, peeled
4 cloves garlic, peeled and smashed
1½ cups chicken stock
¼ lb high-quality prosciutto, cut into ribbons
½ cup fig preserves
1 Tbsp cold butter
6 fresh figs, halved
| Preparation | In a small bowl, combine cumin, coriander, rosemary, salt and pepper. Rub 1 tablespoon oil all over chicken and then rub spice-herb blend all over; refrigerate, at least 1 hour or overnight. In another small bowl, add lemon zest, lemon juice and port wine; add dried figs, cover and allow to soak at room temperature, at least one hour.
Preheat oven to 375ºF. Coat the bottom of a large skillet with remaining oil. Remove figs from lemon-port mixture and reserve liquid. Arrange soaked figs, shallots and garlic in the middle of the skillet; place chicken on top. Pour stock into skillet and place in oven. Roast until chicken is golden, crisp and internal temperature has reached 160ºF, approximately 50 minutes.
Once chicken is done, transfer contents of skillet to a warm platter, leaving only a scant 2 tablespoons of fat in skillet. Place hot skillet over medium heat and add prosciutto; cook, 1 to 2 minutes. Add fig preserves; cook until melted and then add reserved lemon-port mixture. Bring mixture to a gentle boil; stirring occasionally, cook until liquid has reduced by half and thickened. Whisk in butter, pieces at a time, waiting until one piece has melted before adding another. Check seasoning and adjust if necessary. Remove skillet from heat and carefully place fresh figs in sauce to warm.
| To Serve | Cut chicken into pieces and arrange on a clean platter with shallots and figs; drizzle a little sauce over everything. Pour remaining sauce in a serving dish and serve alongside roast chicken.
GET HANDS-ON! Join Schnucks Cooking School director Gay DeMichele on Zoom at 5pm on Thurs., Oct. 15 to learn how to make the dishes on this month's menu. For more information on everything you'll need for the virtual class – from cookware to ingredients – contact the cooking school directly.
LEARN MORE: In this class, you'll learn how to choose the right chicken for this recipe, plus how to spatchcock it and why. You'll also learn what it takes to make a pan sauce with flavor and gloss.