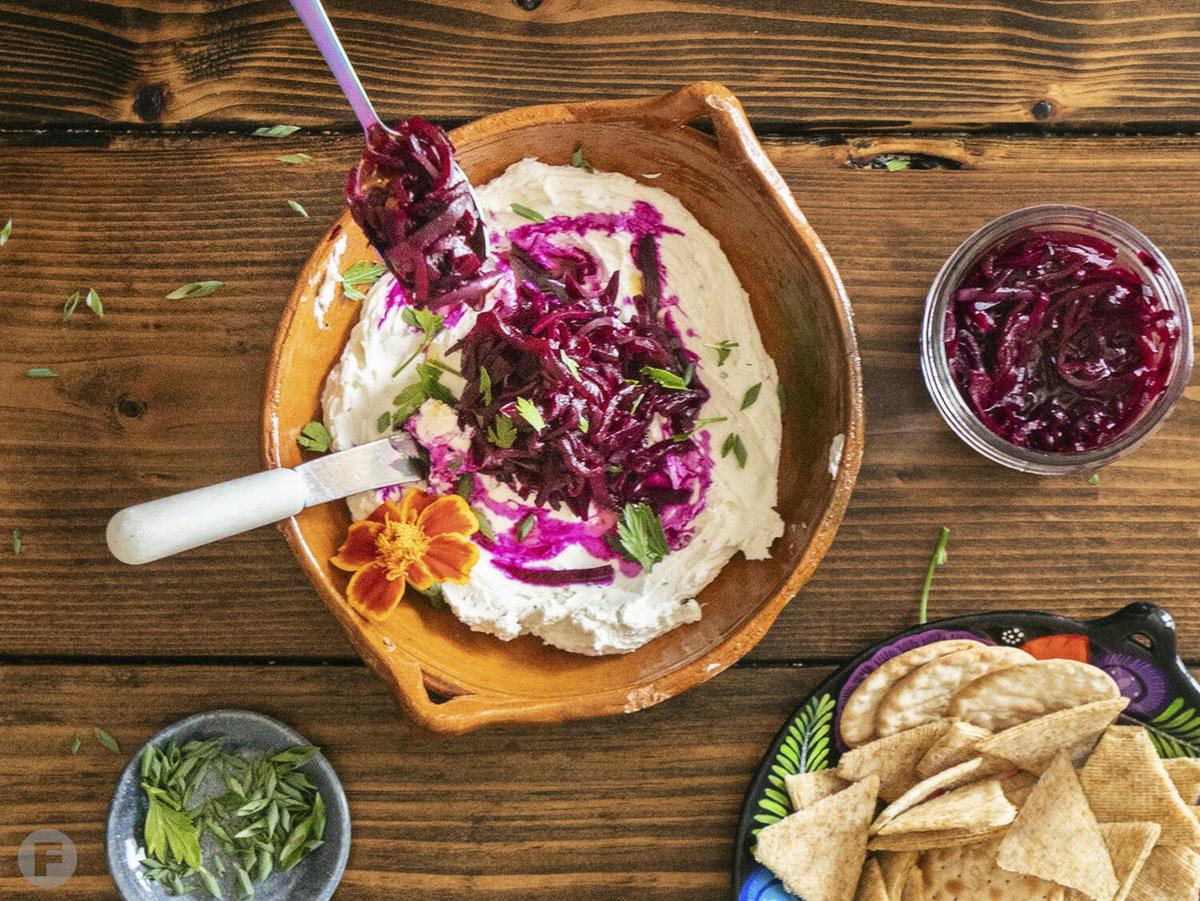 Hand-picking apples on a cool, colorful day in late summer or early fall is an anticipated activity for everyone in my family. After using most of our haul to process cider, sauce and chips for our pantry, we ferment the remaining apples with earthy beets, fresh parsley and aromatics. The result is a bold, purple-pigmented condiment best enjoyed simply over a grilled slice of sourdough bread or creamy goat cheese.
Fermented Apple and Beet Chutney
Yields | 16 oz |
8 oz apples, skin on, cored, small dice
8 oz red beets, peeled, small dice
2 Tbsp Italian parsley, leaves and stems, minced
1 Tbsp kosher sea salt
1 tsp ground clove
1 tsp ground ginger
1 tsp ground allspice
1 star anise
| Preparation | Place all ingredients in a large bowl. Using your hands, toss and squeeze mixture until the natural juices start to release, 5 to 8 minutes. Once there's a good amount of liquid in the bottom of the bowl, let mixture sit at room temperature, 30 minutes.
Add 4 ounces water and 1 tablespoon kosher sea salt to a snack-size zip-close bag and seal tightly; place bag inside another snack-size zip-close bag and seal tightly. Set brine pouch aside.
Transfer apple-beet mixture to a sterilized 32-ounce wide-mouth glass jar, pressing down with the back of a spoon. Add brine pouch on top and gently press down, allowing the juices from the mixture to rise as the pouch weighs the solids down. (It's imperative that the solids remain submerged in the liquid at all times to prevent harmful bacteria from growing.) Cover the jar with a light cloth napkin or towel; let sit at room temperature, 5 to 7 days. During that time, keep an eye on the jar and make sure the ingredients remain submerged in the liquid.
On the fifth day, gently remove brine pouch and taste chutney. If you want to continue developing the flavor (longer fermentation times will result in a more acidic flavor profile), reinsert brine pouch and let sit for another day or two. When the chutney tastes just right, transfer it to a sterilized 16-ounce wide-mouth glass jar, seal tightly and store in refrigerator for up to a year.