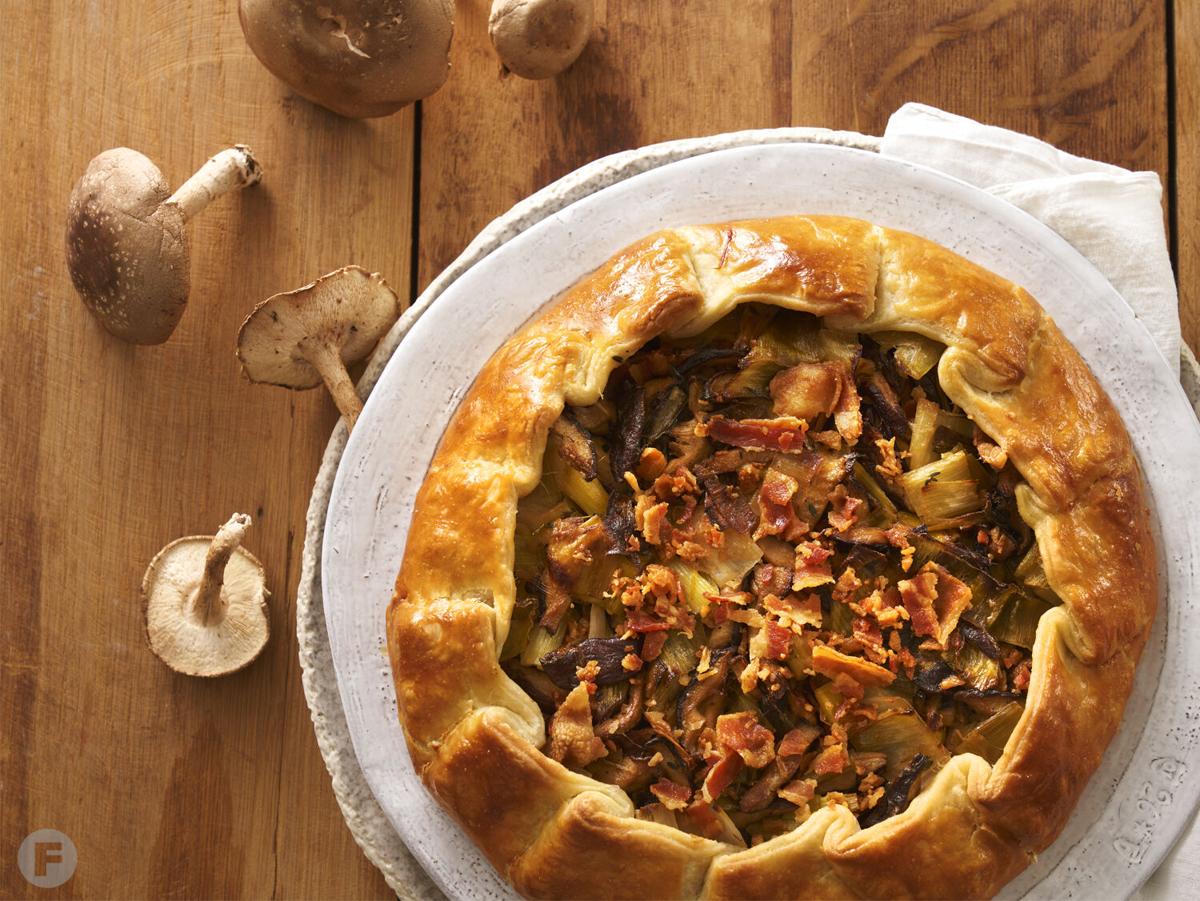 Need a showstopper that isn't fussy? Galettes are always stunning, but this one, in particular, takes little to no effort to put together. Just remember to really press the dough together as you fold the sides so that the crust isn't overly thick where it overlaps.
Leek, Shiitake and Bacon Galette
Crust
1¾ cup all-purpose flour
1 Tbsp granulated sugar
1½ tsp kosher salt
10 Tbsp unsalted butter, cut in ½-inch cubes and chilled until ready to use
1 tsp white vinegar
8 Tbsp ice water
Filling
5 Tbsp olive oil, divided
2 large leeks (1 to 1½ lbs), white and light green parts, cleaned, halved and cut into ½-inch-thick rings
¾ lb fresh shiitake mushrooms, cleaned, stemmed and cut in ¼-inch slices
1 Tbsp fresh thyme leaves
2 cloves garlic, minced
½ tsp salt, plus more for seasoning
¼ cup crème fraîche
freshly ground black pepper
½ cup fresh goat cheese, at room temperature
¼ cup heavy cream
½ lb high-quality bacon, crisped in oven and drained
1 large egg, beaten
| Preparation – Crust | Add flour, sugar and salt to the bowl of a food processor; pulse to combine. Add butter; pulse in 1-second bursts until mixture looks like wet sand, 10 to 15 pulses. Sprinkle vinegar on top and then add ice water; pulse until mixture just begins to come together in a ball. Remove dough from food processor; form into a smooth ball and then press into a 1-inch-thick disk. Tightly wrap disk in plastic wrap and transfer to refrigerator; chill, at least 4 hours or overnight.
| Preparation – Filling | In a large skillet over medium heat, add 2 tablespoons oil and leeks; cover and cook, stirring occasionally, until soft and just beginning to brown, 10 minutes. Transfer softened leeks to a dish and set aside. In the same skillet, heat remaining oil over medium heat; add mushrooms, thyme, garlic and salt; stirring frequently, cook until mushrooms are tender, 7 to 8 minutes. Remove from heat and add leeks back into pan; add crème fraîche and toss to combine. Generously season with salt and pepper. In a bowl, whisk together goat cheese and heavy cream until smooth; set aside.
| Assembly | Preheat oven to 400°F and line a baking sheet with parchment paper. Remove dough from refrigerator and lay on a generously floured work surface; roll out until dough is 14 inches in diameter, turning frequently and trimming edges as needed to round. Evenly spread goat cheese mixture over crust, leaving a 2-inch border. Finely chop half of the bacon and sprinkle over goat cheese mixture; add half of the leek mixture, spreading to cover goat cheese. Roughly chop remaining bacon and layer half on top of leeks; add remaining leek mixture and top with remaining bacon. Fold crust up and over sides, pleating and pressing folds firmly together as you work. Brush crust all over with egg wash and place in oven; reduce heat to 375°F and bake until crust is deep golden and filling is beginning to brown, 40 to 45 minutes. Remove from oven and allow to set, 5 minutes. Slice into sections and serve hot.