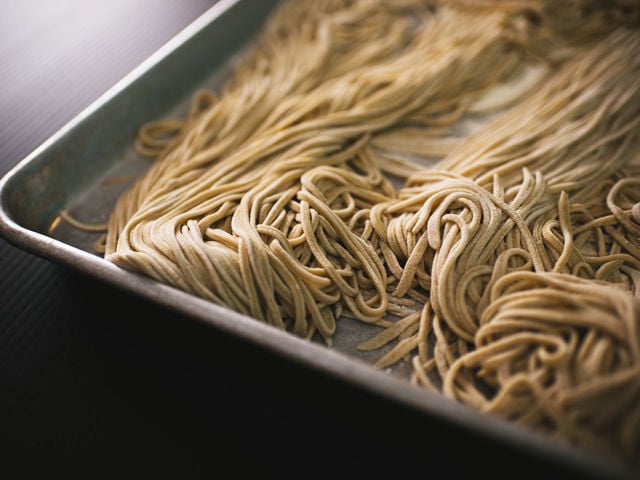 Peter Wang of Iron Horse Chinese Restaurant suggests serving hand-pulled noodles hot in soups, with vegetables and meat, or served cold with cucumbers, chicken and a light sweet-and-spicy sauce.
Recipe by Peter Wang
2 cups all-purpose flour
1⁄3 to ½ cup ice water, depending on season (more water needed in cold weather)
1 large egg
1 tsp salt
1 tsp white vinegar
| Preparation | In a large bowl, combine all ingredients by hand; knead well for at least 15 minutes. Let dough rest at room temperature for 1 to 2 hours, depending on season (1 hour in warmer weather, 2 hours in cold weather). To see if dough is ready, make a small indentation with finger. After about 10 seconds, if dough rebounds, it's ready to shape.
Mold dough into fat tube shapes, each approximately the size of a paper towel tube. If dough doesn't break as it's molded and shaped, it's ready. Take first "noodle" and place onto a long, well-floured cutting board or table. Grasping dough cylinder on both ends, lift dough up and knock it against board or table repeatedly, slowly stretching dough as you beat it until it's a little longer than shoulder-width apart, 4 to 5 minutes.
Continue to knock and stretch. After a few knocks, bring ends of dough together quickly so that dough coils around itself. Grab looped end of coil with right hand, keeping 2 loose ends in your left hand. Repeat knocking and stretching until dough has stretched back out to about shoulder-width apart. Continue to create loops in dough for approximately 10 to 15 minutes. Dough should become very pliable, and by now you should have created a few dozen loops.
Lay worked section of dough onto cutting board or table. Cut off 6- to 8-inch-long sections and flour sections well. Take 1 small section in hands and stretch dough wide, almost as far as your arms will stretch. As before, fold dough so that 2 loose ends are in your left hand and the looped side is in your right, but do not twist it into a coil. Stretch dough wide again, almost as far as your arms will stretch. Fold dough in half again and repeat stretching. Once you've stretched as many times as you can – Wang stretches up to 126 times, but three or four times will do – cut looped ends to form individual noodles.
Refrigerate uncooked noodles in a floured storage container or, if serving immediately, bring a pot of water to a boil and cook noodles, 1 to 2 minutes, and drain.