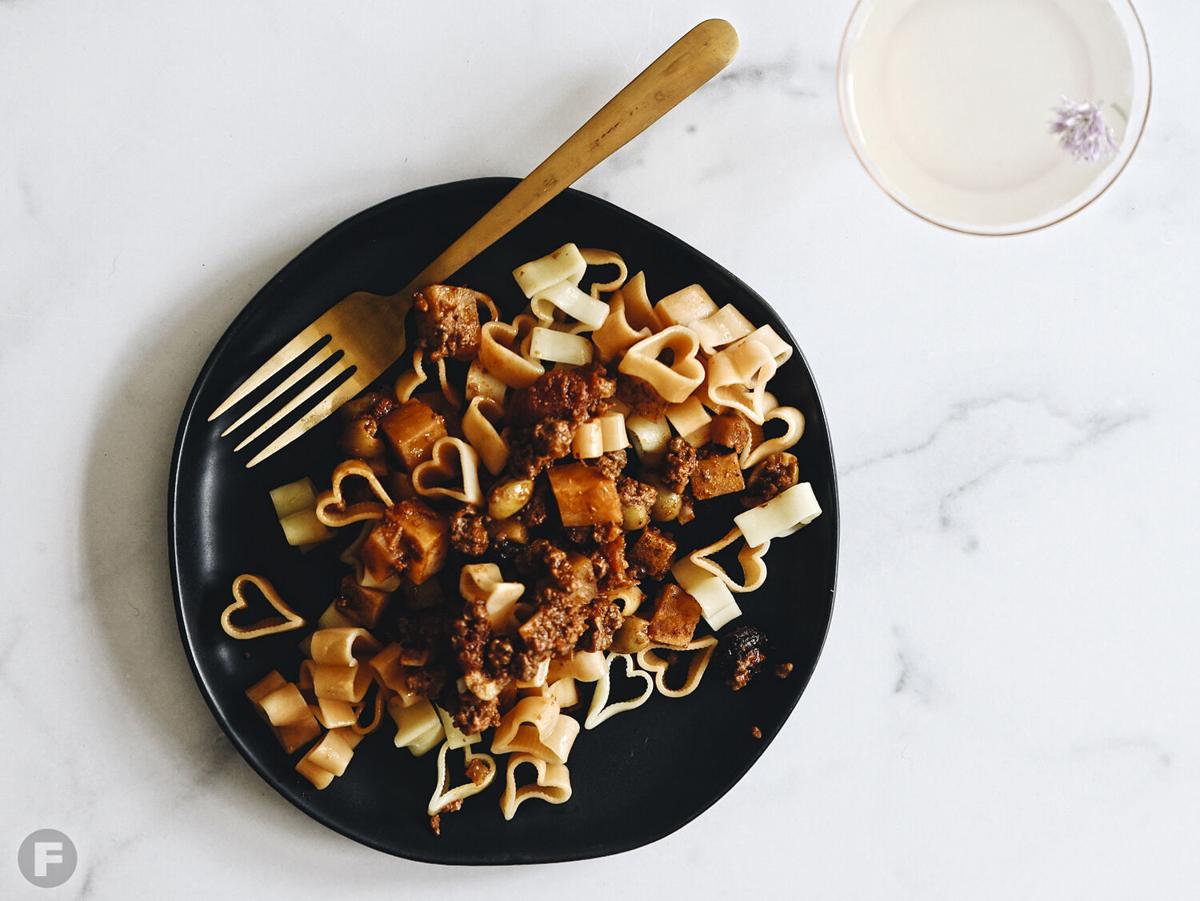 Beth Barden, chef-owner of Succotash, a whimsical brunch-forward spot in the Longfellow neighborhood of Kansas City, is a lot like the dishes she serves: full of color, creativity and ingenuity. A whiz at creating delicious dishes out of a few scant ingredients, she doesn't let anything go to waste in her kitchen.
For example, to make Hungarian picadillo, inspired by one of her favorite Cuban dishes, Barden uses much of what she already has on hand – or adapts the recipe based on whatever farm-fresh produce is available. Barden applies this zero-waste approach to every aspect of her business.
When COVID-19 hit the city, she and her team closed the dining room at Succotash and started making meals for frontline workers. The restaurant has since reopened for takeout, curbside pickup and delivery, but Barden has plans to transform it into a type of bodega with limited outdoor seating. She hopes the reimagined space will serve as an anchor for the community and her staff. 
Recipe courtesy of Beth Barden, chef-owner, Succotash
This recipe tastes even better the next day. Store leftovers in an airtight container in the refrigerator.
Serves | 4 |
2 Tbsp olive oil
1 medium onion, finely diced
5 cloves garlic, sliced
1 pinch salt, plus more to taste
2 tsp Aleppo pepper
2 Tbsp smoked paprika
1 Tbsp cumin
1½ lbs ground beef (85 percent lean preferred)
½ cup green olives, roughly chopped
2 Tbsp capers
½ cup giardiniera (Kansas City Canning Co.'s giardiniera is Barden's favorite)
½ cup raisins
¼ cup Worcestershire sauce
28 oz can whole peeled tomatoes, broken up
2 unpeeled medium russet potatoes, diced
freshly ground black pepper, to taste
| Preparation | In a large, deep skillet over medium heat, heat oil. Add onion and garlic and lightly salt to coax out moisture; cook until ingredients begin to soften, 3 to 4 minutes. Add Aleppo pepper, paprika and cumin; cook, 3 minutes. Add ground beef; breaking it up with a spoon, cook until it starts to brown, 5 to 6 minutes. Stir in olives, capers, giardiniera, raisins, Worcestershire sauce and tomatoes; cook, 6 minutes. (The mixture will be slightly soupy.) Add potatoes; cover and cook until tender, 15 to 18 minutes. Once potatoes are tender, remove lid and let sauce reduce for approximately 5 more minutes, until all the flavors have combined. Season with salt and pepper to taste. Serve hot with high-quality egg noodles.