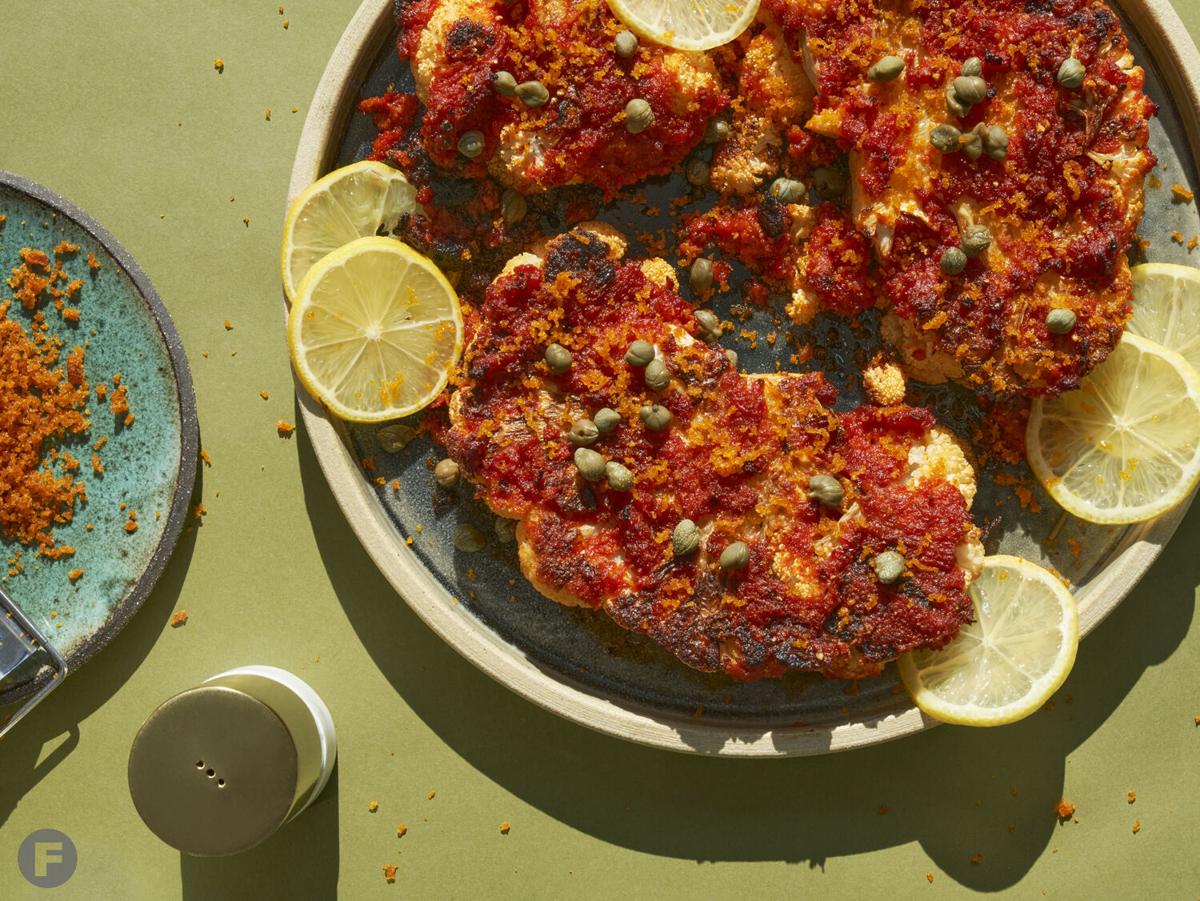 A block of fish eggs doesn't sound appetizing – but we have much to learn.
I love the idea of cauliflower steaks, but there's a lot of waste that happens when you can only get two decent cuts of "steak" from one head of cauliflower. This recipe uses the same roasting technique you'd use for cauliflower steaks but as much of the cruciferous vegetable as possible to create a dramatic side dish. Make sure to use a microplane to grate the bottarga.
Sun-dried tomato cauliflower with lemon and bottarga
Serves | 4 |
½ cup sun-dried tomatoes, not packed in oil, plumped in hot water for 10 minutes and drained
2 cloves garlic, smashed
4 to 6 large fresh basil leaves
¹⁄₃ cup, plus 4 Tbsp, olive oil, divided
kosher salt and freshly ground black pepper
1 large head cauliflower, leaves removed
2 to 3 Tbsp grated bottarga
1 Tbsp capers
1 medium lemon, sliced
| Preparation | Preheat oven to 400°F. Add plumped sun-dried tomatoes, garlic and basil to the bowl of a food processor; pulse to blend. Stream in ¹⁄₃ cup olive oil as processor runs; continue to process until mixture reaches the consistency of pesto. Season with salt and pepper and set aside.
Heat a 12-inch cast-iron skillet over medium high heat. Slice cauliflower from tip to tail into 1¼-inch-thick flat-sided slices (they should lay flat in the skillet); reserve any stray pieces for another use. Coat bottom of skillet with 2 tablespoons olive oil; add cauliflower slices and cook until undersides are dark golden brown, 5 minutes. Transfer cauliflower slices to a plate. Add remaining olive oil to skillet and then place cauliflower slices back in skillet with the opposite side facing down. Brush sun-dried tomato mixture on top of cauliflower and season with salt and pepper; cook, 4 minutes. Transfer pan to oven; roast until undersides are dark golden brown and slices are fork-tender, 10 to 13 minutes.
| To Serve | Place cauliflower slices on a platter; sprinkle bottarga on top. Add capers; season with salt and pepper. Serve hot along with lemon slices.