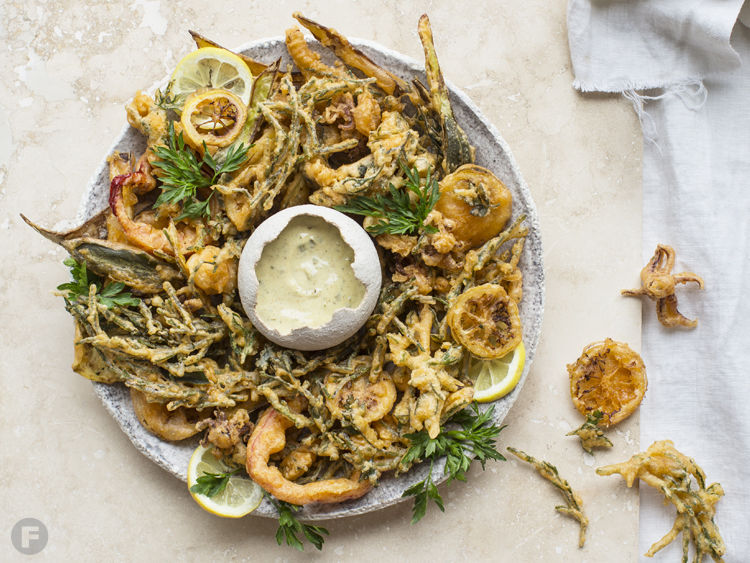 Squid and Summer Vegetable Fritto Misto with Old Bay Aïoli
Look for fresh baby-squid tubes and tentacles at seafood or international markets.
Serves | 6 to 8 |
Old Bay Aïoli
juice of 2 lemons
1 clove garlic, smashed
1 egg yolk
½ cup grapeseed or vegetable oil
½ cup olive oil
1½ tsp Old Bay seasoning
5 Tbsp fresh parsley leaves, roughly chopped, divided
Fritto Misto
canola oil
1½ cups all-purpose flour
1½ cups cornstarch
2 tsp baking powder
2 tsp paprika
1½ tsp kosher salt
2½ cups chilled club soda
1 lb baby squid, tubes and tentacles, tubes sliced into ½-inch rings
2 medium leeks, white and light green parts only, quartered lengthwise
2 large red bell peppers, sliced into thin rings
1 medium yellow squash, cut diagonally into ¼-inch rings
4 oz fresh salicornia
3 lemons, sliced into thin rings, divided
1 bunch fresh parsley sprigs
1 small bunch fresh sage leaves
salt and freshly ground black pepper
| Preparation – Old Bay Aïoli | In the bowl of a food processor, add first 3 ingredients and pulse until smooth. With motor running, slowly stream in oils until mixture has emulsified; stir in Old Bay and 3 Tbsp parsley. Refrigerate.
| Preparation – Fritto Misto | Fill a Dutch oven with 4 inches oil; heat to 350°F using a candy thermometer. Line a plate with paper towels and set aside.
In a large mixing bowl, whisk together next 5 ingredients. Add club soda and whisk until just combined. In a separate large mixing bowl, toss remaining ingredients, reserving 5 lemon rings. When oil is hot, dip handfuls of squid-vegetable mixture into batter, letting excess drip off. Working in batches, add battered ingredients to oil and fry, 2 to 3 minutes, until golden brown. Remove using a spider strainer; transfer to prepared plate.
| To Serve | Transfer fritto misto to a platter with a bowl of aïoli; garnish with remaining parsley. Squeeze reserved lemon over top; serve warm.