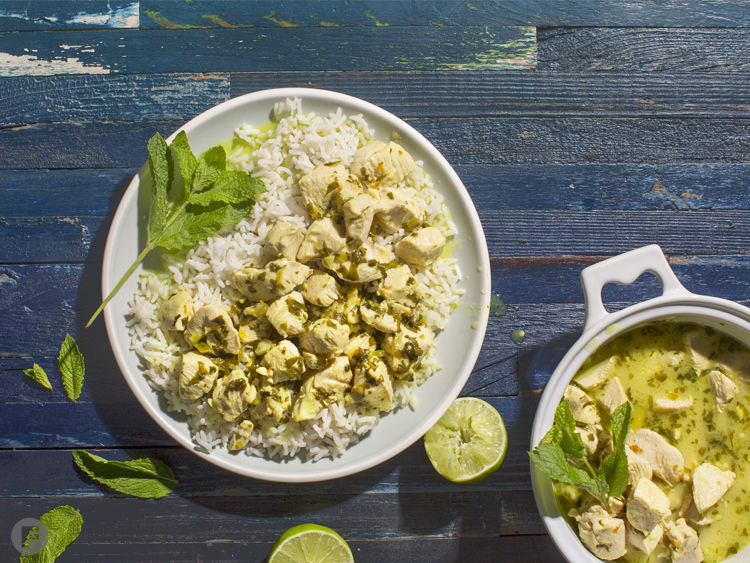 On a trip through Thailand and Cambodia earlier this year, I came across chicken amok in a restaurant near Siem Reap, a town in northwestern Cambodia. The slightly spicy dish was served hot, intended to cool us down during the warmest season of the year. Eating spicy food raises your internal body temperature, increasing your blood circulation and lightly cooling you off. This month, during our hottest season, this dish will have the same effect.
GOLDEN OPPORTUNITY. Prep fresh turmeric as you would ginger: Just peel the root with a spoon and use a microplane to grate the golden flesh into a number of sweet and savory dishes.
PEPPER PRIMER. Always wear gloves when working with hot peppers or chiles to avoid pain when touching your face or eyes.
Cambodian Chicken Amok
Serves | 4 to 6 |
2 boneless, skinless chicken breasts, cut into 1-inch cubes
salt and freshly ground black pepper
1 Tbsp coconut oil
1 Tbsp fresh basil, chiffonade
1 Tbsp fresh mint, chiffonade
1 Tbsp fresh cilantro, finely diced
2 cloves garlic, finely diced
¾ tsp peeled and grated fresh ginger
1 tsp peeled and grated fresh turmeric or ½ tsp dried turmeric
1 Thai chile or serrano pepper, destemmed, deseeded and finely diced
1 can full-fat coconut milk
juice and zest of 1 lime
½ Tbsp fish sauce
¼ tsp brown sugar
3 cups cooked white rice
crushed red pepper flakes (optional)
| Preparation | In a saucepan over medium-high heat, add just enough water to cover chicken. Add chicken cubes to saucepan and reduce heat to medium; add 1 teaspoon salt, cover and poach over medium heat for 10 to 12 minutes or until chicken is slightly pink inside. Remove from heat and set aside.
In a sauté pan with a lid over medium heat, heat coconut oil; add fresh herbs, garlic, ginger, turmeric and Thai chile or serrano pepper. Cook for 30 seconds to 1 minute, stirring regularly, until combined.
Add coconut milk, lime juice and zest, fish sauce and brown sugar and bring to a medium, rolling simmer. Reduce by half, about 10 minutes; add poached chicken. Cover and let simmer for about 5 minutes or until completely cooked. Season with salt and pepper to taste.
Divide cooked rice and chicken between 4 to 6 dinner plates; sprinkle red pepper flakes over top, if desired, and serve.
GET HANDS-ON! Join Feast Magazine and Schnucks Cooks Cooking School at 6pm on Wed., Aug. 15, at the Des Peres, Missouri, location to make the dishes in this month's menu. Tickets are just $45 for a night of cooking, dining and wine. RSVP at nourish.schnucks.com/schnucks-cooking-school  or call 314.909.1704.
MAKE THE MEAL:
Spring Rolls
Green Mango Salad
Roasted Bananas
Cambodian Chicken Amok
Cambodian Coffee Dessert
LEARN MORE: In this class you'll learn how to wrap the perfect spring roll. We'll also cover the benefits of roasting bananas, including how it affects flavor and texture.