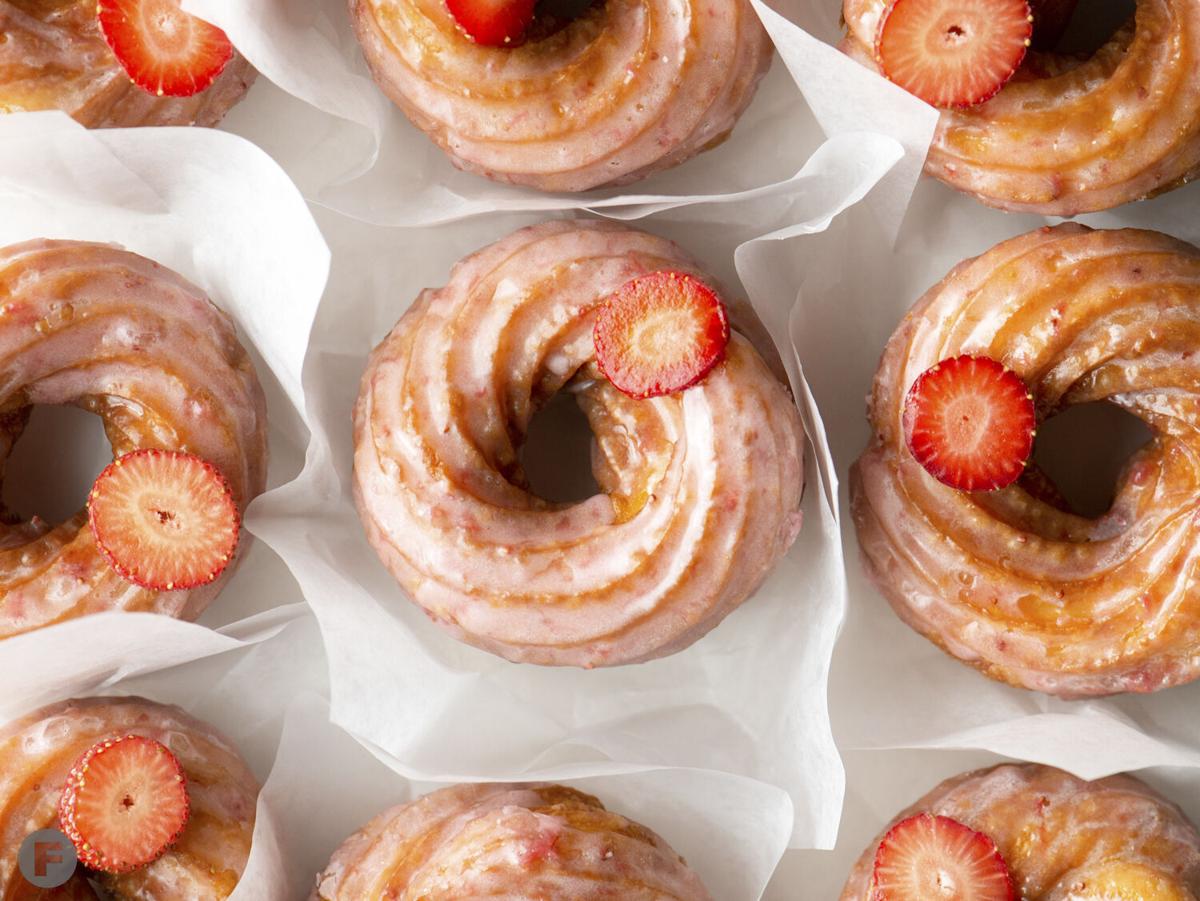 Fluffy on the inside and golden on the outside, crullers are what dreams are made of. Rich and moist, these rings of fried pâte à choux are coated with a fresh strawberry glaze. The glaze seeps into the crullers' twisted nooks and crannies, making every bite crisp, soft and decadent.
Fresh Strawberry Glazed Crullers
Yields | 13 crullers |
Crullers
¾ cup whole milk
¾ cup water
¾ cup unsalted butter
1 Tbsp sugar
½ tsp kosher salt
1½ cups all-purpose flour
3 large eggs
2 large egg whites
canola oil, for frying
Fresh Strawberry Glaze
1 cup fresh strawberries, hulled and quartered
1 tsp water
1 tsp granulated sugar
1 squeeze fresh lemon juice (optional)
2 cups powdered sugar
1 Tbsp whole milk
1 Tbsp heavy cream
¼ tsp vanilla extract
⅛ tsp kosher salt
| Preparation – Crullers | Cut out 13 4-by-4-inch squares of parchment paper; spread them out on a large baking sheet. Set aside.
In a large saucepan set over medium-high heat, bring milk, water, butter, sugar and salt to a boil. Remove pan from heat and add flour; using a large heat-resistant spoon or spatula, stir until mixture has come together with no flour spots remaining. Set pan back over medium-high heat; continuously stir dough until it leaves a thin coat on the bottom of the pan, approximately 1 minute.
Transfer dough to the bowl of a stand mixer fitted with the paddle attachment. On medium speed, beat dough until it has cooled slightly, approximately 2 minutes. While the mixer continues to run, add eggs, one at a time, allowing each to be completely incorporated before adding the next. Stop and scrape down the bowl as needed. Add egg whites and mix until incorporated.
Transfer a portion of the dough into a large piping bag fitted with a large open star tip. Holding the pastry bag over one of the parchment squares, pipe the dough into a 3-inch circle with the ends slightly overlapping. Repeat process with remaining dough and parchment squares. Place baking sheet in refrigerator to chill, 40 minutes.
Meanwhile, prepare the fresh strawberry glaze.
Prepare a deep-fryer with oil and heat to 370°F. Alternatively, fill a large heavy-bottomed pot with at least 2 inches of oil and attach a deep-fry thermometer to the inside. Line a large baking sheet with aluminum foil and place a wire rack on top. Set aside.
Using the edges of the parchment paper for gripping, gently place 2 crullers, dough-side down, into the hot oil. Using tongs, carefully remove the paper and discard. Fry crullers until deep golden brown, 3 to 4 minutes; gently flip using the tongs and continue frying, 3 minutes. If the crullers crack on the top, flip them again and fry, 1 more minute, or until golden to ensure doneness.
Using a slotted spoon or fryer basket, remove crullers from oil and set on prepared wire rack. While still hot, coat the top of each cruller with fresh strawberry glaze using a large spoon to pour on glaze. Repeat the frying and glazing process with remaining crullers. The crullers are best enjoyed the day that they're made.
| Preparation – Fresh Strawberry Glaze | In a small saucepan, combine strawberries, water, granulated sugar and lemon juice if using. Set over medium heat and cook, stirring occasionally, until strawberries begin to release their juices and become soft, 4 to 5 minutes. Remove from heat and transfer strawberry mixture to a food processor; purée until mostly smooth (little bits of strawberries are OK). Stop and scrape down the bowl as needed. Transfer the purée to a clean bowl and measure out ¼ cup for glaze.
In a large bowl, whisk together powdered sugar, ¼ cup strawberry purée, milk, cream, vanilla extract and salt. Glaze should be slightly thick. If too thick, add an additional splash of milk until desired consistency is reached. Cover and set aside.