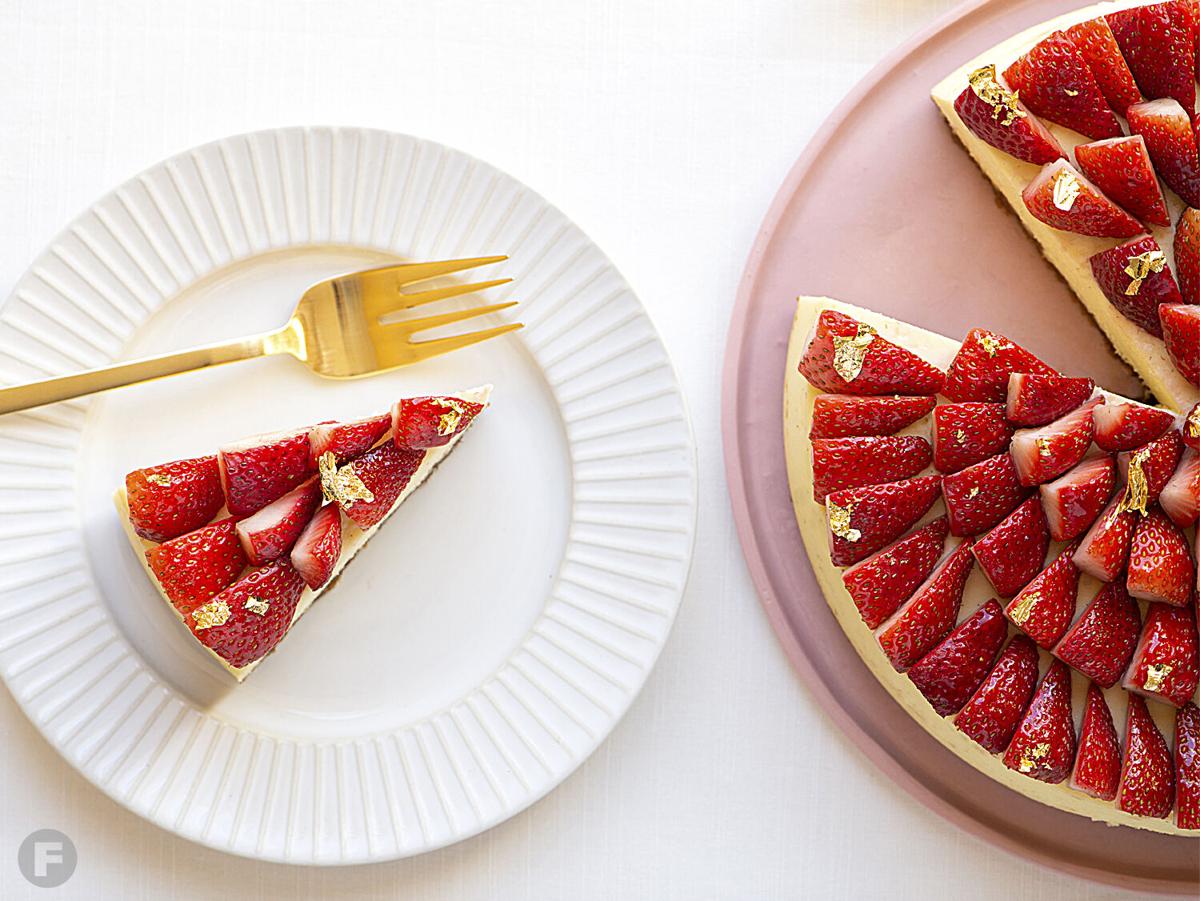 Sweeten your spring spread with this delicious showstopper. Rich and bright, the lemon cheesecake filling is the perfect match for the speculoos cookie crust and fresh strawberry topping – which is a true celebration of the season.
Strawberry Lemon Cheesecake
Serves | 12 |
Speculoos Crust
4 Tbsp unsalted butter, melted, plus room temperature butter for pan
1¾ cups finely crushed speculoos cookies
2 Tbsp sugar
1 pinch kosher salt
Strawberry Lemon Cheesecake
24 oz cream cheese, room temperature
1¼ cups sugar
4 large eggs
½ cup heavy cream
½ cup sour cream
1 vanilla bean, split and seeds scraped
2 tsp lemon zest
¼ cup freshly squeezed lemon juice
5 cups (2 pints) fresh strawberries
2 Tbsp strawberry preserves
| Preparation – Speculoos Crust | Preheat oven to 325°F. Grease a 9-by-3-inch springform pan or a 9-inch round baking pan lined with parchment paper on the bottom. In a bowl, combine all ingredients. Press mixture into the bottom of the pan in an even layer; bake, 10 minutes. Set on a wire rack to cool as you prepare cheesecake filling.
| Preparation – Strawberry Lemon Cheesecake | Bring a kettle of water to a boil and then set aside. In the bowl of a stand mixer fitted with the paddle attachment, beat cream cheese until smooth, 1 to 2 minutes. On low, add sugar; increase speed to medium and beat until fluffy, 2 minutes. Stop and scrape down sides and bottom of bowl as needed. On low, add eggs, one at a time, allowing each egg to incorporate before adding the next. Stop and scrape down sides and bottom of bowl as needed. Once all eggs are incorporated, add heavy cream, sour cream, vanilla bean seeds, lemon zest and lemon juice; mix until combined.
Wrap crust pan with a double layer of aluminum foil (foil should cover the entire outside of the pan with only the top rim exposed). Pour cheesecake filling onto crust. Set pan in a large roasting pan or baking dish with high sides; pour hot kettle water into roasting pan or baking dish until water reaches approximately halfway up the sides of the cheesecake. Carefully transfer to oven; bake, 1 hour 10 minutes or until cheesecake is just set in the center (it should still jiggle slightly when bumped). Turn off oven and open oven door a few inches; allow cheesecake to rest inside, 30 minutes. Remove from oven; transfer cheesecake from water bath to wire rack to cool completely. Once cool, cover lightly and transfer to refrigerator to chill overnight.
When ready to serve, hull and quarter strawberries; set aside. In a small heatproof bowl, combine strawberry preserves with 1 teaspoon water; heat in microwave until just boiling, 15 to 20 seconds. Set aside.
Remove cheesecake from pan and place on a serving plate. Arrange strawberries in a circular shingle pattern on top with strawberries overlapping slightly. Using a pastry brush, lightly brush strawberries with strawberry preserves. Warm the blade of a chef's knife under hot water, wipe it dry and cut cheesecake into 12 slices. (Warm and dry knife blade between each cut for clean slices.) Rearrange strawberries on each slice as needed and enjoy. Cover any leftovers and store in refrigerator for up to three days.