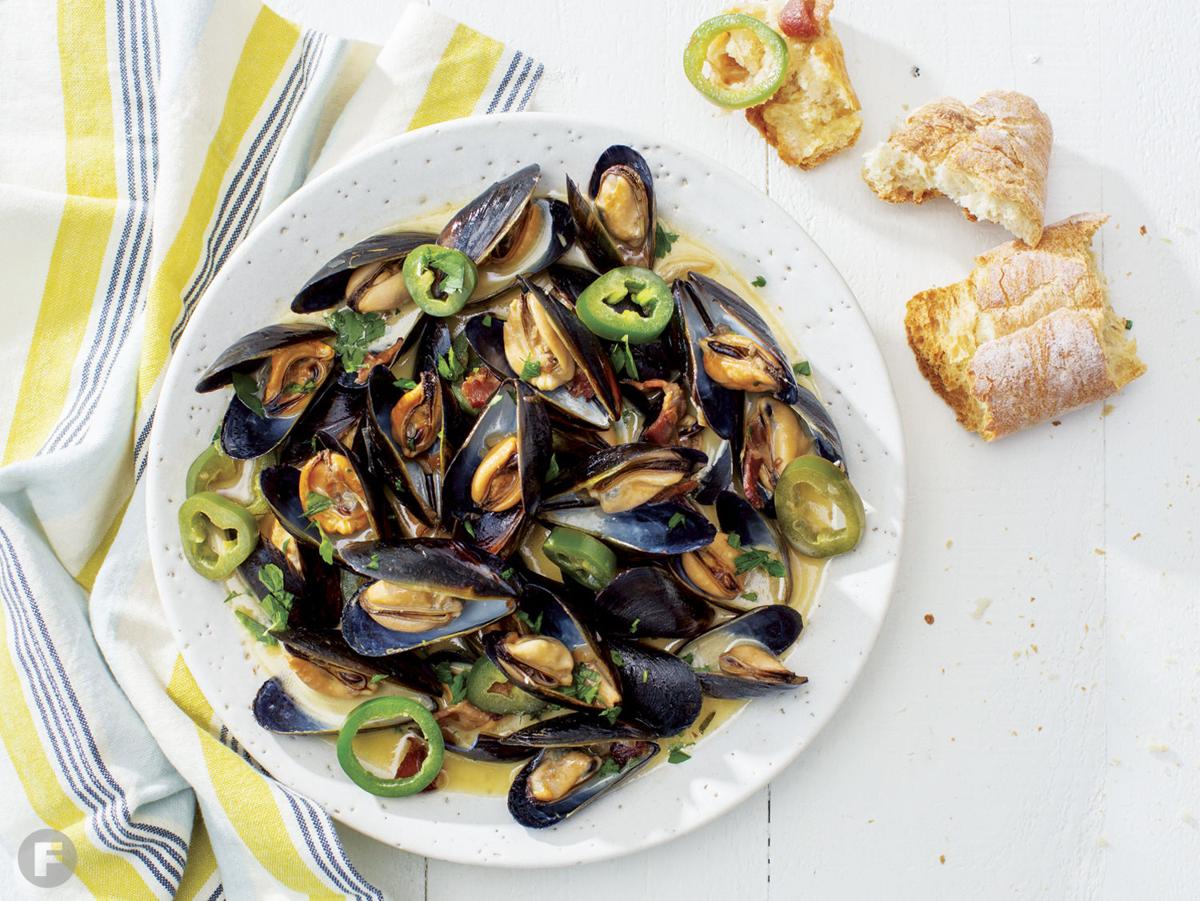 Mussels are a delicious and quick meal – and easier to make at home than you may imagine. Paired with a sweet and smoky cream sauce and some crusty bread, these mussels are as decadent as they are delicate.
LOOK ALIVE. Mussels are sold live and need to be properly stored to stay that way. Scrub mussels under cold running water, remove the beards and transfer, on ice, to a colander. Set colander over a bowl, cover with a dish towel and refrigerate. Mussels should stay fresh for a couple of days, but drain water from the bowl daily until ready to cook. Before cooking, smell them: Mussels should smell fresh and briny. If they don't, dispose of them.
Mussels with Bourbon-Maple Syrup Cream Sauce
Serves | 4 |
8 pieces maple-smoked bacon, cut into lardons
2 Tbsp unsalted butter
2 shallots, finely diced
4 cloves garlic, minced
2 lbs mussels, scrubbed and debearded
½ cup bourbon
¼ cup maple syrup
1 cup clam juice
1 cup crème fraîche
2 jalapeños, deseeded and sliced into ¼-inch rounds
juice of 1 lemon
kosher salt and freshly ground black pepper, to taste
¼ cup roughly chopped fresh parsley
crusty bread (to serve)
| Preparation | In a large sauté pan with a lid over medium-high heat, add bacon and sauté until bacon just starts to brown. Reduce heat to medium, add butter and shallots, and cook for 1 minute more. Add garlic and sauté for 1 minute more. Increase heat to high and add next 4 ingredients; stir to combine. Cover and cook for 3 to 4 minutes, or until mussels begin to open. Add crème fraîche, jalapeños and lemon juice. Stir to combine, cover and bring back to a boil. Season with salt and pepper to taste and sprinkle with parsley. Remove from heat and serve immediately with crusty bread.
GET HANDS-ON! Join Feast Magazine and Schnucks Cooks Cooking School at 6pm on Wed., May 22, at the Des Peres, Missouri, location to make the dishes on this month's menu. Tickets are just $45 for a night of cooking, dining and wine. RSVP nourish.schnucks.com/schnucks-cooking-school or call 314.909.1704.
MAKE THE MEAL:
Frisée Salad with a Poached Egg
Garlic Toast
Parmesan Fries
Mussels with Bourbon-Maple Syrup Cream Sauce
Chocolate-Stout Cake
LEARN MORE: In this class, you'll learn how to perfectly poach eggs and cook mussels – two tasks that are much easier to do at home than you may think.