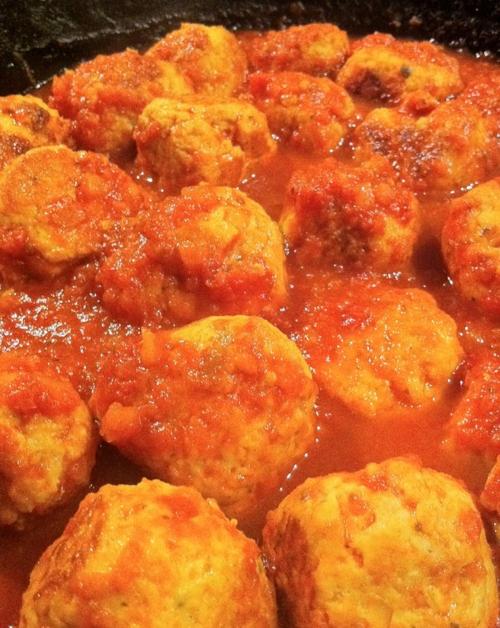 Pro's Pantry delivers exclusive recipes by Christopher Lee, executive chef of three well-known St. Louis restaurants: Café Ventana, Chuy Arzola's and Sanctuaria. We share his made-from-scratch dinners - featuring whatever ingredients he has on hand in his pantry - in our weekly e-newsletter. Sign up at HERE, so you never miss an installment!
Recently, I had planned to roast a whole chicken for a dinner party. That is, until I found out one of the guests preferred not to eat meat from the bone. Time to quickly rethink the menu.
At first, I had a difficult time switching gears because I had already thought out the meal. Thankfully, a quick look through my cupboards spurred an idea - chicken meatballs - and I ended up with a pretty tasty alternative.
Chicken Meatballs
By Christopher Lee
Serves | 6 |
2 lbs boneless chicken breasts, thighs or combination of both
1 tsp chopped oregano
¼ tsp cayenne pepper
¼ tsp nutmeg
½ Tbsp paprika
½ Tbsp freshly ground black pepper
1 Tbsp kosher salt
½ cup seasoned breadcrumbs
¼ cup Parmesan cheese
1 egg
2 Tbsp milk
2 Tbsp oil
8 oz red pasta sauce
| Preparation | Put all ingredients except oil and pasta sauce in food processor and process until smooth. Stop processor, scrape down sides and process again until smooth. (Chef's tip: If you do not have a processor, purchase ground chicken and mix the ingredients in a bowl.)
Portion mixture with small scoop or spoon and roll into golf-ball-sized balls. Heat the oil in a large, heavy-bottomed skillet over medium-high heat and brown meatballs on all sides. Add pasta sauce and bring to a simmer. Cover and cook 10 minutes. Simmer uncovered another 5 minutes to thicken sauce.
| To Serve | Serve over your favorite cooked pasta and grate fresh Parmesan on top.
---
Christopher Lee, executive chef of Padda Enterprises, has more than 23 years of experience in the restaurant industry. He currently serves as the executive chef for Cafe Ventana, Chuy Arzola's and Sanctuaria.
He apprenticed under the late Jean Claude Guillossou at L'Auberge Bretonne. Working at The Ritz-Carlton, St. Louis, Lee had the opportunity to work with some of the finest chefs in the world, including Wolfgang Puck and Nick Stellino and chefs from the Casino de Ville in France.
At the Ritz, he contributed to awards such as the DiRoNA and awards from Wine Spectator and Gourmet Magazine. Lee was the executive chef for Kirk's American Bistro, which was listed in the 2004 Zagat guide as one of St. Louis' top restaurants. He also was the opening executive chef for Mélange, where he was recognized by the St. Louis Post-Dispatch as one of St. Louis' Top 10 Up and Coming Professionals.