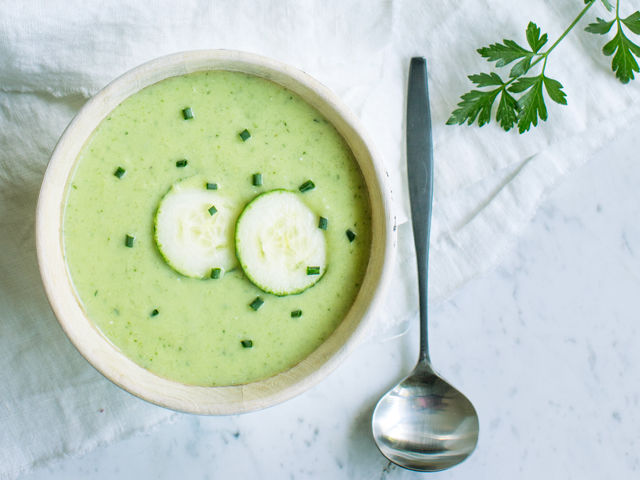 If you're a home gardener or avid farmers' market shopper, you know that August signals cucumber season. After you've had your fill of cucumber salads and sandwiches, put your excess cukes to good use in this refreshing chilled cucumber bisque. The vibrant light-green color will catch everyone's attention and will help beat the summer heat whether served as a snack, meal starter or light lunch, preferably in the shade of your backyard patio.
Cucumber Bisque
Beau Monde seasoning is a mix of dried celery, onion and salt with just a touch of sweetness. Look for it in the spice aisle at your local grocery store.
Serves | 6 to 8 |
4 large cucumbers, divided
4 Tbsp unsalted butter
2 large onions, finely chopped
2 tsp sugar
1 tsp plus 2 pinches sea salt, divided
4 Tbsp flour
1 tsp dry mustard
½ tsp Beau Monde seasoning
1 tsp white pepper
4 to 5 cups cold vegetable stock
½ bunch parsley, chopped
juice of 1 lemon
4 oz crème fraȋche
2 Tbsp finely chopped chives (for garnish)
| Preparation | Peel and finely chop 3 cucumbers. In a large heavy pot over medium heat, add butter. Once melted, add chopped onions and chopped cucumbers. Add sugar and 2 pinches salt and stir. Cover pot and cook until onions are soft but not brown, about 8 to 10 minutes.
Add flour, dry mustard, Beau Monde seasoning, white pepper and 1 teaspoon salt to pot and stir, letting cook for 1 to 2 minutes. Gradually add cold vegetable stock, stirring constantly. Place lid on pot and cook over medium-low heat for 30 minutes. Remove lid and cook another 10 minutes. Remove pot from stove and let cool. Refrigerate.
In a food processor, add parsley and lemon juice and purée, then add cooled cucumber soup and continue to purée. Pour into a bowl and whisk in crème fraȋche. Taste and adjust seasoning as desired. If mixture is too thick, add a little more stock. Just before serving, peel and grate remaining cucumber and add to bisque. Garnish with chives and serve.
CHEF'S TIPS
CUKE 101. There are three main types of cucumbers commonly found in produce departments: slicing, pickling (often called Kirby) and English. We prefer English because it is sweeter, its seeds are smaller, its skin is thinner and it doesn't have to be peeled.
STOCK UP. Using a high-quality stock as the base will produce a better finished product. Try one from scratch, like the vegetable stock recipe from our May Menu Options column (find it here), which can be frozen in airtight containers and used whenever you need it.
GRATE LENGTHS. Using a box grater for the grated cucumber added at the end of the recipe will give the bisque the perfect mouthfeel and consistency. The puréed parsley is what gives the bisque its vibrant light-green color.
GET HANDS-ON! 
Join Feast Magazine and Schnucks Cooks Cooking School on Wed., Aug. 24 at 6pm at the Des Peres, Missouri, location, to make the dishes in this month's menu. Tickets are just $45 for a night of cooking, dining and wine. RSVP at schnuckscooks.com or call 314.909.1704.
MAKE THE MEAL
Cucumber Bisque
Steak au Poivre
Asparagus with Béarnaise Butter
Chocolate Soufflé
LEARN MORE
In this class you'll learn how to make chilled cucumber bisque, a fresh and colorful appetizer to serve at any summer dinner party. You'll master French classics in the remaining dishes, including steak au poivre with a side of asparagus served with béarnaise butter and a chocolate soufflé for dessert.