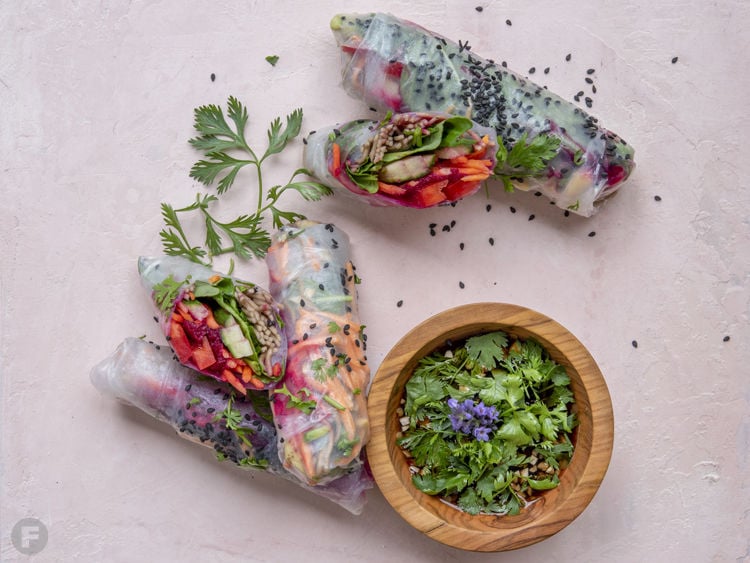 I fell in love with spring rolls years ago on a trip to Vietnam; they pack a bounty of flavor in every bite. Sometimes called salad rolls, spring rolls are served at room temperature – never fried – with a dipping sauce.
Here, I've given spring rolls a little twist by using buckwheat soba noodles in place of traditional rice noodles, and adding cashews for extra crunch. Paired with a spicy, zesty Thai-inspired dipping sauce, these summer rolls are perfect for picnics and backyard cookouts.
Summer Rolls with Spicy Dipping Sauce
Serves | 10 |
Spicy Dipping Sauce
½ cup fish sauce
½ cup fresh lime juice
½ cup superfine sugar
1 Tbsp sambal oelek
5 cloves garlic, minced
Summer Rolls
10 8-inch round rice-paper wrappers
1 red bell pepper, deseeded and thinly sliced
1 carrot, peeled, halved and thinly sliced
1 beet, peeled and grated
1 cucumber, peeled, halved and thinly sliced
1 avocado, halved and thinly sliced
1 cup fresh cilantro leaves
1 cup fresh Thai basil leaves
1 cup fresh mint leaves
8 oz buckwheat soba noodles, cooked
½ cup salted cashews, chopped
1 Tbsp black sesame seeds
| Preparation – Spicy Dipping Sauce | In a small bowl, mix all ingredients together until sugar has dissolved. Set aside.
| Preparation – Summer Rolls | Fill a large baking dish with warm water, dip a rice wrapper into water and completely submerge for 30 seconds. Transfer wrapper to a clean, flat work surface and stack a few slices each of bell pepper, carrot, beet, cucumber, avocado, cilantro, Thai basil and mint on the bottom ¹⁄₃ of wrapper. Top with a small handful of cooked soba noodles and a sprinkle of nuts and black sesame seeds.
Fold bottom of wrapper over filling and roll once to form a cylinder. Fold in both sides of the cylinder tightly to seal roll. Continue folding over until roll resembles a burrito shape. Repeat until all rice-paper wrappers and filling ingredients have been used. Cut rolls in halves or thirds, and serve with dipping sauce. Cover with a damp paper towel if not serving immediately.