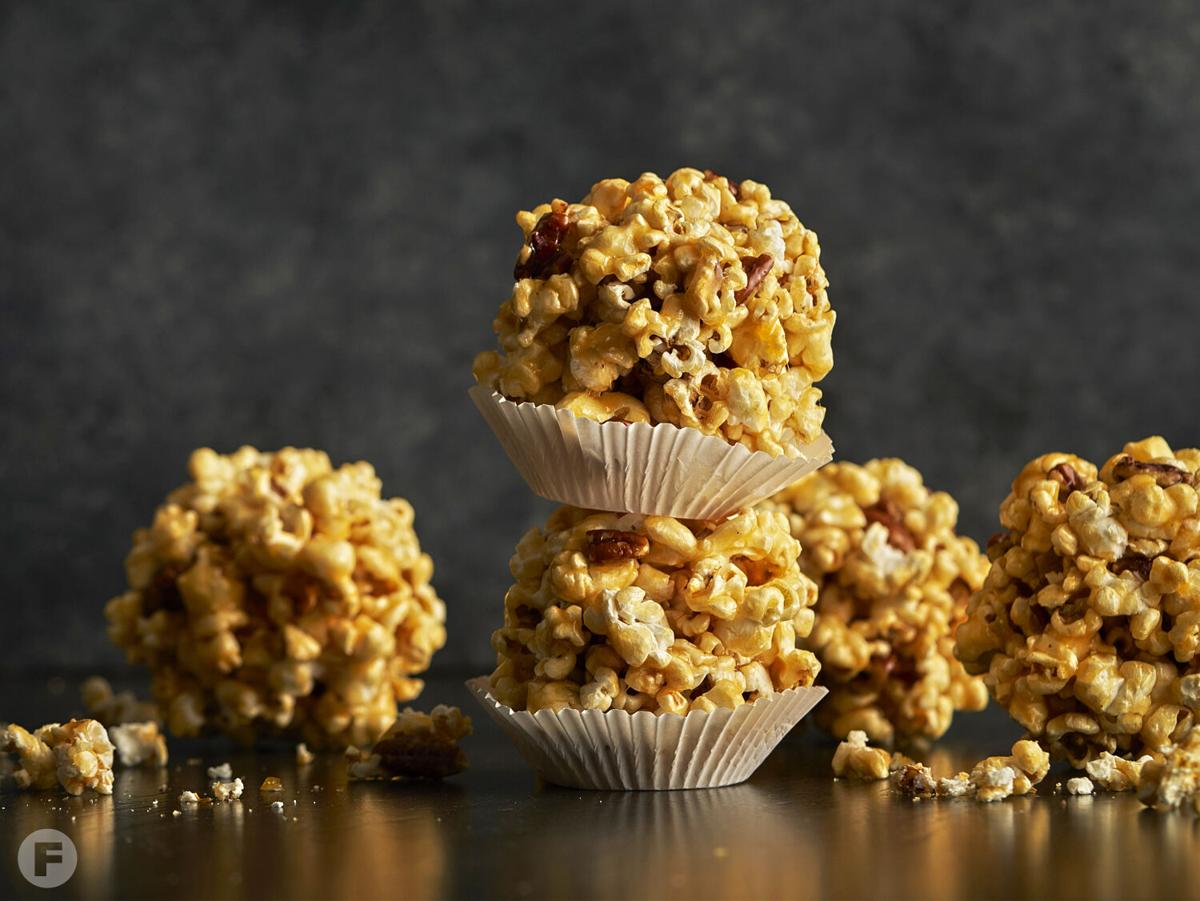 Sweet sorghum syrup, a staple of High South cuisine, adds a nutty yet sweet layer of flavor to morning biscuits, cakes, glazes and, of course, these popcorn balls. It replaces corn syrup in this old-fashioned treat, which is a fun and delicious way to celebrate the season.
Sorghum-Pecan Popcorn Balls
Serves | 6 |
8 cups popped popcorn
1 cup sugar
⅓ cup sweet sorghum syrup
⅓ cup water
1 Tbsp white vinegar
1 tsp cream of tartar
1 Tbsp butter, melted
1 tsp sea salt
1 tsp vanilla extract
⅛ tsp baking soda
¼ cup pecans
| Preparation | Place popcorn in a large nonstick bowl or pan. Combine sugar, sweet sorghum, water and vinegar in a 2-quart saucepan; bring to a boil and then stir in cream of tartar. Continue boiling, stirring constantly, until mixture reaches between 275°F and 280°F. Remove from heat. Add butter, sea salt, vanilla extract and baking soda; stir until fully incorporated. Pour mixture over popcorn, stirring with a rubber spatula until popcorn is completely coated. Add pecans; stir to incorporate. Butter hands and immediately form mixture into balls, using approximately 1½ cups popcorn mixture per ball. Store in an airtight container at room temperature for up to one week.
GET HANDS-ON! Join Schnucks Cooking School chef Amy Feese on Zoom at 3pm on Sat., Oct. 30 to learn how to make the dishes on this month's menu. For more information on everything you'll need for the virtual class – from cookware to ingredients – contact the cooking school directly.
LEARN MORE: In this class, you'll learn about the candy-making process. We'll use sorghum in both syrup and flour forms, along with other ingredients native to our area, to craft treats just in time for Halloween.
MAKE THE MENU:
Sorghum-Pecan Popcorn Balls
Black Walnut Shortbread
Persimmon Cookies
Gluten-Free Sorghum Brownies