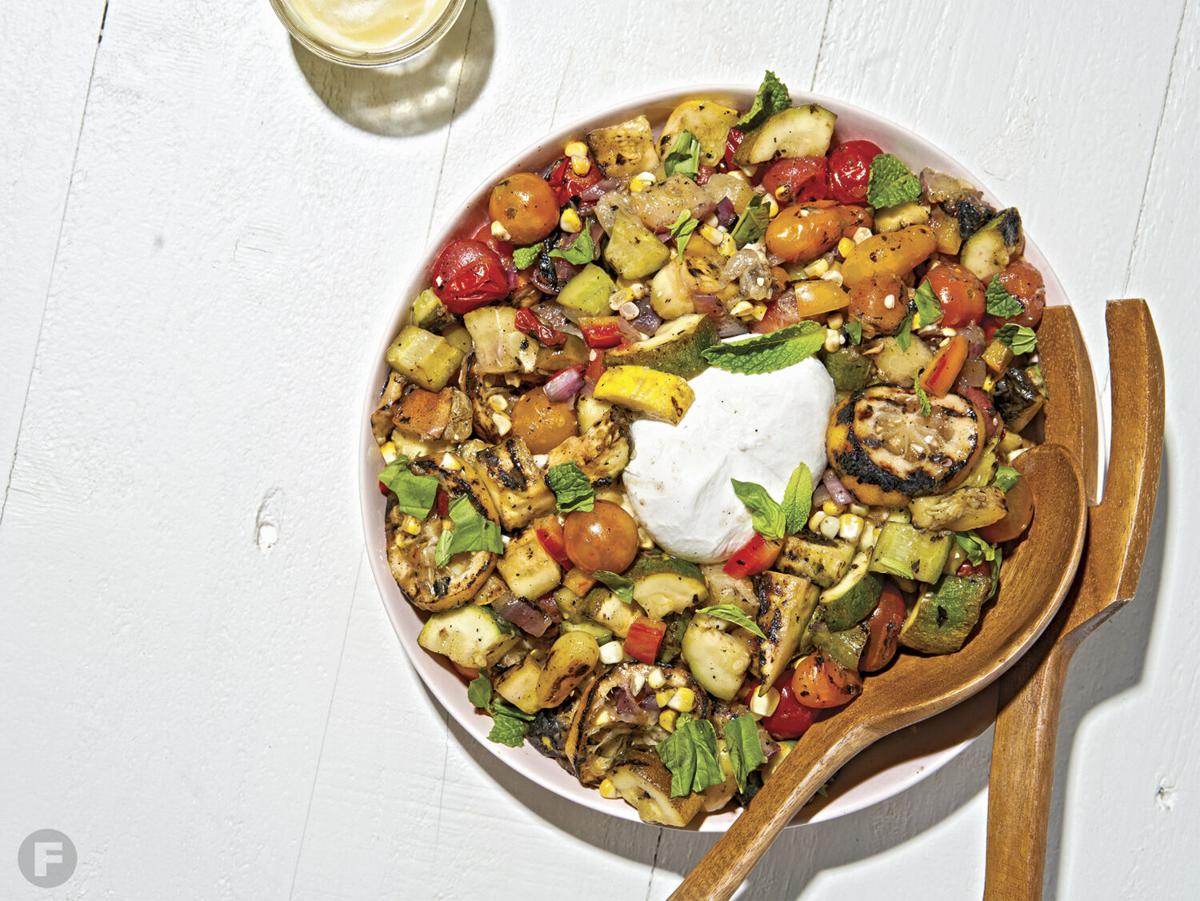 Your grill can do more than make a delicious steak, so why not throw some veggies on there for a change? This grilled vegetable salad is light, summery and out of the ordinary. Grilled nectarines add a touch of sweetness and pair beautifully with creamy burrata.
Grilled Vegetable Salad
Serves | 4 to 6 |
Vinaigrette
2 fillets anchovy, chopped
1 large clove garlic, minced
½ tsp salt, plus more as needed
4 Tbsp lemon juice
1 tsp grated lemon zest
½ tsp Dijon mustard
1 Tbsp honey
½ cup olive oil, plus more as needed
Grilled Vegetable Salad
4 small to medium zucchini, halved lengthwise
1 yellow squash, halved lengthwise
3 Kirby cucumbers, cut in fourths lengthwise
4 cups cherry tomatoes, variety preferred
2 ears corn on the cob, shucked and cleaned
1 lemon, cut into wheels
1 small red onion, cut into ¼-inch slices
3 nectarines, cut in half and pitted
olive oil
kosher salt and freshly ground black pepper, to taste
1 to 2 balls burrata, large dice
6 leaves basil, cut chiffonade
1 leaf mint, cut chiffonade
| Preparation – Vinaigrette | In a bowl, combine anchovies, garlic and salt to form a paste. Add lemon juice, lemon zest, Dijon mustard and honey to paste. Transfer mixture to an immersion blender; as you begin to blend, drizzle in olive oil. Taste for seasoning, adding more salt or olive oil as needed. Set aside.
| Preparation – Grilled Vegetable Salad | Prepare grill for medium heat. In a large bowl, combine zucchini, yellow squash, cucumbers, tomatoes, corn, lemon, onion and nectarines; drizzle with olive oil and toss to coat. Spread ingredients on a baking sheet and sprinkle with salt and pepper to taste. Transfer to grill (you might need to work in batches depending on the size of your grill) and cook, 1 to 3 minutes per side depending on the size of the ingredient. (You should aim for a crisp-tender level of doneness.) As ingredients finish cooking, move them to a clean baking sheet and start the next batch, if necessary.
Once all ingredients are cooked, medium-dice zucchini, yellow squash, cucumbers and nectarines and remove corn from cob. Add all grilled vegetables and fruits to a large bowl; drizzle with vinaigrette and toss to coat, adding more vinaigrette as needed. Add burrata, basil and mint to salad; toss to incorporate. Serve chilled or at room temperature.
GET HANDS-ON! Join Schnucks Cooking School director Gay DeMichele on Zoom at 6pm on Tues., Aug. 11 to learn how to make the dishes on this month's menu. For more information on everything you'll need for the virtual class – from cookware to ingredients – contact the cooking school directly.
LEARN MORE: In this class, you'll learn how to grill a variety of vegetables and fruits in order to achieve the perfect texture. Also, practice your knife skills and master the cuts needed to make this salad look special.
MAKE THE MEAL:
Grilled Vegetable Salad
Grilled Marinated Flank Steak
Camp-Style Potatoes
Grilled Peaches with Cinnamon-Sugar
Butter and Vanilla Ice Cream