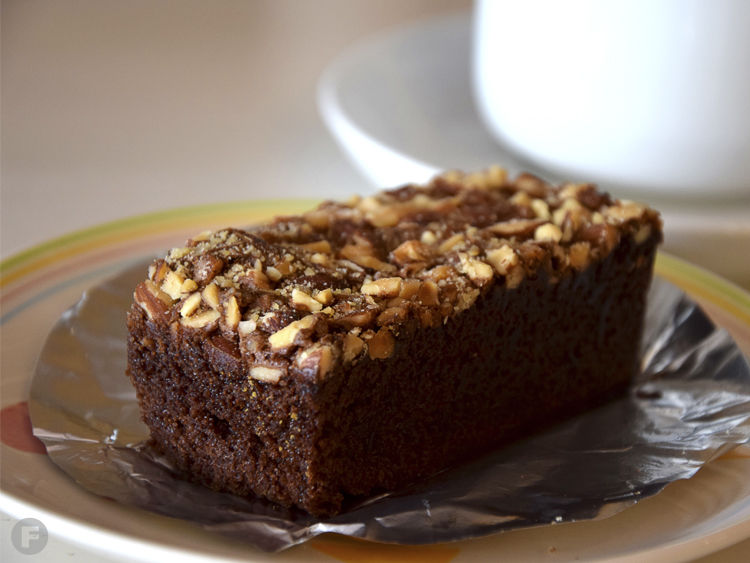 Adding half of the pecans to your batter helps distribute them more evenly; the other half are added after the initial bake for presentation. Sundlie recommends gluten-free flour for this recipe, but says all-purpose flour will likely work as well.
Recipe courtesy Meredith Frazier, production assistant, The Date Lady
Serves | 9 |
nonstick cooking oil spray
1½ cups date sugar
¾ cup plus 3 Tbsp cocoa powder
3 Tbsp gluten-free flour
¾ tsp salt
¾ tsp baking powder
4 extra-large eggs
¾ cup plus 1 Tbsp date syrup
1½ Tbsp vanilla extract
1 cup melted unsalted butter
2 cups chopped pecans, divided
| Preparation | Preheat oven to 350°F. Spray a 9-by-9-inch stainless steel baking pan with nonstick cooking oil spray.
In a large mixing bowl, combine all dry ingredients. In a separate large mixing bowl, whisk eggs, and then add date syrup and vanilla; mix thoroughly. Whisk in melted butter. Add dry ingredients to wet, plus 1 cup pecan pieces, and mix thoroughly. Bake for 10 minutes; quickly remove from oven and sprinkle remaining pecan pieces on top, pressing into tops of brownies lightly. Return to oven and bake for an additional 13 to 15 minutes. Allow to cool slightly before cutting into 9 equal squares; serve.