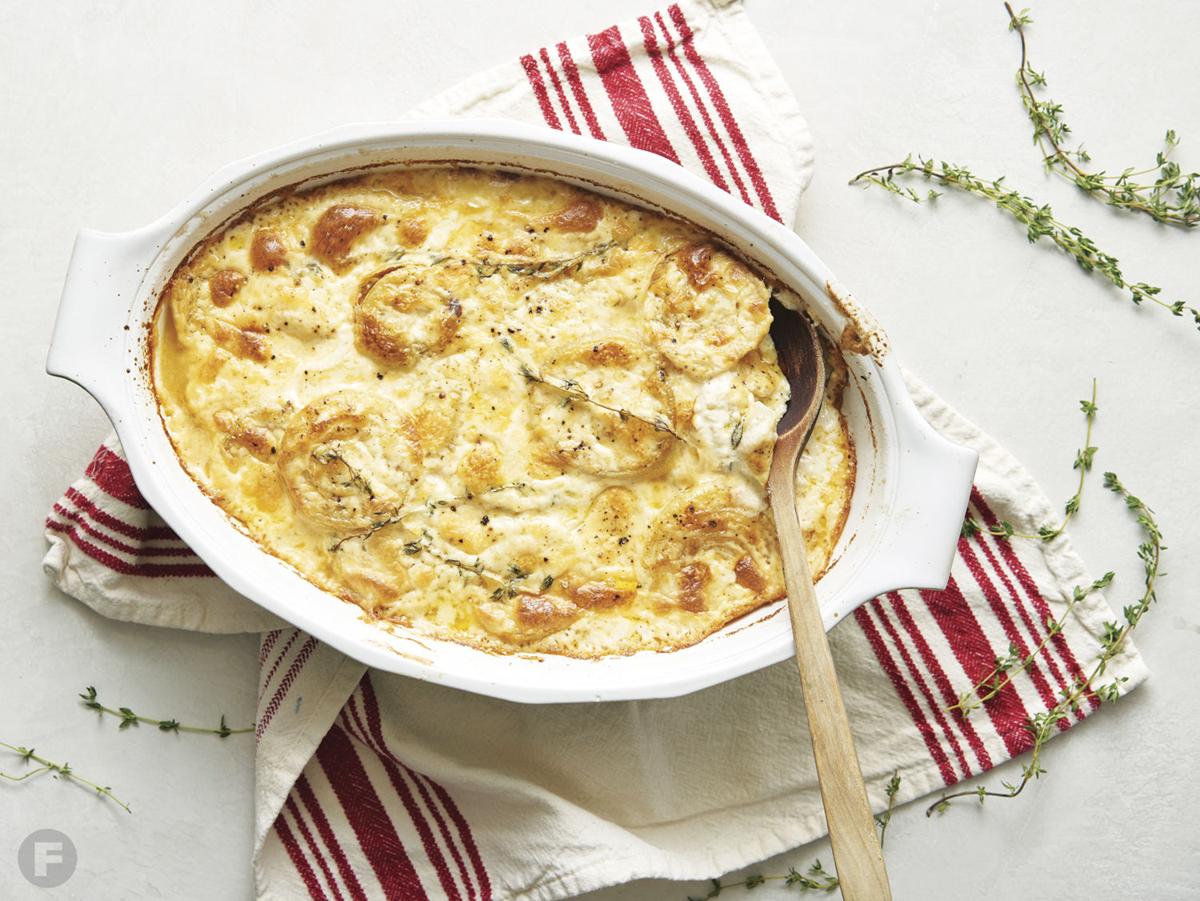 With all due respect to your grandmother, an update to the classic creamed onion recipe – which traditionally calls for frozen pearl onions – is long overdue. This more modern version has bold onion flavor and a sturdier texture that won't turn to mush when baked. Not to mention, the layers of undisturbed onion rings will look like a work of art coming out of the oven.
Not Your Grammy's Creamed Onions
Serves | 8 |
2 large sweet onions (approximately 2 lbs)
3 medium yellow onions (approximately 1 lb)
1 to 2 Tbsp olive oil
½ tsp kosher salt, plus more for seasoning
freshly ground black pepper
2 Tbsp unsalted butter
2 Tbsp all-purpose flour
½ cup milk
1¼ cups heavy cream
¼ tsp cayenne pepper
¼ tsp freshly ground nutmeg
5 to 6 sprigs fresh thyme
| Preparation | Preheat oven to 400˚F. Slice onions parallel to their equator in ¼-inch slices and lay in a single layer (though overlapping slightly) on a lipped sheet pan. Drizzle with olive oil and season generously with salt and pepper. Roast for 20 minutes.
While onions roast, heat butter in a large saucepan over medium heat until melted. Whisk in flour and continue whisking until flour is cooked and smooth, 4 minutes. Stream in milk and heavy cream and whisk until smooth. Add cayenne pepper, nutmeg and salt and continue whisking until mixture begins to bubble. Remove from heat and add thyme sprigs.
Butter the bottom and sides of a large, shallow casserole dish. Remove roasted onions from sheet pan with a large spatula, keeping rings intact, and transfer to casserole dish. Onions should be laid out with the largest rings on the bottom and the smallest on the top, overlapping as needed to form even layers. Pour hot cream mixture on top, season with pepper and tightly cover with aluminum foil. Bake for 25 minutes. Remove cover and bake for another 20 minutes, until onions are mottled and brown on top.
| To Serve | Remove from oven and allow to set, approximately 15 minutes. Serve hot.