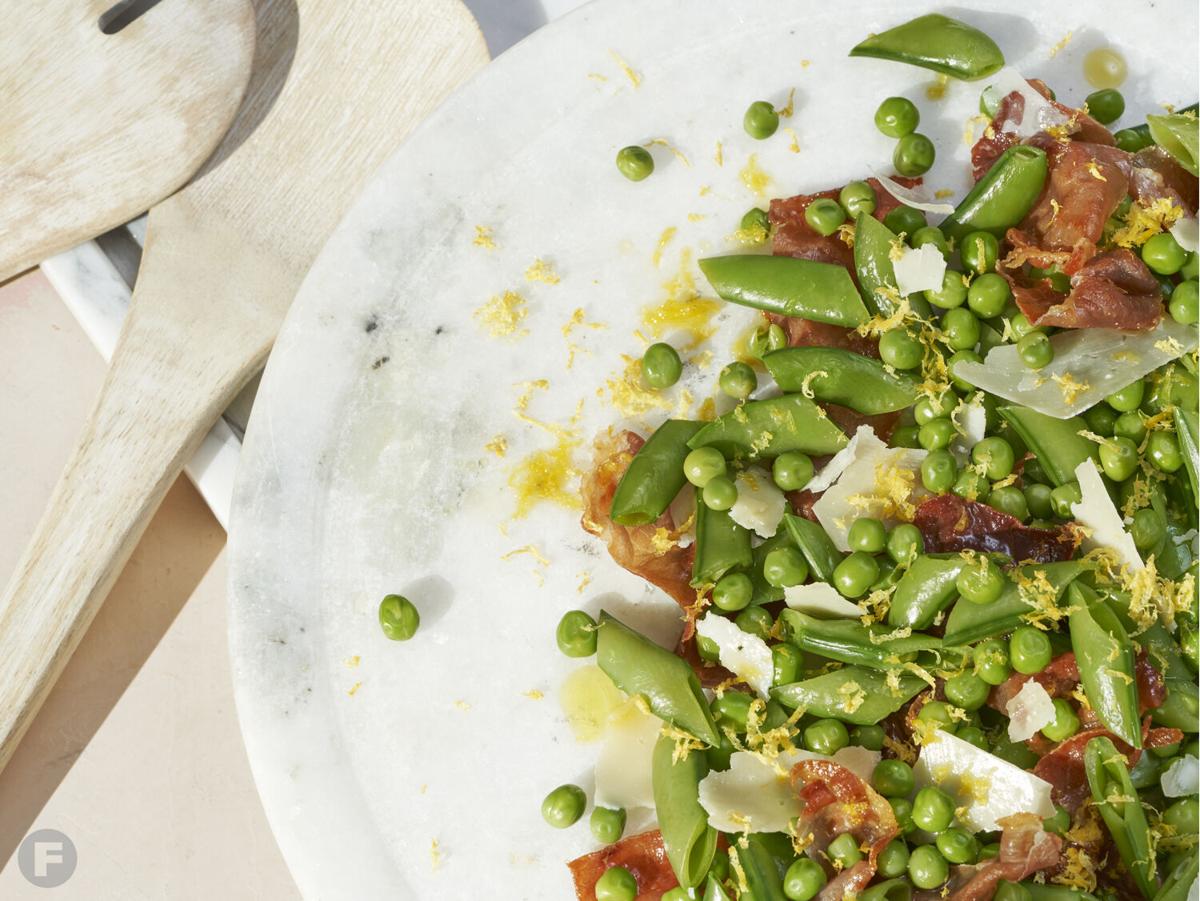 Hearing people say, "I don't like peas!" is the reason I grow – or, at least, attempt to grow – peas in early spring. One bite of freshly picked peas, with their sweet crispness, can instantly change their minds. In this dish, savory prosciutto and salty Parmesan make fresh peas even more appetizing. Finished with lemon vinaigrette and zest, it's a lovely side dish for the season, or you can toss everything with pasta for a whole meal.
Peas, Prosciutto & Parmesan
Serves | 4 |
Lemon Vinaigrette
3 Tbsp freshly squeezed lemon juice
¼ cup extra-virgin olive oil
salt and freshly ground black pepper, to taste
Peas, Prosciutto and Parmesan
8 oz sugar snap peas
8 oz shelled fresh peas
1 Tbsp extra-virgin olive oil
4 oz prosciutto, thinly sliced and cut into bite-size pieces
lemon vinaigrette (recipe follows)
4 oz Parmesan, shaved
zest of 2 lemons
| Preparation – Lemon Vinaigrette | In a small bowl, whisk together lemon juice and olive oil; season with salt and pepper to taste. Set aside.
| Preparation – Peas, Prosciutto and Parmesan | Prepare an ice bath by placing a colander in a bowl of ice water. Bring a medium pot of salted water to a boil. Add sugar snap peas; boil, 60 to 90 seconds, and then transfer to ice bath with a slotted spoon. Repeat process with shelled fresh peas. Drain peas; pat dry.
Heat oil in a skillet over medium-high heat. Add prosciutto; stirring occasionally, cook until brown and crisp. Transfer to a paper towel to drain. In a bowl, toss peas, prosciutto and lemon vinaigrette; sprinkle with Parmesan. Top with lemon zest and serve.