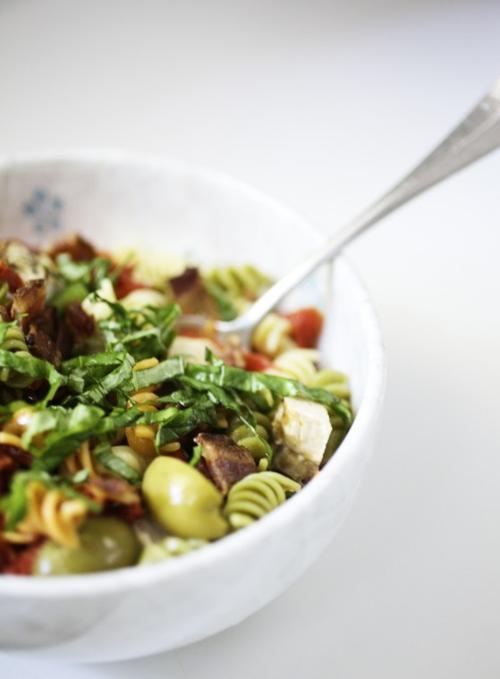 Serves | 4 to 6 |
1 lb dried tri-color fusilli pasta
2 red bell peppers
2 cups fresh green beans
1 chicken breast
salt and freshly ground black pepper
6 to 8 strips bacon, cooked and crumbled
½ cup green Sicilian and kalamata olives, quartered
1 small jar sundried tomatoes, drained and julienned
5 to 6 fresh basil leaves, julienned
¾ cup extra-virgin olive oil
¼ cup balsamic vinegar
| Preparation | Boil pasta over high heat until al dente, about 8 minutes. Drain and set aside to cool. Roast red peppers under the broiler or over an open flame, turning often, until skin is blistered. Place in a brown paper bag and let cool. Remove peppers from bag, peel off skins, remove seeds and julienne the flesh. Set aside.
Bring a large pot full of water to a boil. Blanche the green beans by placing them in the boiling water, then submerging them in cold water to stop the cooking process. Remove from cold water and cut into bite-sized pieces. Set aside.
Brush chicken breast with a light coating of olive oil, and season with salt and pepper. Grill until cooked through. Let cool, and then cut into cubes.
In a large mixing bowl, combine pasta, roasted red peppers, green beans, chicken, bacon, olives, sundried tomatoes and basil. In a small mixing bowl, whisk together olive oil and balsamic vinegar. Season to taste with salt and pepper. Pour dressing over pasta salad and toss to combine. Refrigerate until cool.