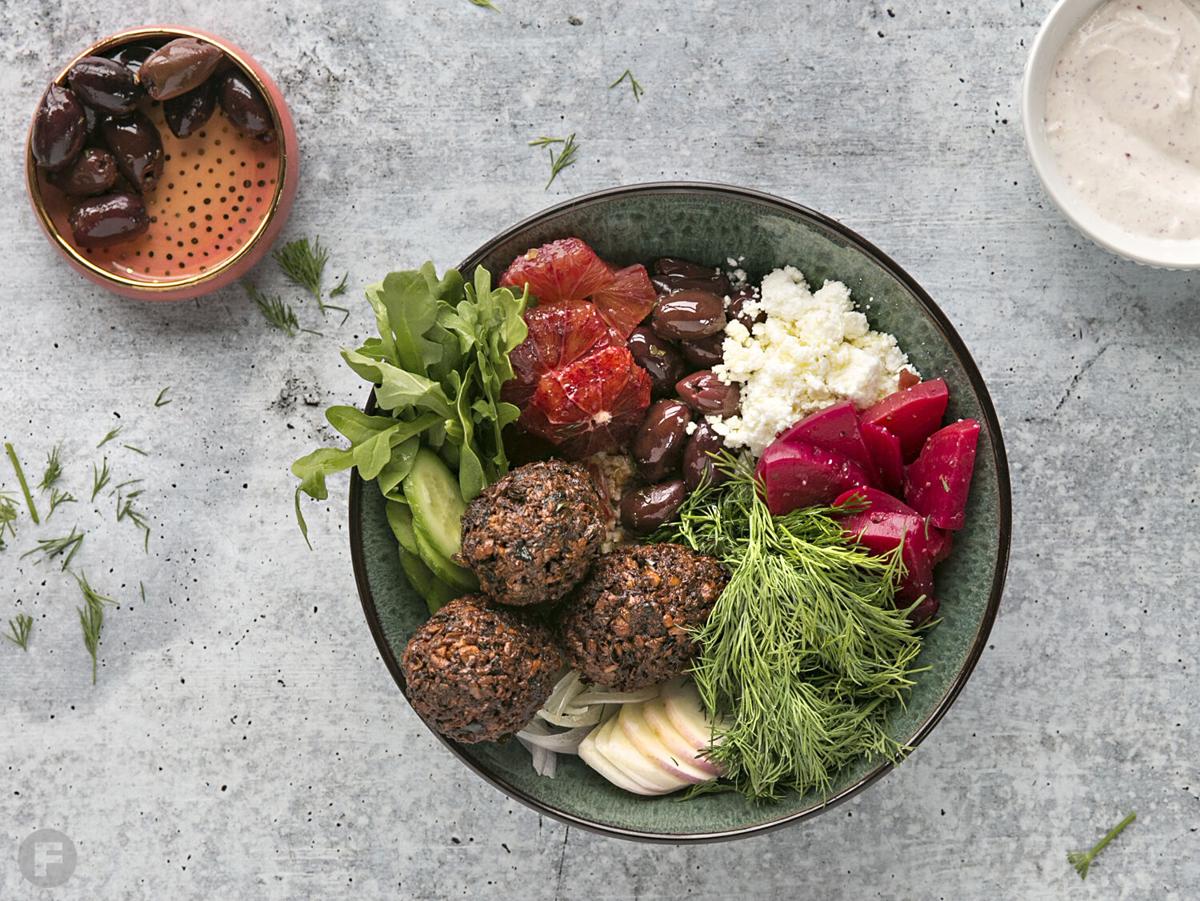 Growing up, I occasionally ate falafel, but it wasn't until I traveled to the Middle East and saw how deeply the food is ingrained in life there that it took on a whole new meaning for me. When Ben Hamrah and I opened Beet Box, I made sure falafel was on the menu – basically, I knew I wanted to eat it multiple times a week, and I hoped customers would, too.
Traditionally made with ground chickpeas, fava beans or both and served in a pita, the recipe for falafel lends itself to experimentation. Here, I apply the concept to a different legume – the red lentil – and serve it in a bowl with seasonal vegetables and herbs. The preparation is quicker, and the flavors are unforgettable.
Red Lentil Falafel Bowl
Serves | 4 |
Red Lentil Falafel
2 cups red lentils
4 cups water
1 small red onion
2 medium carrots, peeled
5 cloves garlic
1 cup fresh parsley
1 cup fresh cilantro
¼ cup chickpea flour
1 tsp baking powder
2 tsp salt
2 tsp freshly ground black pepper
2 tsp ground cumin
Bowl
2 cups cooked bulgur
3 Persian cucumbers, sliced
½ cup Kalamata olives, pitted
½ cup sliced red onion
1 cup crumbled Feta
2 turnips, sliced
1 cup mustard greens or arugula
1 cup pickled beets
1 blood orange, peeled and sliced into wheels
¼ cup freshly chopped dill
2 Tbsp olive oil
1 Tbsp red wine vinegar
Dressing
½ cup sour cream
½ cup thick Greek yogurt
2 cloves garlic, grated
2 Tbsp tahini
1 Tbsp freshly squeezed lemon juice
½ tsp honey
½ tsp sumac
salt and freshly ground pepper, to taste
| Preparation – Red Lentil Falafel | Add lentils and water to a bowl; soak, 1 to 1½ hours. While lentils are soaking, prepare bowls and dressing (recipes follow). In a food processor, add onion, carrot, garlic, parsley and cilantro; pulse until finely chopped and then transfer to a bowl. Drain soaked lentils; transfer to food processor and pulse until finely chopped. Add processed lentils to bowl with onion-carrot mixture; add remaining ingredients and toss to combine. Let rest, 10 minutes.
In a medium saucepan, heat 4 inches of oil (canola, soybean, vegetable – any oil for frying) to 350°F. Once oil is hot, gently form falafel into balls and place in oil, four at a time; cook, 4 to 5 minutes. Using a skimmer, remove fried falafel from pan and place on a paper towel-lined plate. Repeat process until all falafel is cooked.
| Preparation – Red Lentil Falafel Bowl | Evenly divide all ingredients, except oil and vinegar, between four bowls.
| Preparation – Dressing | In a bowl, combine all ingredients. Set in refrigerator until ready to use.
| Assembly | Divide falafel between assembled bowls; drizzle with dressing, olive oil and red wine vinegar. Season with salt and pepper to taste. Enjoy.