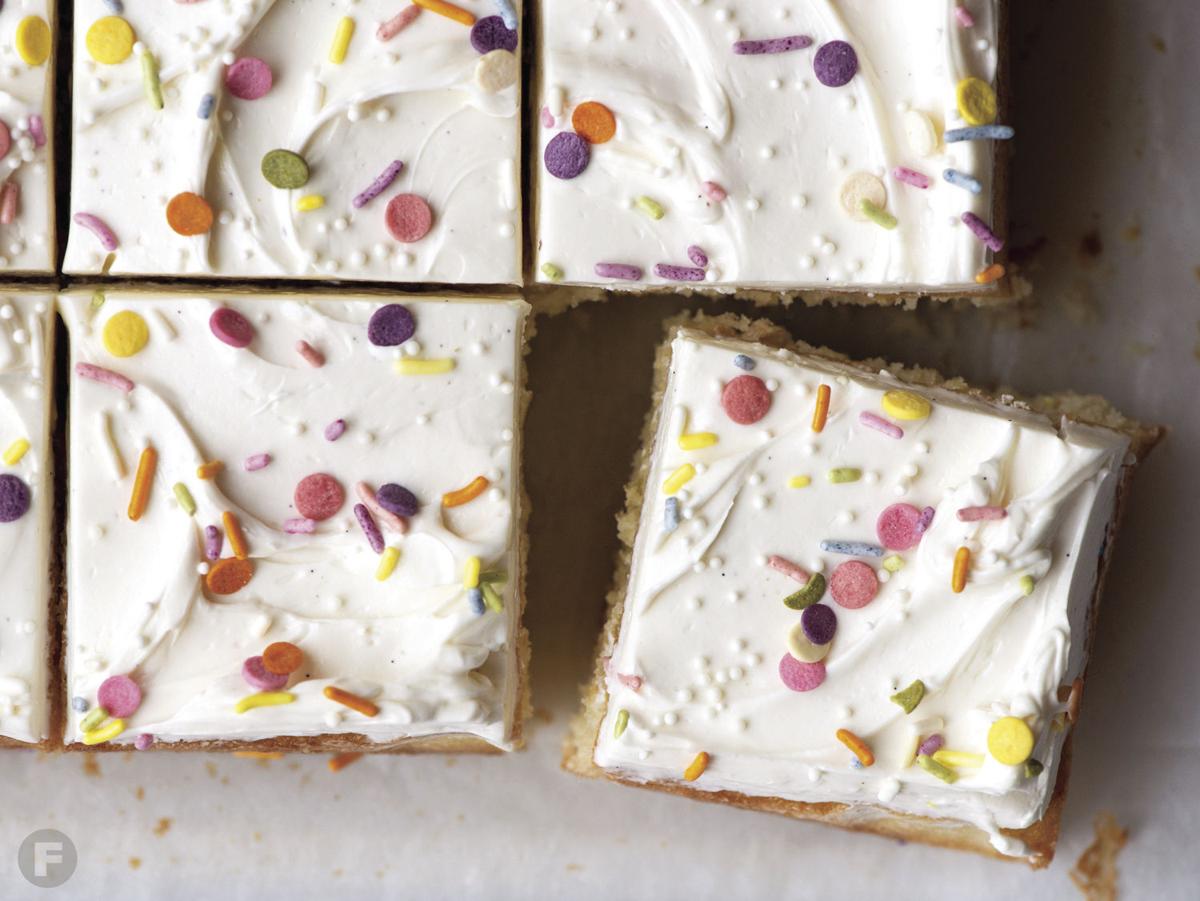 A snack cake – a small, single-layer cake – is meant to be enjoyed for no particular reason. Cut yourself a square when you're craving something sweet after dinner – or even mid-day. This vanilla snack cake is frosted with a silky vanilla bean Swiss buttercream for a classic creation. For chocolate buttercream, simply add 4 ounces of melted milk or dark chocolate (cooled to the touch) to the recipe. And for cream cheese buttercream, add 4 ounces of cream cheese (room temperature). Whichever flavor of frosting you choose, whether it's for a Tuesday or an actual celebration, this tender snack cake will rise to the occasion.
Vanilla Snack Cake with Vanilla Bean Buttercream
Yields | one 8-by-8-inch square cake |
Vanilla Snack Cake
1½ cups all-purpose flour
2 tsp baking powder
¾ tsp kosher salt
7 Tbsp unsalted butter, room temperature
1 cup sugar
1 large egg, room temperature
1½ tsp vanilla extract
¾ cup whole milk
sprinkles, for decorating
Vanilla Bean Buttercream
3 large egg whites
¾ cup sugar
½ tsp kosher salt
1¼ cups (2½ sticks) unsalted butter, room temperature
1 tsp vanilla extract
½ vanilla bean, split and seeds scraped
*If needed, you can omit the vanilla bean seeds and increase the amount of vanilla extract to 1½ teaspoons.
| Preparation – Vanilla Snack Cake | Preheat oven to 350°F. Line an 8-by-8-inch square baking pan with parchment paper and lightly spray with nonstick cooking oil spray. (A 9-inch round cake pan will also do the trick.)
In a small bowl, whisk together flour, baking powder and salt. Set aside.
In the bowl of a stand mixer, fitted with the paddle attachment, add butter and sugar; mix on low until just combined. Increase speed to medium and beat mixture until light and fluffy, 4 to 5 minutes. Stop and scrape down the sides and bottom of the bowl. Add egg and mix, again on low, until combined; add vanilla. Stop and scrape down the bowl. On low, alternate adding ⅓ flour mixture and ⅓ milk, allowing each to just combine before adding the next. Once all of the flour mixture and milk have been added, stop and scrap down the bowl. Mix one last time for a few seconds to fully combine.
Transfer batter to prepared baking pan; using an offset spatula, spread evenly across the surface. Bake until cake is golden and a toothpick inserted in the center comes out clean, approximately 38 minutes. Remove from oven and set on wire rack to cool, 30 minutes. Remove cake from pan and set back on rack to cool completely. Meanwhile, prepare the buttercream.
| Preparation – Vanilla Bean Buttercream | Bring a saucepan filled with 1 inch water to a simmer. Meanwhile, combine egg whites, sugar and salt in the bowl of a stand mixer. Set bowl over pan of simmering water (it should fit snugly onto the pan but should not touch the water); whisk constantly until sugar has dissolved and mixture reaches 175°F to 180°F on a kitchen thermometer. (Using a kitchen thermometer will ensure that the egg white mixture is fully cooked, preventing an eggy flavor or grainy texture in the final buttercream.)
Attach bowl to mixer, fitted with the whisk attachment; whip on high until glossy peaks form and mixture has cooled completely, approximately 8 minutes. Reduce speed to medium and add soft butter, 1 tablespoon at a time, beating to fully incorporate after each addition. (The buttercream may appear curdled during this process, but it will become smooth again once all the butter is added.) Add vanilla extract and vanilla bean seeds. Stop and scrap down the sides and bottom of the bowl, then whip buttercream, 5 more minutes. Store any leftover buttercream in an airtight container in the refrigerator for up to two weeks or the freezer for up to 3 months.
Troubleshooting: The final buttercream should be light and smooth. If it appears dense and greasy, transfer 1 to 2 tablespoons buttercream to a small heatproof bowl and heat in microwave until it just begins to melt, approximately 5 seconds. Add heated buttercream to the rest and whip until fully incorporated. This is a way to gently reheat the entire bowl of buttercream until it's softened and easier to spread. Try not to use the buttercream at less than 74°F.
Alternately, if the buttercream is too soft, place the entire bowl in the refrigerator until it begins to firm up, 10 to 15 minutes (checking and stirring every 5 minutes). Remove bowl from refrigerator and whip chilled buttercream until light and fluffy.
| Assemble | Dollop vanilla bean buttercream onto the cake (use as little or as much as desired); evenly spread out with an offset spatula. Using an offset spatula or the back of a spoon, make light sweeping motions to create swirls in the buttercream. Top with edible decorations such as rainbow sprinkles, if desired. Cut into 9 squares and serve. Store leftover cake in an airtight container at room temperature for up to five days.