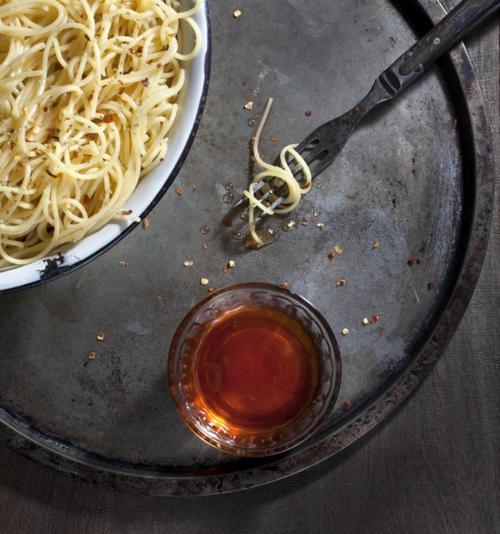 Colatura is made with the simplest of ingredients, using a time-honored, traditional method. Try it out in this Spaghetti Aglio e Olio recipe by Mark Sanfilippo of Salume Beddu.
Serves | 4 to 6 |
1 lb good-quality imported Italian spaghetti
½ cup olive oil
3 cloves garlic, sliced lengthwise
1 pinch red chile flakes, plus more for garnish
½ cup reserved pasta water
1/3 cup chopped flat-leaf parsley
1 lemon, juiced and zested
1 to 2 tsp colatura, to taste
| Preparation | Bring cold water to boil in a large pot. Salt the water and add spaghetti. Cook according to directions on package. Reserve ½ cup pasta water before draining. Meanwhile, in a large skillet, combine olive oil, garlic and red pepper flakes. Heat over low heat, stirring occasionally, until the garlic softens and turns golden, about 8 to 10 minutes. Add pasta water and heat through. Add cooked pasta to the skillet. Toss with parsley, lemon juice and lemon zest. Remove from heat and divide into bowls. Drizzle with colatura. Serve with extra red chile flakes on the side.