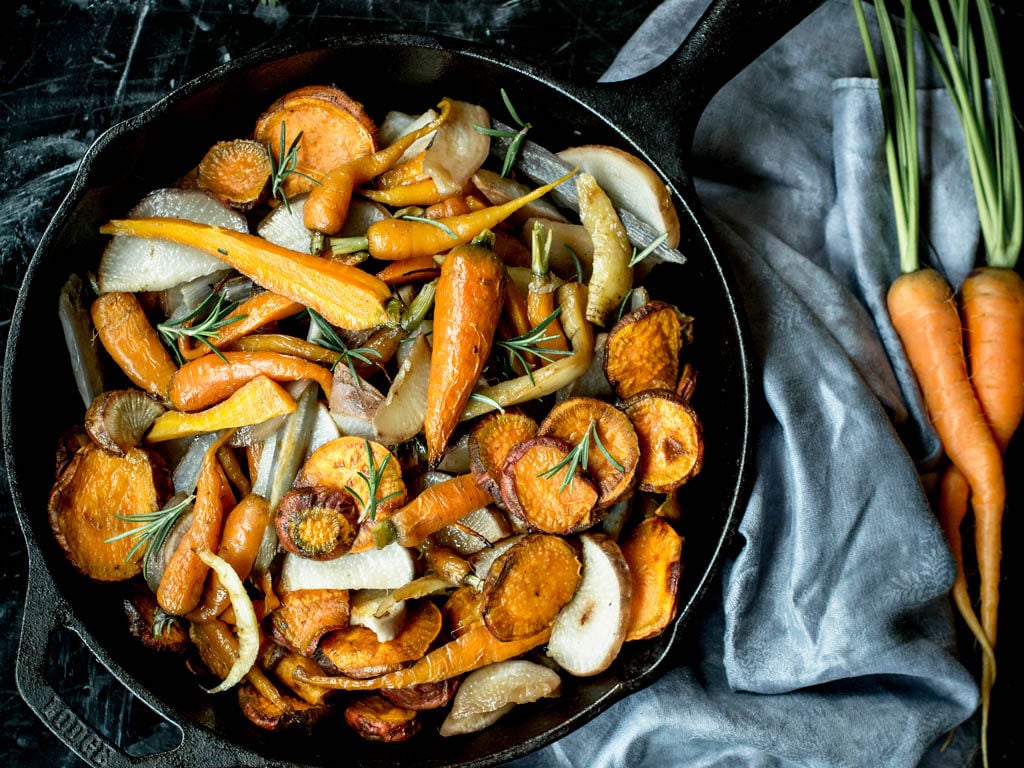 As the chill of winter sets in, I find myself seeking out the last remaining fresh flavors of fall. Like farmers before us, my husband, Eric, and I have canned, preserved and pickled the season's bounty and have stockpiled food for winter – the time when our gardens are barren. This time of year, fall roots and tubers make wonderful late-storage crops that can be enjoyed well into the spring.
Before the first frost in October, we harvested greens, dug up tubers and cut cabbage and broccoli from the soil. Root crops were the last to be removed from the fields. Carrots, parsnips and turnips become sweeter after the frost, so we leave them in the ground just a little longer, anticipating the delicate sweetness the cold brings. Pitchfork to earth, we loosen the soil around the roots. And then, like magic, we pull the frost-covered green tops out of the ground and the vibrant roots appear. Another late-fall favorite is burdock root, which is highly nutritious.
Historically, such late-fall crops were harvested and stored in cool, dark root cellars. They also can be stored in sand, muslin, paper bags or even boxes. We don't have a root cellar, so we wrap them in damp cloths and store them in our vegetable crisper. If you haven't already stocked up for winter, don't fret; you can find a plethora of locally grown late-storage crops at winter farmers' markets. My favorite way to prepare roots and tubers is roasting them with a sweet and earthy honey-rosemary glaze. It's healthy and highlights the flavors of the season, plus it makes a rustic and satisfying side dish for your holiday table.
Crystal Stevens is a farmer at La Vista CSA Farm on the bluffs of the Mississippi River in Godfrey, Illinois, where she farms with her husband, Eric. They have two children. Crystal is an advocate of integrating creativity into sustainability through writing, art, photojournalism and seed-to-table cooking. Find more of her work at growingcreatinginspiring.blogspot.com, which she created to launch her forthcoming book, Grow Create Inspire.
Honey-Rosemary Glazed Roasted Vegetables
Serves | 6 to 8 |
½ stick butter
½ cup honey
4 sprigs fresh rosemary
12 small carrots, scrubbed
6 turnips, thinly sliced
6 parsnips, scrubbed
1 burdock root, peeled and boiled for 15 minutes, thinly sliced
1 large sweet potato, thinly sliced
| Preparation | Preheat oven to 450°F.
In a small saucepan over low heat, heat butter, honey and rosemary. Simmer on low for 10 minutes or until butter has melted and slightly caramelized with honey.
In a large mixing bowl, add remaining ingredients. Gently pour honey-rosemary glaze evenly over vegetables, reserving just a little bit. Lightly toss until vegetables are coated with glaze.
In a large baking dish, pick out and layer sweet potatoes, burdock root and turnips in a spiral. Add carrots and parsnips on top and drizzle with remaining glaze. Transfer to oven and bake for 15 to 20 minutes or until tender and golden. Serve.