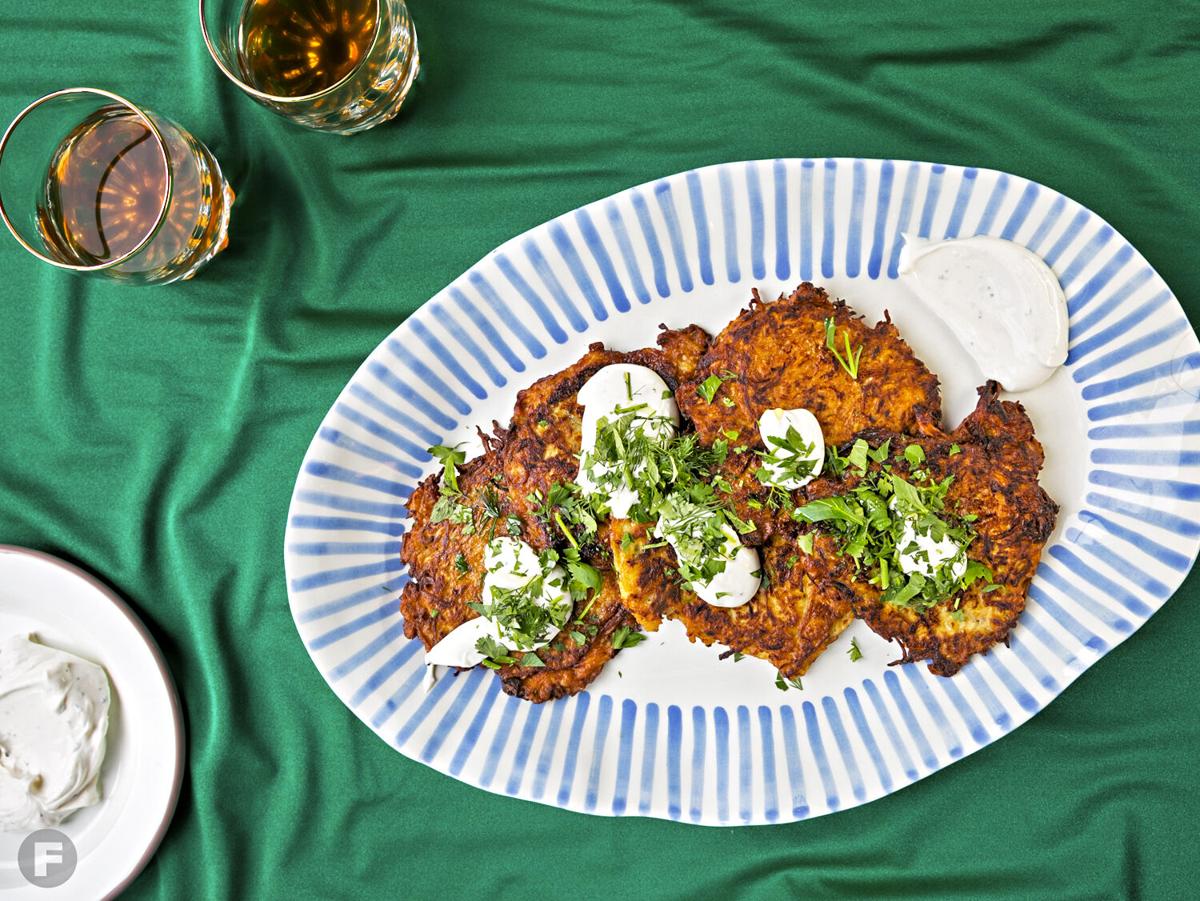 Latkes, along with other fried foods, are traditionally consumed during Hanukkah to commemorate the oil that burned for eight days when the Maccabees purified and rededicated the Second Temple in Jerusalem in the second century B.C.E.
Although they're typically made with potatoes, latkes are open to interpretation. During my time as a personal chef in New York, I experimented with different ways of cutting and grating the potatoes to achieve different textures as well as other types of potatoes and assorted root vegetables for varying flavors. This latke recipe omits the potato completely in favor of celery root and apple, which provide earthiness and sweetness, respectively.
Celery root and parsnip latkes
Yields | 12 to 14 latkes |
1 lb celery root, peeled and grated
1 lb parsnips, cleaned and grated
1 medium onion, peeled and grated
1 small apple, grated
5 eggs
1 cup all-purpose flour
1 Tbsp salt
1 tsp freshly ground black pepper
grapeseed oil
fresh herbs, chopped, for garnish (think chives, parsley, sage and thyme)
labneh or sour cream, for serving
| Preparation | In a medium bowl, combine celery root, parsnip, onion and apple. Add eggs, flour, salt and pepper; stir to incorporate. Heat 3 tablespoons grapeseed oil in a large cast-iron skillet over medium high heat. Once oil is hot, add celery root-parsnip mixture to skillet in heaping ¼-cup piles (don't overcrowd the skillet – depending on its size, you can probably fit three to four latkes); crisp, 3 to 4 minutes. Flip latkes; crisp on the other side, 3 to 4 minutes. Transfer latkes to a paper towel-lined plate. Continuing to work in batches, repeat process until you've used all of the celery root-parsnip mixture. Garnish latkes with fresh herbs and serve warm with labneh or sour cream.