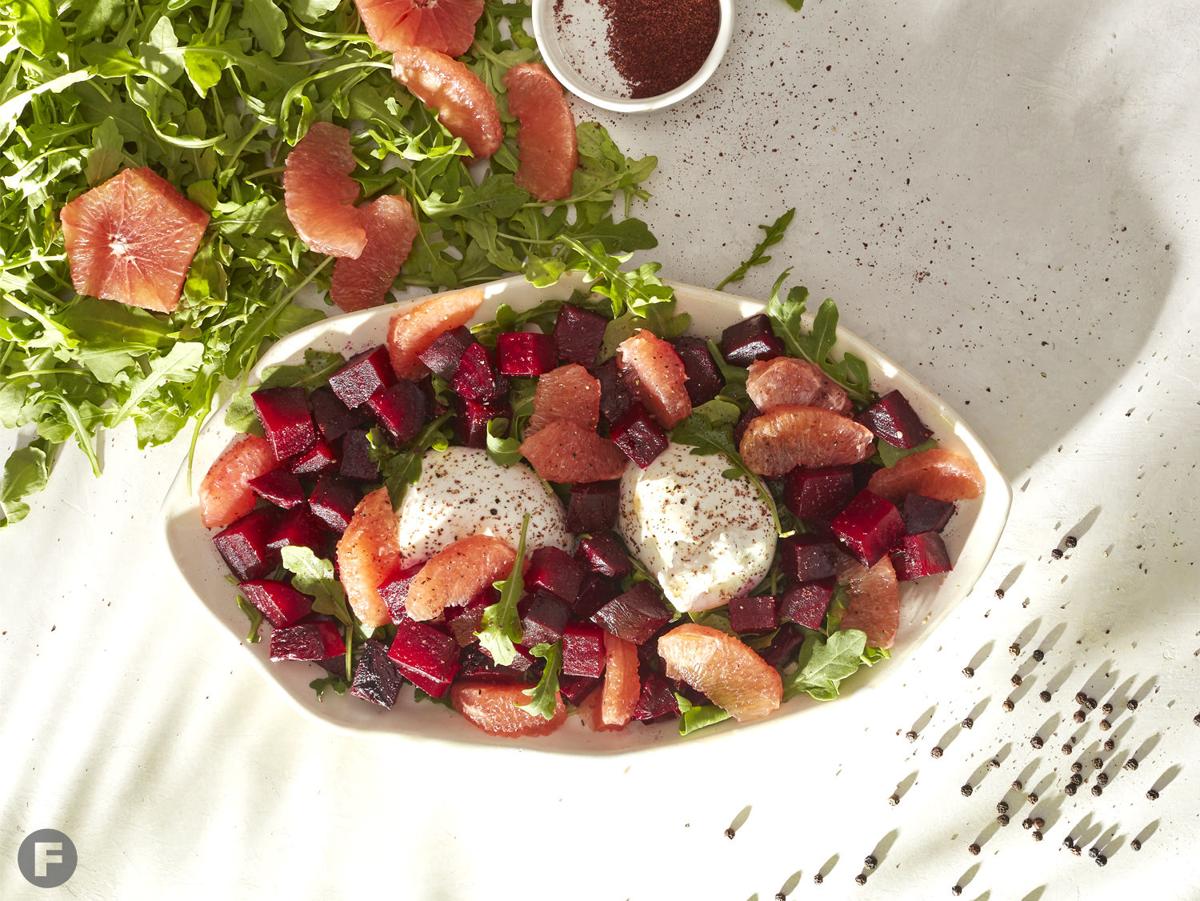 Greens don't always have to take center stage in salad. Here, the watercress is a supporting actor, adding peppery crunch to hits of earthy beet, sour grapefruit and creamy burrata. If you can't locate any at your local market, fear not: Baby arugula is a perfect understudy. Give yourself a break by roasting the beets the day before your Thanksgiving meal; they'll have ample time to chill, and they won't take up space in your oven during the main event.
Beet & Burrata Salad
Serves | 8 to 10 |
4 medium red beets, scrubbed
2 Tbsp, plus 4 tsp, olive oil, divided
salt and freshly ground black pepper
2 large red grapefruit
4 oz watercress leaves
1 Tbsp white balsamic vinegar
2 balls burrata, drained
1½ to 2 tsp sumac (for garnish)
| Preparation | Preheat oven to 400˚F. Slice greens from beets, so beets sit upright. Place each on a square of aluminum foil and drizzle each with 1 teaspoon olive oil. Season generously with salt and pepper and wrap tightly; transfer to lipped sheet pan and roast until tender, 1 hour. Remove, open foil and let cool to room temperature, then transfer to refrigerator to chill, 4 hours or overnight.
Remove beets from refrigerator and slice into ½-inch cubes. Use a paring knife to slice top and bottom from grapefruit, then slice skin away from top to bottom until grapefruit is clean; cut into segments. Arrange watercress on platter along with cubed beets and grapefruit pieces, leaving space in the center for burrata. Whisk together balsamic vinegar and remaining olive oil and drizzle over top, then place burrata in reserved spaces. Season with salt and pepper to taste and garnish with sumac. Slice into burrata just before serving to let it spill out slightly over other ingredients.