Kitchen gadget skeptics, I see you because I am one of you. Before I commit money and cabinet space to something, I need to know that it's more than a one-trick pony. A food processor, to some, seems like just that, but I can't think of a more hard-working gadget in my own kitchen – you simply have to know how to maximize its potential.
Food processors can do it all: slice or shred cheese and vegetables; pulverize nuts into butter or flour; emulsify dressings, pesto or aïoli; grind sugar down to a superfine texture; and even make cookie, tart or pie dough with ease. With power and grace – plus the right attachments – they handle some of the most daunting kitchen tasks. So, if you're on the fence about bringing one home, let's chat.
Must-Have Attachments
S Blade. The standard blade in any food processor, the S blade can coarsely chop, grate, mince, mix or purée food.
Shredding Disc. Shred cheese and vegetables in a flash with this attachment.
Slicing Disc. Every slicing disc can cut fruits and vegetables into thin, uniform slices, but some are also adjustable for paper-thin to ¼-inch-thick pieces.

Optional Add-Ons
Plastic Dough Blade. If you don't want to knead dough by hand, this attachment can be useful.
Perforated Blade. This attachment works for egg whites, sauces and other liquid-based items.
Whipping Disc Blade. Like a whisk, hand mixer and stand mixer, this blade whips cream and creates texture in sauces.
Discs for Specific Cuts (such as brunoise and julienne). I suggest practicing your knife skills rather than investing in one of these discs.
Gaufrette (Waffle) Blade. With this blade, you can make waffle fries and…waffle fries.
Egg Whisk Blade. The name of this attachment explains its purpose, but unless someone has stolen all your whisks, it's unnecessary.
A Cut Above
Fans of food processors (me) can get overenthusiastic about their favorite brands, but if you choose one of these options, you can rest assured that you're getting a gadget that can tackle innumerable tasks as you continue on your cooking journey. Remember: Food processors are an investment.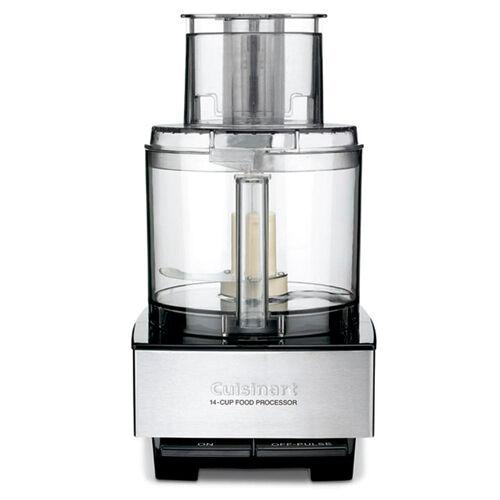 Cuisinart DFP-14BCNY
If you're new to the kitchen and hope to work a food processor into your daily grind, this is a wonderful option. The Cuisinart DFP-14BCNY is a durable, all-purpose model for cooks who want only the basics.
Size: 14-cup capacity
Attachments: S blade, shredding disc, slicing disc, dough blade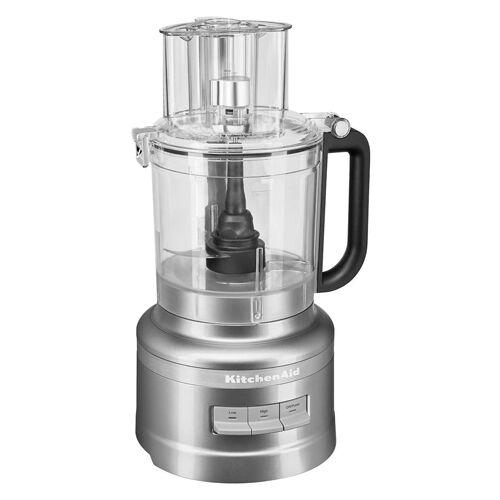 KitchenAid KFP1319
KitchenAid is a consistently reliable choice for appliances, including food processors. This model has the same basic blades as the Cuisinart, but the slicing disc is adjustable – like a mandoline. It also comes with a dicing kit and a storage caddy to keep the attachments organized.
Size: 13-cup capacity
Attachments: S blade, shredding disc, adjustable slicing disc, dough blade, dicing kit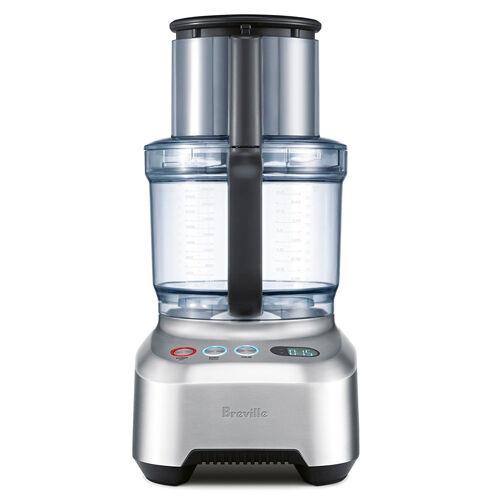 Breville Sous Chef 16 Pro
If you spend countless hours in the kitchen, we think it's time you got your own sous chef. This Breville food processor is not even close to the most expensive on the market, but it has all the bells and whistles you desire, including an extra 2½-cup capacity work bowl for sauces, herbs and the like – plus a storage caddy.
Size: 16-cup capacity
Attachments: small S blade, standard S blade, shredding disc, adjustable slicing disc, dough blade, dicing kit, julienne disc, french fry disc, whisking disc
This falafel boasts fresh herbs and bright flavors, but it's still hearty enough to satisfy.