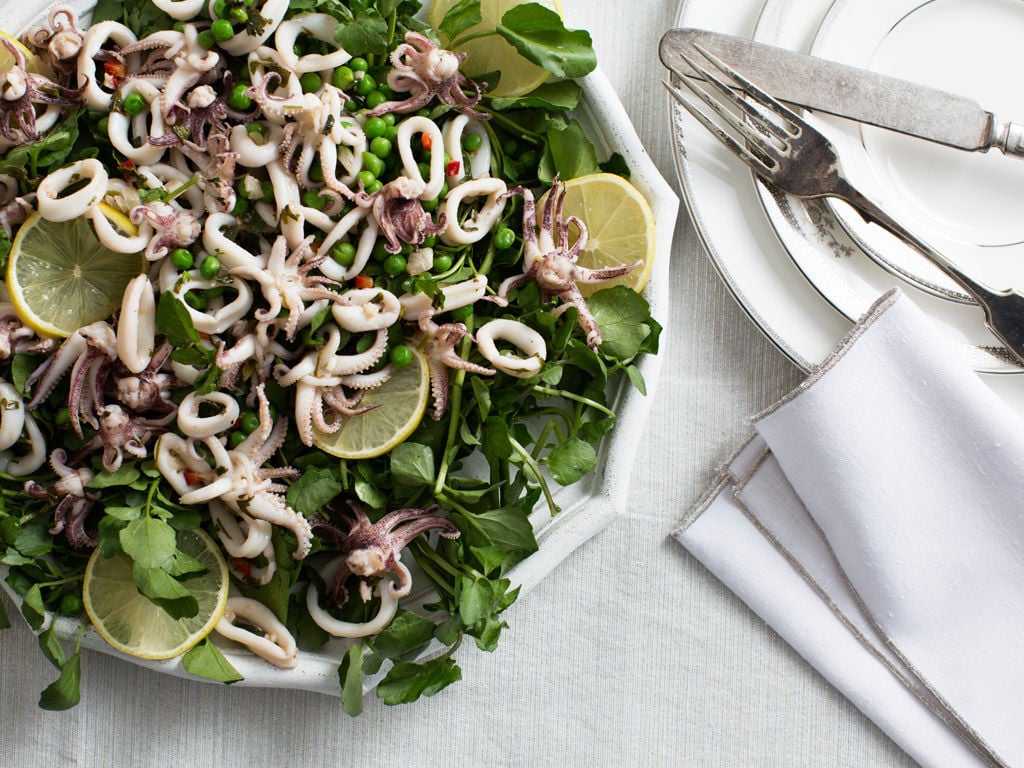 Don't be a hero and attempt to break down a whole squid here; you don't need the mess. Instead, seek out flash-frozen whole tubes and tentacles you can quickly clean and cook.
Serves | 4 to 6 |
3 Tbsp olive oil, divided
2 Tbsp finely diced shallot
2 cloves garlic, minced
1 Fresno chile, seeds removed, finely diced
2 tsp red wine vinegar
2 Tbsp chopped fresh mint leaves
¼ cup chopped fresh parsley leaves
juice of 2 lemons
1 lb calamari tubes and tentacles, cleaned, tubes cut into ¼-inch rings
1 to 2 bunches watercress leaves (to serve)
¾ cup frozen sweet green peas, thawed, cooked and chilled (to serve)
sea salt and freshly ground black pepper
2 lemons, sliced into wedges or thin rings (to serve)
| Preparation | In a large skillet over medium-high heat, heat 2 tablespoons olive oil. Add shallot and cook until tender, 1 minute. Add garlic and chile; stir and cook until fragrant, 30 seconds. Add vinegar and herbs; remove from heat and add lemon juice. Transfer mixture to a bowl or jar and set aside.
Wipe down pan and add remaining 1 tablespoon olive oil; heat to medium high. Add calamari and cook until curled and opaque, 2 to 3 minutes. Transfer to a large bowl; add lemon-herb mixture and toss to coat. Cover tightly and transfer to refrigerator for 1 hour to chill and allow flavors to blend.
| To Serve | Arrange watercress leaves on a large platter. Add peas to calamari, toss again to coat and season with salt and pepper. Pour cold calamari-sweet pea salad over top of watercress leaves and serve cold with lemon.