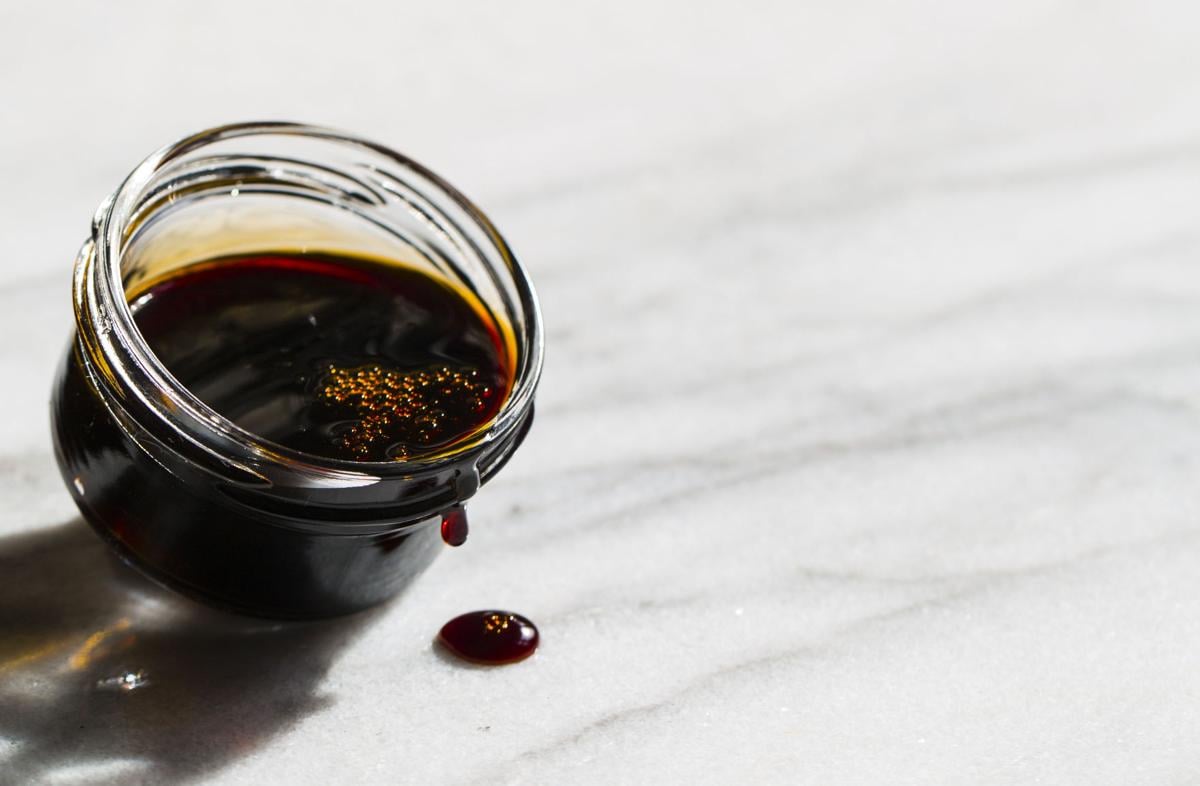 Grapes are essential to winemaking and a favorite childhood jam for sandwiches, but that's not all this familiar fruit is good for; they have a bewitching, alternative life you may not know about in the form of grape molasses.
What Is It?
Quite simply, grape molasses (also known as petimezi in Greece or pekmez in Turkey) is an ancient food made with reduced grape must that is thought to be one of the first sweeteners before cane sugar and honey were introduced in the Middle East and Mediterranean regions. Considered a pantry staple in Turkey and other parts of that region, grape molasses is prized for its high iron and potassium content; Turkish parents make their children tahin-pekmez for breakfast – a generous swirl of the sweet syrup into a pool of tahini – to keep them warm and energized throughout the day.
What Do I Do With It?
If tahin-pekmez isn't your thing, try pouring grape molasses over pancakes and waffles, or upgrade yogurt and granola parfaits with a hearty drizzle. Use it as a 1-1 ratio to substitute for maple syrup or honey in baked goods to impart a distinct grape flavor and subdued sweetness. The thick syrup works as a meat glaze as well, and plays beautifully with fresh herbs and tart citrus in grilling sauces.
Shannon Weber is the creator, author and photographer behind the award-winning blog aperiodictableblog.com, and her work has appeared on websites such as Bon Appétit, Serious Eats and America's Test Kitchen. She is a self-taught baker and cook who believes the words "I can't" should never apply to food preparation and that curiosity can lead to wonderful things, in both the kitchen and in life.
Candied Walnuts
Yields | 2 cups |
1 Tbsp unsalted butter
¼ cup grape molasses
2 tsp brown sugar
Pinch kosher salt
2 cups walnut halves
| Preparation | Preheat oven to 375°F. Line a lipped baking sheet with parchment paper.
In a large heavy-bottomed saucepan over medium heat, melt butter. Stir in grape molasses, brown sugar and salt until combined. Bring to a boil and allow to bubble undisturbed, 3 minutes. Add walnuts; stir to coat. Remove from heat and spread in a single layer onto prepared baking sheet. Bake for 8 minutes, mixing halfway through.
Remove from oven and mix to recoat walnut pieces with glaze. Allow walnuts to cool on sheet pan for 30 minutes until hardened. Break apart and store in airtight container.
Bitter Greens Salad with Grape Molasses-Rosemary Vinaigrette
Serves | 4 |
Vinaigrette
8 Tbsp olive oil, divided
1 tsp finely diced shallots
2 tsp chopped fresh rosemary leaves
½ cup grape molasses
¼ cup plus 2 Tbsp white wine vinegar
Sea salt
Salad
1 small head radicchio, washed and torn into pieces
4 oz washed escarole or frisée, torn into pieces
2 oz washed spinach
12 Turkish figs, quartered
4 oz Saint Agur cheese
1 to 11/3 cups candied walnuts (recipe above)
Sea salt and freshly ground black pepper
| Preparation – Vinaigrette | In a medium saucepan over medium-high heat, heat 2 Tbsp oil. Add shallots; heat for 1 minute until soft. Add rosemary leaves and stir over heat until fragrant, 1 minute. Remove from heat and allow to cool for 10 minutes. Pour mixture through a fine-mesh strainer into a medium bowl. Discard shallots and rosemary leaves. Add grape molasses and vinegar to bowl and whisk to combine. Continue to whisk while slowly streaming in remaining 6 Tbsp oil until dressing has emulsified. Season with dash salt, transfer to a jar and cover tightly. Refrigerate for at least 1 hour to blend flavors.
| Preparation – Salad | In a large bowl, toss first 3 ingredients to combine. Divide onto 4 plates and top with remaining ingredients. Serve with vinaigrette.
---
MORE FEAST!
Hungry for more Midwest food-scene news? Follow us on:
Click here to subscribe and each month you'll receive a delicious serving of Feast delivered directly to your home, hot off the presses!
Subscribe to our weekly enewsletter here!