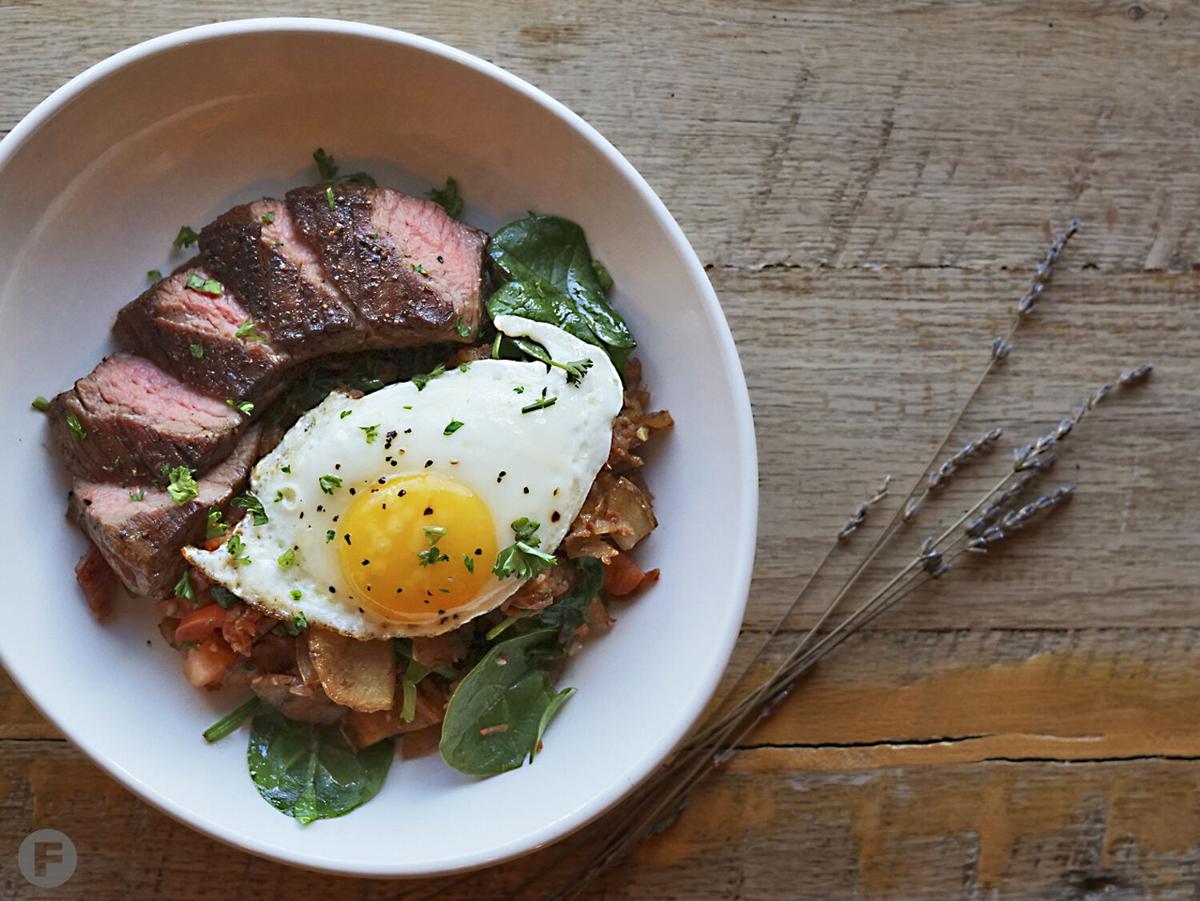 In 2017, Catherine Bersted and her husband, Thor, began serving lavender-infused small plates and drinks at Lavender Falls Farm in Clever, Missouri, with immediate success. Last year, the couple partnered with Aviary Café & Creperie in Springfield, Missouri, to create Aviary by Lavender Falls, which still serves the sought-after brunch specials from the café and crêperie but also boasts a delicious dinner menu.
On the new menu, floral flavors pop up when you least expect it. The boeuf and pomme (beef and potato) hash, for example, features Catherine's signature lavender balsamic reduction – made with lavender-infused honey from the farm and dried lavender buds – to brighten up the rich and savory dish and give it a more distinctive flavor. In a pinch, frozen french fries – oven-baked per package instructions – work just as well in this recipe.
"Lavender has a delicate and almost volatile flavor. You've got to really work with it so it doesn't become medicinal. The balsamic vinegar reduction [that we use in this recipe] is something my husband and I have been making for years at the farm. It's aromatic and sweet, and it's phenomenal on vanilla ice cream." –Catherine Bersted, co-owner, Aviary by Lavender Falls
Boeuf and Pomme Hash with Lavender Balsamic Reduction
Recipe courtesy of Aviary by Lavender Falls
Serves | 2 |
Garlic Herbed Butter (Yields 2½ cups)
2 cups (4 sticks) unsalted butter, at room temperature
1 tsp salt
8 cloves garlic, minced
¼ cup freshly chopped herbs de Provence
2 Tbsp freshly chopped parsley
Pommes Frites
2 russet potatoes, scrubbed
canola oil
salt, to taste
Boeuf and Pomme Hash with Lavender Balsamic Reduction
2 6-oz flank steaks
½ tsp salt
½ tsp freshly ground black pepper
4 cloves garlic, minced, divided
2 Tbsp Lavender Falls Herbs de Provence blend
2 Tbsp canola oil
1 Tbsp garlic herbed butter (recipe follows)
2 Tbsp minced shallot
4 oz cherry tomatoes
¼ cup bacon bits
2 cups spinach
2 cups chopped pommes frites (recipe follows)[RH1]
2 Tbsp Lavender Falls Lavender Balsamic Reduction
2 eggs
| Preparation – Garlic Herbed Butter | In the bowl of a stand mixer, add butter and salt; beat until fluffy. Fold in garlic and herbs. Transfer butter to a sheet of plastic wrap and roll into a log; twist ends of plastic wrap to seal. Refrigerate until firm, approximately 1 hour.
| Preparation – Pommes Frites | Cut each potato in half and then slice into fries; soak in cold water, 20 minutes. In a deep pot or Dutch oven set over high heat, heat 2 inches canola oil to 350ºF. Drain fries and pat dry with a kitchen towel. Carefully add fries to oil; fry until golden. Remove from pot and drain on a paper towel or wire rack. Sprinkle with salt to taste while fries are still glistening.
| Preparation – Boeuf and Pomme Hash with Lavender Balsamic Reduction |Season steaks on both sides with salt, pepper, 2 cloves minced garlic and herbs de Provence. Heat a large skillet over high heat until very hot, approximately 5 minutes. Carefully add canola oil and then seasoned steaks. Add butter to pan. Basting as they cook, sear steaks, 5 to 7 minutes, flipping halfway through. Remove from heat and let rest, 5 minutes.
Transfer steaks to plates and cover to keep warm. Set the same skillet over medium-high heat. Add remaining garlic, shallot, tomatoes and bacon bits; sauté until alliums are fragrant and translucent. Add spinach; cook until wilted. Add pommes frites; drizzle with balsamic reduction. Set aside. In a separate pan or pot, cook eggs any way you like (over-easy, poached, hard-boiled, scrambled, etc.).
| To Serve | Slice steaks on a bias. Serve with hash on the side and egg on top of hash.