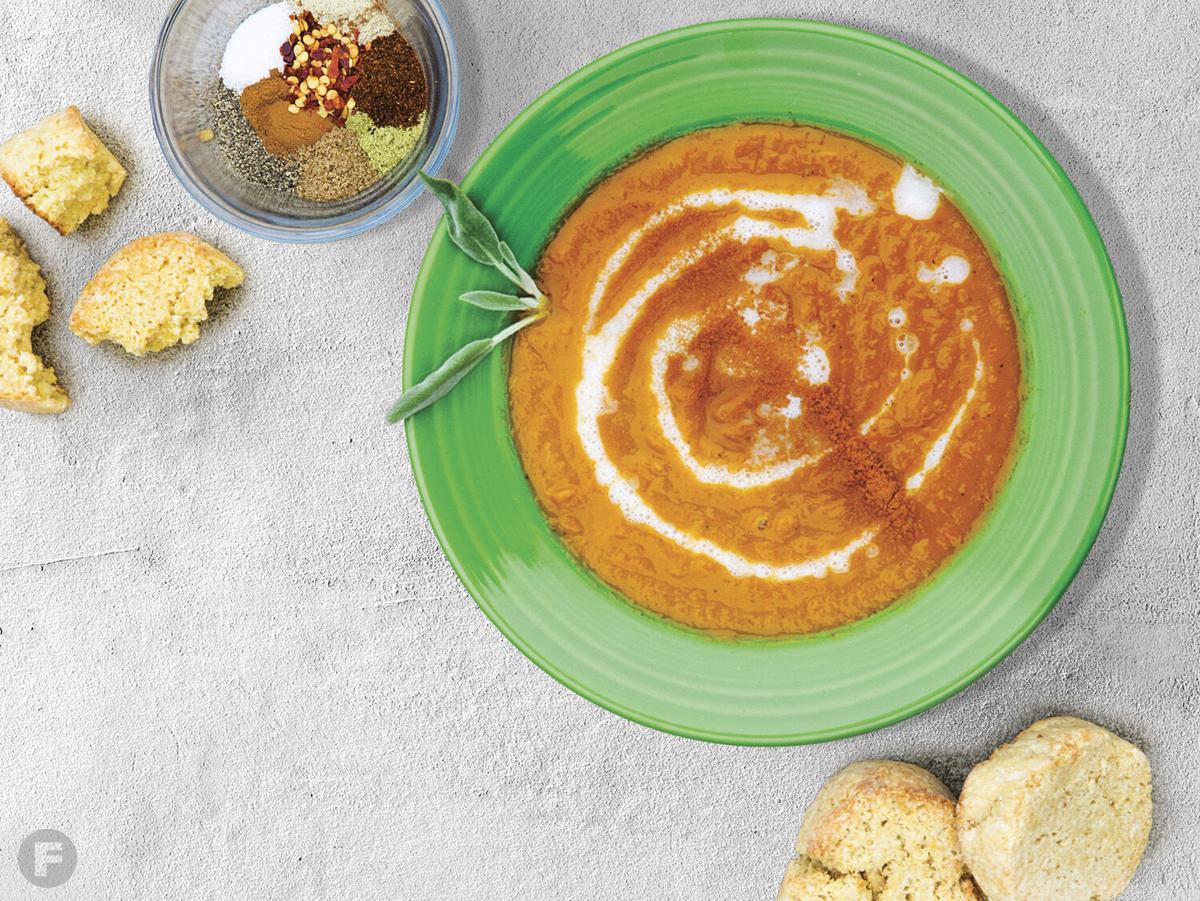 With every dish she serves, Anna Meyer, chef-owner of Range Free in Columbia, strives to show the mid-Missouri community that allergen-free food can be unexpected, flavorful and satisfying. The menu at her bakery-café caters to special dietary needs, meaning you won't find any wheat, peanuts, tree nuts, fish or shellfish in the kitchen.
This spiced spin on butternut squash soup, for example – a part of the rotating soups du jour – is vegetarian by nature, but it can easily be made vegan by using a nonanimal-based fat to roast the squash. "The roasting really elevates the sugars in the vegetable and gives [the soup] a very complex flavor profile once it's all said and done," explains Meyer. "You can throw raw butternut squash into a soup and it's a good soup, but if you roast it, it really takes it to another level."
Spice-roasted butternut squash soup
Recipe courtesy of Anna Meyer, chef-owner, Range Free
Yields | 8 cups |
Spice-Roasted Butternut Squash
1 medium butternut squash, peeled, seeded and chopped into 1-inch cubes
¼ cup liquid fat
¼ cup balsamic vinegar
½ tsp chile powder
½ tsp ground coriander
½ tsp sea salt
½ tsp white pepper
½ tsp black pepper
¼ tsp cinnamon
¼ tsp red pepper flakes
¼ tsp ground fennel
Spice-Roasted Butternut Squash Soup
1 Tbsp olive oil
1 onion, diced
2 carrots, thinly sliced
1 stalk celery, finely diced
½ tsp salt
spice-roasted butternut squash (recipe follows)
4 cups vegetable broth
1 cup coconut milk
| Preparation – Spice-Roasted Butternut Squash | Preheat oven to 400ºF. In a large bowl, add all ingredients; toss to combine. Transfer butternut squash to a 9-by-13-inch baking sheet or casserole dish; roast until soft, approximately 45 minutes, flipping occasionally. Remove from oven and set aside.
| Preparation – Spice-Roasted Butternut Squash Soup | Heat oil in a
large pot over medium heat. Add onion, carrots, celery and salt; sauté until vegetables have softened, approximately 10 minutes. Add butternut squash (along with any pan drippings) and broth; bring to a boil and then reduce heat to simmer, 15 minutes. Remove mixture from heat. Using an immersion blender, purée until smooth. Stir in coconut milk; taste and adjust seasoning if needed. Serve hot.