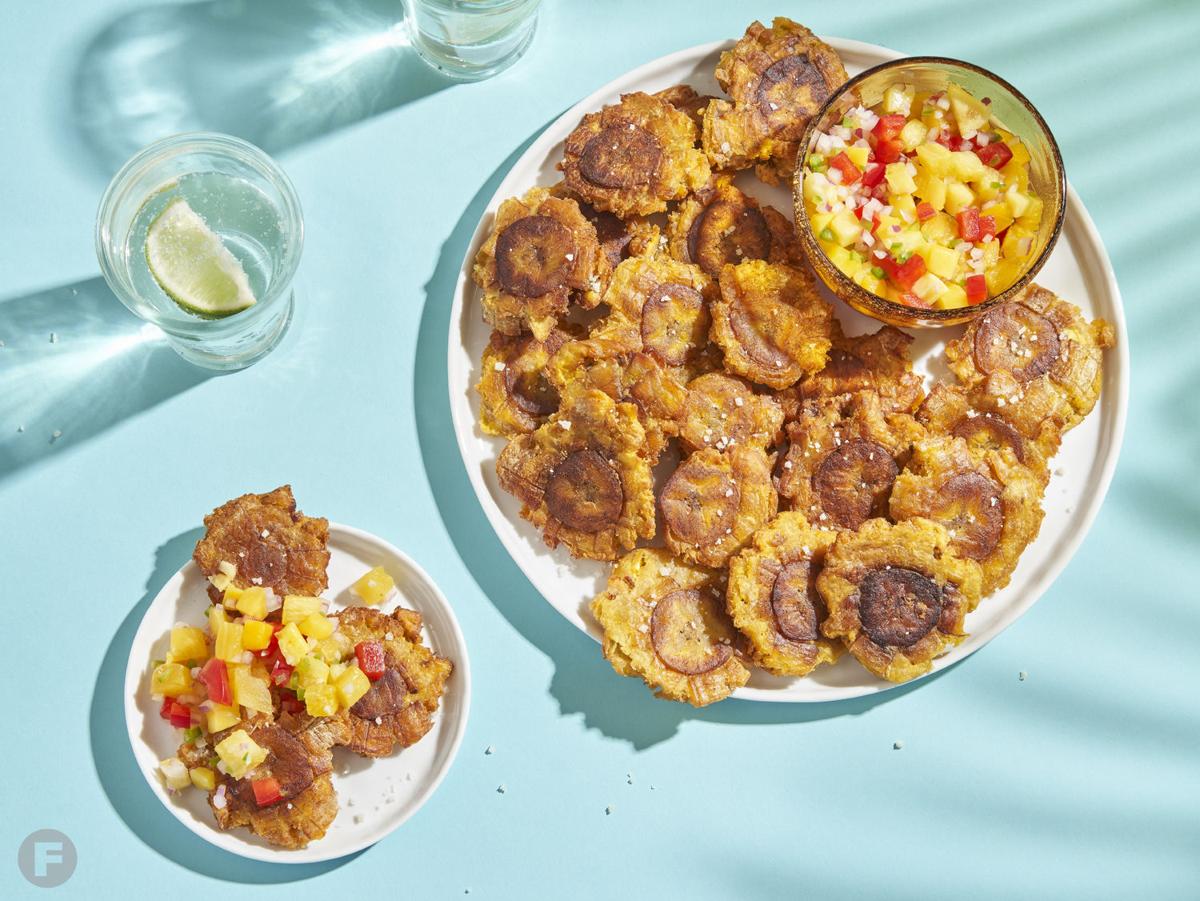 For this appetizer, I use ghee to pan-fry tostones; it's a perfect way to infuse the plantains with fabulous flavor. While plantains smell a little like bananas, they're very starchy and decidedly unsweet. Frying them reveals their true purpose: not as a tropical fruit but as a snack reminiscent of french fries with the shape and color of the sun. Season generously with salt after their second ghee bath to truly tempt your taste buds.
Ghee-Fried Tostones with Rainbow Salsa
Serves | 6 to 8 |
Rainbow Salsa
1 cup pineapple, medium dice
1 cup mango, small dice
½ cup red bell pepper, small dice
½ cup red onion, small dice
1 small jalapeño, brunoise cut
juice of 1 to 2 limes
1 tsp kosher salt, plus more to taste
Ghee-Fried Tostones with Rainbow Salsa
1 cup ghee
3 large green or greenish-yellow plantains, peeled and sliced into 1-inch chunks
kosher salt, to taste
rainbow salsa (recipe follows)
The clarified butter is shelf-stable and can handle high temperatures without scalding or smoking.
| Preparation – Rainbow Salsa | In a medium bowl, mix pineapple, mango, bell pepper, onion and jalapeño until combined. Pour lime juice over the top, season with salt and toss. Set aside.
| Preparation – Ghee-Fried Tostones with Rainbow Salsa | Melt ghee in a medium, heavy-bottomed saucepan over medium high heat. (Ghee should be ¾ inch deep.) Working in batches, fry plantains on top and bottom until golden, 3 minutes per side; transfer to paper towel-lined plate. Allow each batch to cool only slightly and then press with the back of a flat spatula until approximately ¼ inch thick. Return batch to pan and cook again until crispy, 1 to 2 minutes per side. Remove from pan and season generously with salt. Transfer finished tostones to a towel-lined casserole dish and store in a warm oven. Repeat steps with remaining plantains. Once all tostones are fried, remove from oven and top with rainbow salsa. Serve immediately.