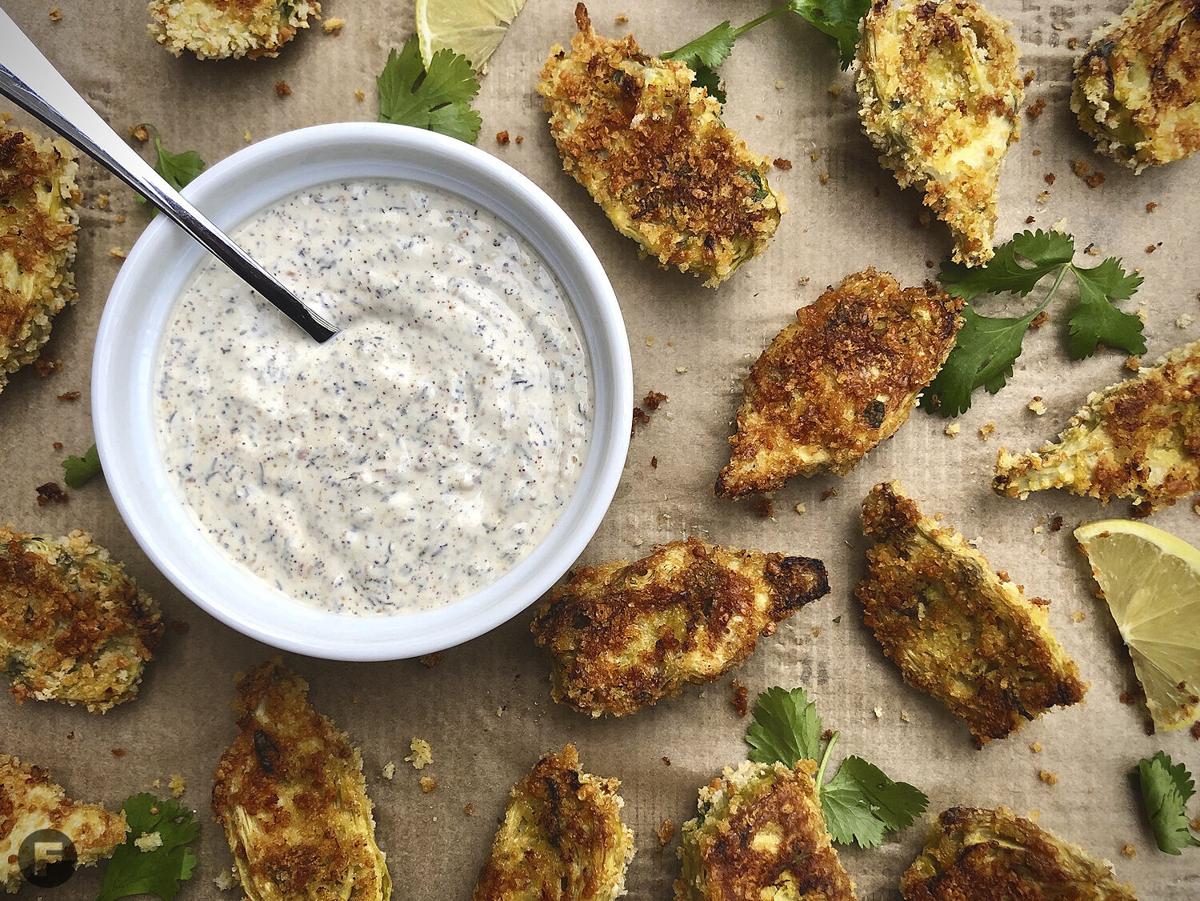 This dish is great for snackers and hosts alike! Artichoke hearts are oven-fried at high temperatures to create the most satisfying crunchy texture and then paired with a tangy, herby, creamy dipping sauce with just the right amount of heat.
Serves| 4-6 |
Oven-Fried Artichoke Hearts with Za'atar Dipping Sauce
Artichoke Hearts
3 cans whole artichoke hearts, in water, drained and sliced lengthwise
1 cup panko bread crumbs
½ cup Parmesan cheese
2 eggs
1 handful cilantro, finely chopped
1 garlic clove, crushed
cooking spray
Za'atar Dipping Sauce
½ cup sour cream
⅓ cup Greek yogurt
¼ cup toasted sesame seeds
3 Tbsp mayonnaise
2 Tbsp dried thyme
2 tsp Dijon mustard
1 tsp sumac
1 tsp salt
⅛ tsp cayenne pepper
zest and juice of 1 lemon
| Preparation - Artichokes | Preheat oven to 425°F and line a baking sheet with parchment paper. Pat artichokes dry with paper towels or air dry on a cooling rack. Combine bread crumbs and Parmesan in a bowl; beat eggs in another bowl, stirring in cilantro and garlic. Season egg mixture with salt and pepper. Dip artichoke hearts in egg wash; shake off excess liquid, then cover in panko breading. Place face side up on prepared baking sheet; repeat process until complete.
Generously spray artichokes with cooking oil. Place in oven for 25 minutes or until golden brown and crispy.
| Preparation - Za'atar Dipping Sauce | In a bowl, combine all ingredients and stir until incorporated. Chill until ready to serve.