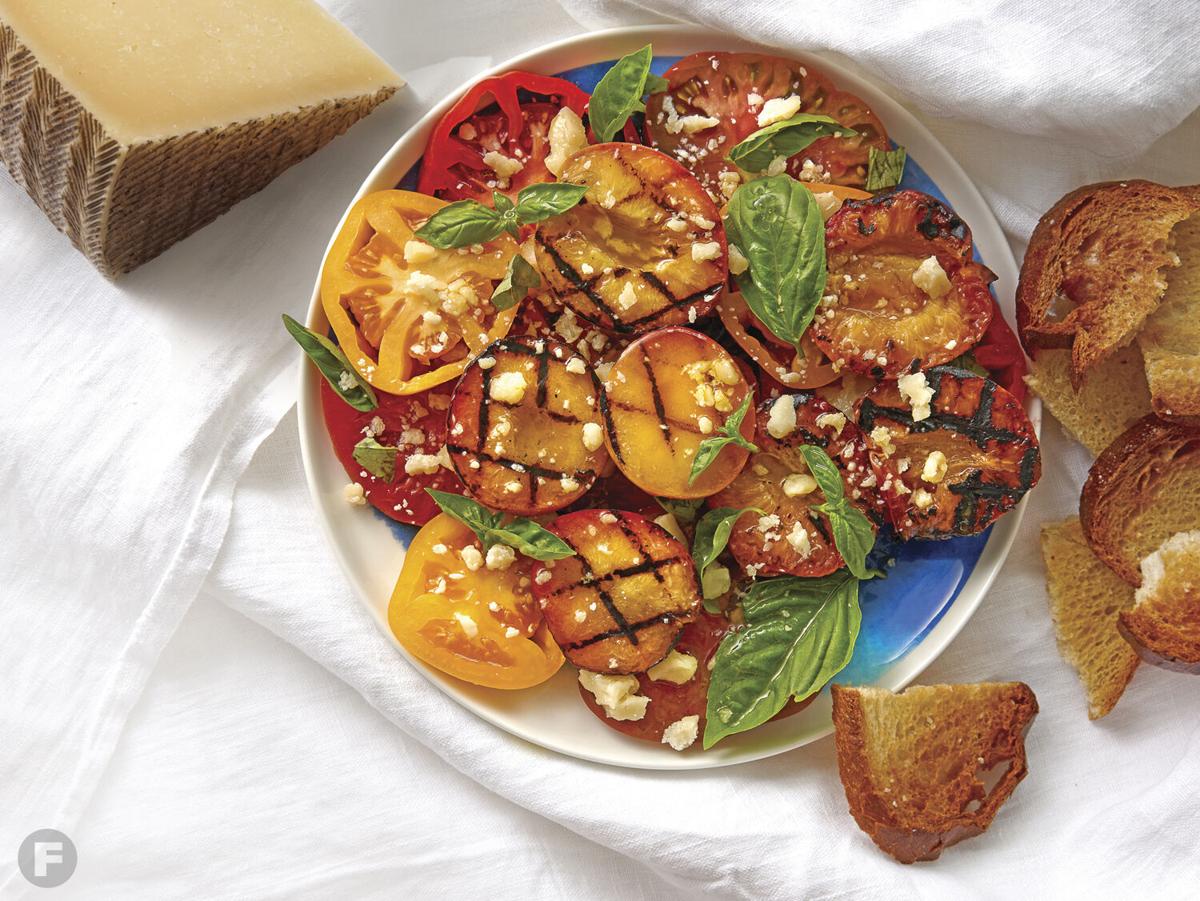 In the middle of the growing season, sweet summer peaches abound. This appetizer celebrates their natural goodness by simply caramelizing them on the grill and adding salty Manchego cheese and colorful heirloom tomatoes to balance the overall flavor.                                                           
Grilled Peaches with Heirloom Tomatoes and Manchego
Serves | 4 |
2 peaches, halved and pitted
¼ cup extra-virgin olive oil, divided
3 oz crumbled Manchego
juice of 1 lime
sea salt, to taste
2 medium heirloom tomatoes, sliced
3 to 4 oz fresh basil, chopped
| Preparation | Preheat grill. Brush cut-side of peaches with 2 tablespoons olive oil; place cut-side down on grill until marked, 3 to 4 minutes. Turn peaches over and top with Manchego. Cover grill and continue cooking until cheese has melted.
Meanwhile, add remaining olive oil and lime juice to a bowl; mix until combined. Season with salt to taste.
| To Serve | Lay tomato slices on a serving platter; season with salt to taste. Place peaches on top; drizzle with olive oil-lime juice dressing. Garnish with basil.
GET HANDS-ON! Join Schnucks Cooking School chef Amy Feese on Zoom at 4pm on Thu., July 22 to learn how to make the dishes on this month's menu. For more information on everything you'll need for the virtual class – from cookware to ingredients – contact the cooking school directly.
LEARN MORE: In this class, we'll explore different ways to use a grill to make the most of the season's ripest ingredients.
MAKE THE MEAL:
Grilled Peaches with Heirloom Tomatoes and Manchego
Grilled Scallops with Ginger and Lime
Grilled Mini Hasselback Potatoes with Chive Butter
Grilled Blueberry-Lemon Crisp