Want to turn your average picnic into something especially noteworthy? Try adding THC or CBD to your sweets and spreads. Cooking with cannabis at home can be enjoyable and rewarding, but it also takes skill and know-how. We asked a few cannabis experts to explain their methods, tips and tricks for creating a delicious infused picnic.
Sweet Infused Treats
If you want to rework the classic infused brownie, turn to Honeybee Edibles. Part of Proper Cannabis, Honeybee combines THC with top-of-the-line European chocolate. The chocolate can be picked up – as long as you're 21 years old – at dispensaries all over the state. Flavors range from banana and candied black walnut in white chocolate to espresso, caramel and toffee in dark chocolate.
Figuring out infusions and dosages can be challenging, but Honeybee takes out the guesswork. The amount of THC per bar is listed right on the packaging. Melt down the bars for hot chocolate, add them to s'mores or bake with them. "We've had tons of people put them in brownies or even break them up and use them as 'chocolate chips' in cookies," Proper marketing manager Spencer Pernikoff says. "Milkshakes, too."
Leah Osborne, chef-owner of Yonder Eats, uses THC butter in baking applications because it can handle a higher temperature. If you're baking at home, finding the correct dosage is key. "There's always math for whatever you're using, [whether it's] oil, butter or water soluble, so that's [the] most important [factor]," she says.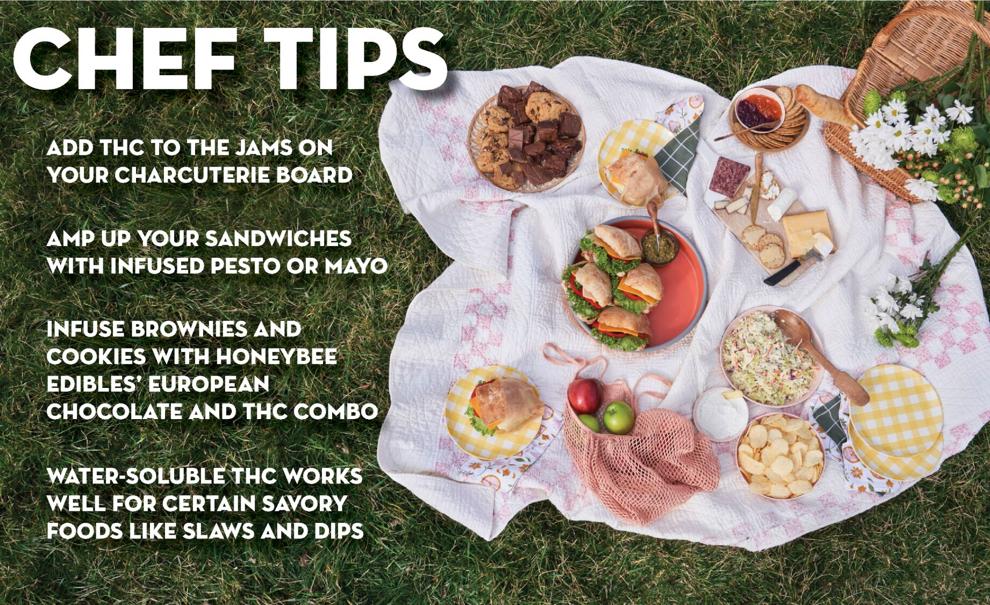 All About the Sauce
Local experts like Osborne and Aliya Waldman, chef-owner of Chartreuse Dinner Club, encourage people to think beyond sweet applications when it comes to cannabis. For a picnic, Osborne recommends infusing various elements of a charcuterie board or the spread on a sandwich. "I would infuse the jam I smear on my crackers," she says. "While I'm at it, I would make a sandwich and infuse my own mayo."
One of the bases Osborne uses is Mighty Kind's water-soluble THC, which works well for certain savory foods. "Especially when making sauces or soups," she says. "[It's] so easy to incorporate into the food once we've gotten it below 200 degrees." Even if your group has varying levels of tolerance, dosage is customizable: Waldman recommends infusing sauces and dressings instead of the main part of the meal, so people can add as much or as little as they prefer. "Because I want to keep the meals I serve inclusive to folks who either have high tolerances or very low tolerances, all of my infusions are topical and added into a slaw or drizzle atop the meal," she says. "I love serving a seared duck breast with a little infused chimichurri on top."
Determining Dosage
When it comes to cooking with cannabis, safety and research are paramount. "I think you should always do a test on yourself before serving to others," Waldman says. "Maybe start by eating a teaspoon of your oil, wait 45 minutes and track how you're feeling from there." Osborne echoes the call for caution and patience. "Most edibles take time to kick in, and this all depends on the product you use and your metabolism," she says. "Be patient, sit back and enjoy."
Different methods of infusion can also affect the potency of a dish. When it comes to fat-soluble THC, "the fattier the oil, the more the THC will adhere to it, giving you a much higher potency," Waldman says. "Most [people] can get away with the stovetop method for small batches, which involves breaking up your cannabis and 'decarbing' to release oils in the oven at a low temp, then stirring into the oil on low heat for a specific amount of time," she says, adding that Leafly – a website promoting cannabis education – has handy guides for home cooks to follow. Think of "decarbing" as activation – the process involves heating cannabis to a certain point in order to physically alter its structure. Just remember: When cooking with cannabis, less is more. You want to enjoy the food you've worked so hard to create.