Aria Burnside's fondness for chocolate chip cookies started with a hotel treat, and now she is about to launch her own commercial bakery – just after she's become old enough to vote.
Her mother, Charmain Aaron, moved the family from Iowa to Edwardsville, Illinois, five years ago. The house wasn't ready when they arrived, and for about a month, the family stayed at the Doubletree Inn in Collinsville, Illinois. The warm chocolate chip cookies provided daily by the hotel delighted Aria and her siblings, and once they were in their home, Burnside was determined to make her own version.
But it wasn't an easy time for the teenage baker. She didn't do well in school, skipped classes and rarely turned in her work. Several times she was referred to Edwardsville's alternative school or suspended, but her behavioral issues continued.
"I didn't know what to do," Aaron says. "At first I didn't believe it, because she didn't behave that way at home."
Aaron opted to homeschool her daughter, which wasn't an easy task, as she had three other children and a full-time job. In the mornings, Burnside would do the schoolwork Aaron had assigned her with an online program, allowing her mother to monitor her from work.
And in the afternoons, Burnside threw herself into baking.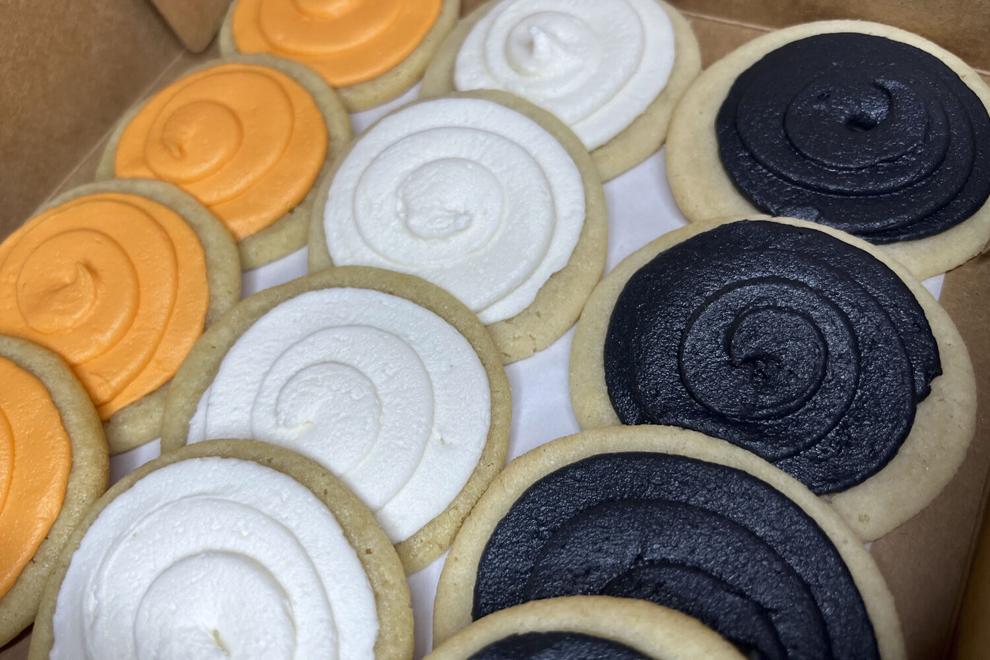 "After I realized I was good at it, I really enjoyed experimenting," Burnside says. "When you find something you're good at, you want to keep doing it."
Soon, the behavioral issues disappeared, and Burnside's schoolwork improved. She went from a "problem student" to a budding baker over the course of a year or so, experimenting with baked goods in between her lessons.
Homeschooling and baking changed everything for Burnside and her family. She started baking for their church community of Anchored in Truth Ministries. For Mother's Day in 2020, Burnside baked cookies for all of the moms in her church. Some of them wanted to order whole batches, and that was the start of Aria's Cookies & Confections. Her new business grew – even through the pandemic, when many food-related businesses suffered or closed.
Burnside makes everything baked to order, and nothing is ever frozen. She insists on using real vanilla and butter, avoiding any processed or store-bought ingredients in search of the highest quality.
The growing popularity of her bakery business gave Burnside a wide panel of judges to help her improve her baking skills. She credits their feedback with her success.
"You find the group of people willing to risk their taste buds on what you're baking, and give you criticism on what to tweak and change," she says.
Then came the Alton Main Street IdeaBounce competition, where small business owners pitched their ideas in competition for a $500 grant. Burnside stood before the judges – all of 17 years old – and gave them the two minute pitch on her vision for her baking business.
She won the $500 first prize, but it came with something extra. One of the judges was Todd Kennedy, owner of the Eastgate Plaza Shopping Center in East Alton. On the spot, he offered Burnside free rent for six months on a new bakery in his shopping center –something he was spurred to do after hearing her story.
Now the bakery is under renovation, but it's taking longer than they expected.
Burnside says she didn't realize how expensive it would be just to open the bakery, and they are working to raise enough cash to get the doors open. "We're aiming for this fall, waiting on a few inspections," Aaron says.
The menu includes vanilla cake and confetti cake cupcakes, as well as a Southern yellow butter cupcake with chocolate buttercream. She offers a vegan variation of her signature chocolate chip cookies, as well as buttery sugar cookies and oatmeal raisin cookies.
Custom varieties have included carrot cake cupcakes topped with walnuts, a "Just Mint to Be" chocolate cupcake with sweet mint buttercream, garnished with an Andes Mint and cream-cheese flavored cake with cream cheese frosting and cherry pie filling.
Once she gets the bakery rolling, Burnside plans to go further. She wants to launch franchises and expand as much as she can. "She wants the bakery to go as far as it can go," Aaron says.